Power Waffles Recipe
A delicious yeast-leavened waffle recipe featuring oats, buckwheat flour, and crystallized ginger. A denser, heartier, more nutritious waffle, they also take longer to cook than a standard waffle, so they might not be the best choice for a waffle bar get-together.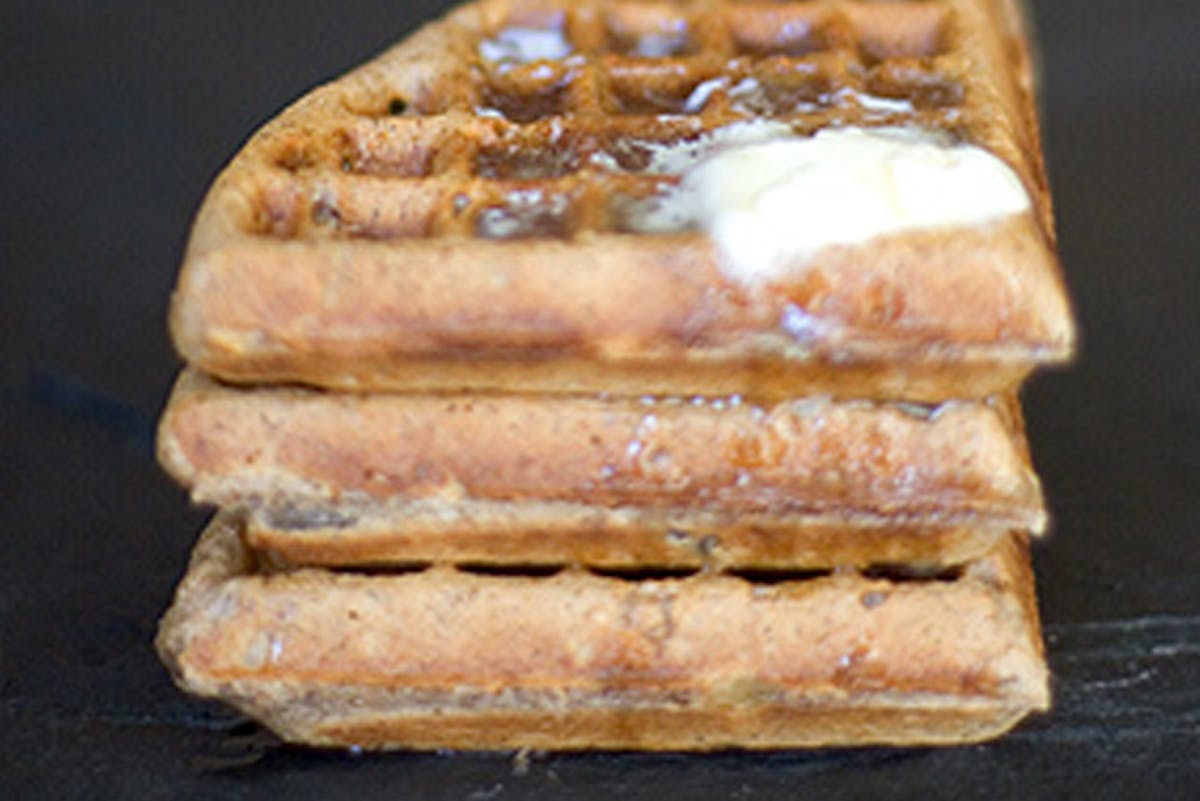 Today's waffle recipe was inspired by a visit from two friends. About a week ago, we broke out the extra towels, pillows, and bedding for house guests. Emily and Birdie were coming to stay for a night or so. Two girls, their guitars, and a rental car making a springtime journey across the country to play music and sing in a handful of small clubs and venues.
They came bearing a huge quart of beautiful maple syrup for us to enjoy. Not just any maple syrup mind you, this is pure maple syrup from Emily's family. They run the organic Spring Hills Farm in northeastern Pennsylvania. This is the best maple syrup I've ever tasted. It is a grade A medium amber pure maple syrup and has a bright, delicate, and buttery maple flavor - it is outrageously delicious. Night and day from what people typically buy at the local supermarket. Many popular brands of pancake syrup you find in the grocery store are actually made from corn syrup or cane sugar with just a small percentage of real maple syrup.
A lot of times syrups are just too dark, too rich, and too sweet for me - not the case here. This one is delicious and light enough to eat straight from the spoon. It is complementary without being overpowering, which makes it easy to integrate into everyday cooking, snacking, and eating. It took me a few days to move past sampling it straight - this included dunking my finger into the mason jar, and licking the backs of syrup coated spoons. I've also been drizzling it on piping hot bowls of oatmeal in the morning, and on cups of homemade plain yogurt in the afternoon. Waffles and pancakes couldn't be far off, could they?
I stumbled on a cryptic recipe for yeast-based waffles last week in the current issue of the Slow Food periodical and thought I would give it a shot. When I say cryptic, I'm not kidding. The recipe lacks punctuation, gets entirely cut off 3/4 of the way through, and requires conversion from the metric system. Outside of the metric issue, I think the rest must have been a printing problem or something. Regardless, it sounded good enough to give it a shot and I decided I would wing it a bit.
The recipe comes from an article featuring the The Cafe at the Ross School Center for Well-being. Ross being a private school grades 5 through 12 in East Hampton New York. The waffles are yeast leavened and feature oats, buckwheat flour, and chopped, flavor-packed, crystallized ginger. These are not your standard white flour waffles....the oats and buckwheat make for a denser, heartier, more nutritious waffle. They also take longer to cook than a standard waffle, so they might not be the best choice for a waffle bar get-together. That being said, they are delicious, and packed with bursts of flavor - the scent of cinnamon will permeate your entire house.
I'm rewriting the instructions in my own words. Be sure to serve these waffles lavished with lots of warm, pure maple syrup. In case you are curious, you can see the original version of the Power Waffle recipe here.
Power Waffle Recipe
1 1/2 cups non-fat milk (divided)
3/4 cup crystallized ginger
3 tablespoons sugar
1/2 teaspoon fresh (compressed) yeast
1 1/4 cups Sir Galahad all-purpose flour
3/4 cup buckwheat flour
150 g (5.3 ounces) rolled oats
1 tablespoon cinnamon
1/2 teaspoon baking powder
2 egg whites (heidi note: I ended up using 4)
1/3 cup melted butter
The night before, gently warm 1/2 cup of the milk and dissolve the yeast. Don't heat the milk too much or it will kill the yeast. Chop the ginger and steep it in a different 1/2 cup of hot milk, let it steep for ten minutes, so the milk becomes flavored. Combine the remaining 1/2 cup milk with the steeped ginger milk and the yeast milk.
In a separate large bowl combine all the dry ingredients. Pour in the milk liquids and stir until combined. Scrape down the sides of the bowl, cover with plastic, and leave to rise on a counter overnight.
The next morning, heat up your waffle iron. Melt the butter in a small saucepan. Whip the egg whites in a mixer (heidi note: I'm still not sure if they meant whip or whisk...the recipe doesn't say anything about whipping into peaks, and it doesn't say anything later about carefully folding in the whites, so this time I went on the assumption that they really meant for us to whisk the whites a bit - folding in whites might be interesting too though, and might lighten up the waffles a bit.) Using a mixer with paddle attachment (or by hand) stir in 3/4 of the butter. Mix until fully incorporated. Add the egg whites, and finish by stirring in the rest of the melted butter.
Ladle waffle batter onto heated waffle maker, and cook until deep and golden brown.
Makes about 6 average-sized waffles.