Crema de Guacamole Recipe
This crema de guacamole recipe makes the ultimate chilled summertime soup.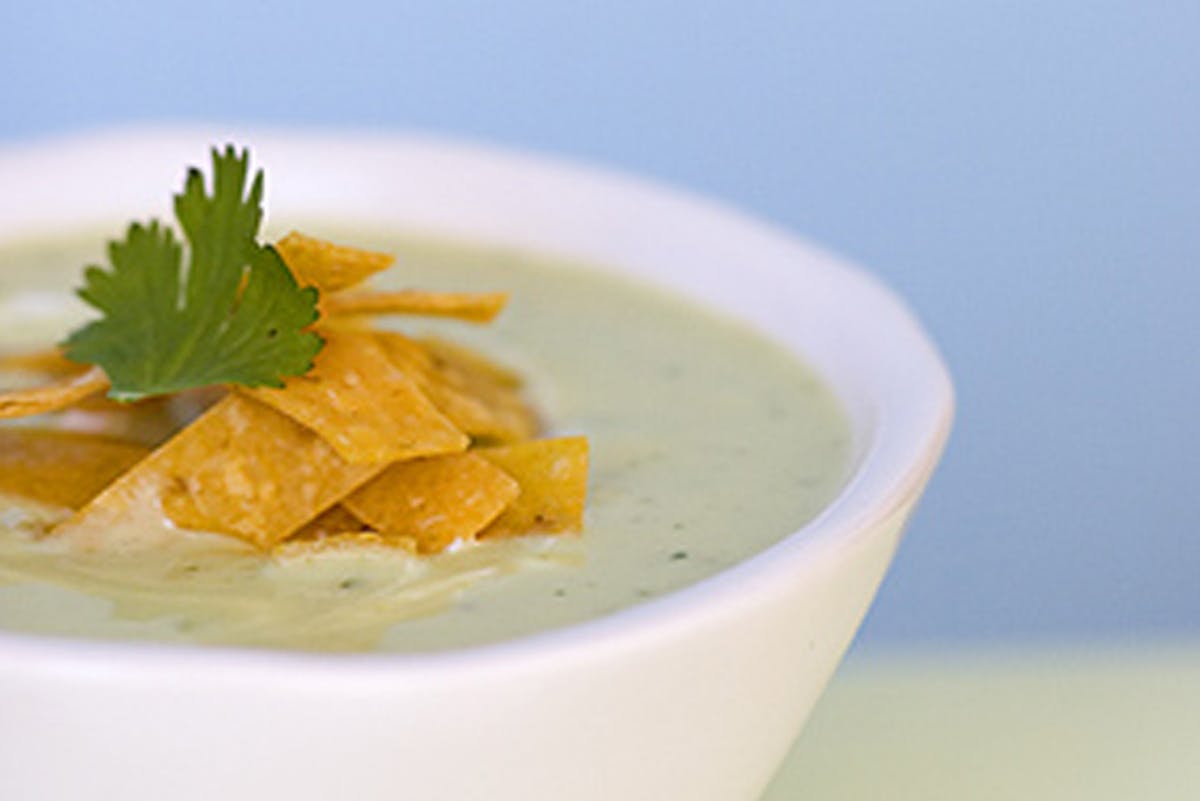 Adapted from: A Yucatecan cooking class I attended at Los Dos Cooking School in Merida, Mexico
After fifteen days, six flights, three cities, a swim with a barracuda, and a beachfront wedding (not mine), I am officially back in San Francisco. We travelled to Mexico City, Merida, and then Playa del Carmen, spending 5-6 days in each city or town, and I have plenty of stories and recipes from each.
Most people have never heard of Merida - it is a lively and picturesque colonial town on the west side of the Yucatan peninsula, 15 miles or so from the port and beaches of Progresso. Merida has been experiencing a renaissance over the past few years and it is a picturesque and colorful place to visit. Many of the colonial mansions in the central part of town are being restored, and some of the sprawling haciendas on the outskirts of town are reemerging from the jungle folliage that swallowed them whole. At night is seems as if the entire town gathers in the central square to visit on park benches, snack on steamed corn from street vendors, listen to the loud birds in the trees above, or dance to the live musicians who are fixtures on each block. From what I could tell, there weren't an overwhelming number of American or European tourists in Merida, it was primarily Mexicans reveling in their own city mixed with Mexicans visiting from nearby regions for a long weekend.
Evening dancing in the streets, Merida
I knew I wanted to take a cooking class or two on this trip, and discovered the Los Dos Cooking School and Guest House while poking around for information. I put a little dot on my map of Merida where Los Dos was located and pledged to look it up when I got into town. This is all easier said than done when it is 95 degrees in the midday heat. Los Dos was six or eight long, hot, dusty blocks from where we were staying. The day after we arrived, Wayne kept encouraging me to walk over and see if there were any available classes - so off we went. As I slathered on layer after layer of sunblock, I just kept hoping that the dot I put on my map was the accurate location of the cooking school. We eventually arrived at a bright white, nondescript, 10-foot high stucco wall that had two things on it - a small placard reading "Los Dos" and a tiny plastic buzzer.
Mercado Municpal - Main Market, Merida
I rang the buzzer, and the small man who answered the door looked at me as if he couldn't fathom why on earth some sweaty Americans would be standing at his door. With lots of hand gestures and broken, cryptic Spanish, I articulated that I was interested in taking a class. He suddenly lit up, turned on his heel, and headed back inside. My eyes and eventually my feet followed him into a residence that can only describe as stunning. It is here that the charm and magic of a place like Merida lives, you never know what sort of a magical world might be hiding behind those beat up 18-inch thick fortressed walls.
I took a few steps. To my right was an dining hall unlike any I have ever seen. It was intimate in a way that not many rooms with twenty-five foot ceilings can be. The walls were wrapped with a vibrant mural of the central square in Merida with the ruins of Chichen-Itza, painted off in the distance. A huge iron chandelier hung above the table with room enough for ten or so place settings. This is where we would enjoy the delicious Yucatecan meal we would create a few days later.
The star of the show is David Sterling who eventually came to out to greet his unannounced visitors. He and his partner brought this colonial property back from rubble to become what is now their permanent residence and the Los Dos Cooking School. David has an encyclopedic knowledge of Yucatecan cooking and works with local scholars to research the history, ingredients, and cooking methods indigenous to this region. How much does he know? Let's just say he kicked off the class with a two-hour lecture on the above, and could have easily gone on for another four. After his talk, our group of eight students then walked single-file along the narrow Merida sidewalks to the Mercado Municipal and gathered our ingredients. Hundreds of stalls awaited us - packed with chiles, mole pastes, 2-foot long sticks of canela, spices, melons, herbs, tortillas, all anchored by a meat section the size of a football field.
Los Dos Menu for May 24, 2005
Sopa: Crema de Guacamole
Platos Fuertes: Pib X'catik, Arroz Amarillo, Chile Tamulado, Cebollas en Escabeche, Salsa X'nipek
Postres: Platanose Macho Frito con Sorbete de Frutas Tropicals
Los Dos will accommodate vegetarians (sort-of), but in general, many these recipes are a minefield of lard, meat-based broths, and more lard. I fell in love with the Crema de Guacamole soup and knew at first taste that I could rewrite a veg-friendly version without compromising the spirit or quality of this beautiful, rich and yet refreshing soup. For starters, I used a light vegetable stock in place of the chicken broth he uses, and fried my tortilla strips in canola oil instead of lard (manteca).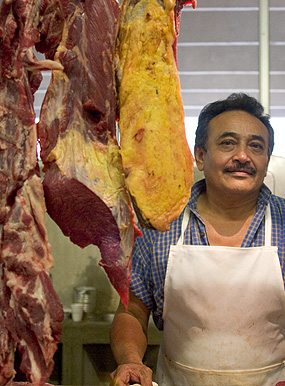 Mercado Municpal - Main Market, Merida
Crema de Guacamole
This is the ultimate chilled summertime soup. You must try it on the next hot day in your area, preferably well chilled while on a picnic. If you have a hand-blender it couldn't be easier to make - just a bit time intensive (but not active cooking) because you have to wait for the broth to cool down. On the upside you can make it a day or two ahead of time. In the Yucatan they use lima juice to make this soup. It is a wonderfully floral, softer tasting type of lime that is hard to find in the US. If you can find key limes, go ahead and use those. I made this batch with everyday market limes, and it was still amazing. Update 9/2006: I'm doing an updated version of this soup in my next cookbook, and pulling the recipe off the site for now to avoid confusion between versions. I've made this soup many many times since this post, incorporated quite a few changes, and I think (hope!) you will enjoy the version that will run in the book as much as I do.