Honey-toasted Fruit Muesli Recipe
Michele Cranston's Honey-toasted Fruit Muesli Recipe. Made from lots of oats, sunflower seeds, almonds, coconut, honey, dried fruit and seeds.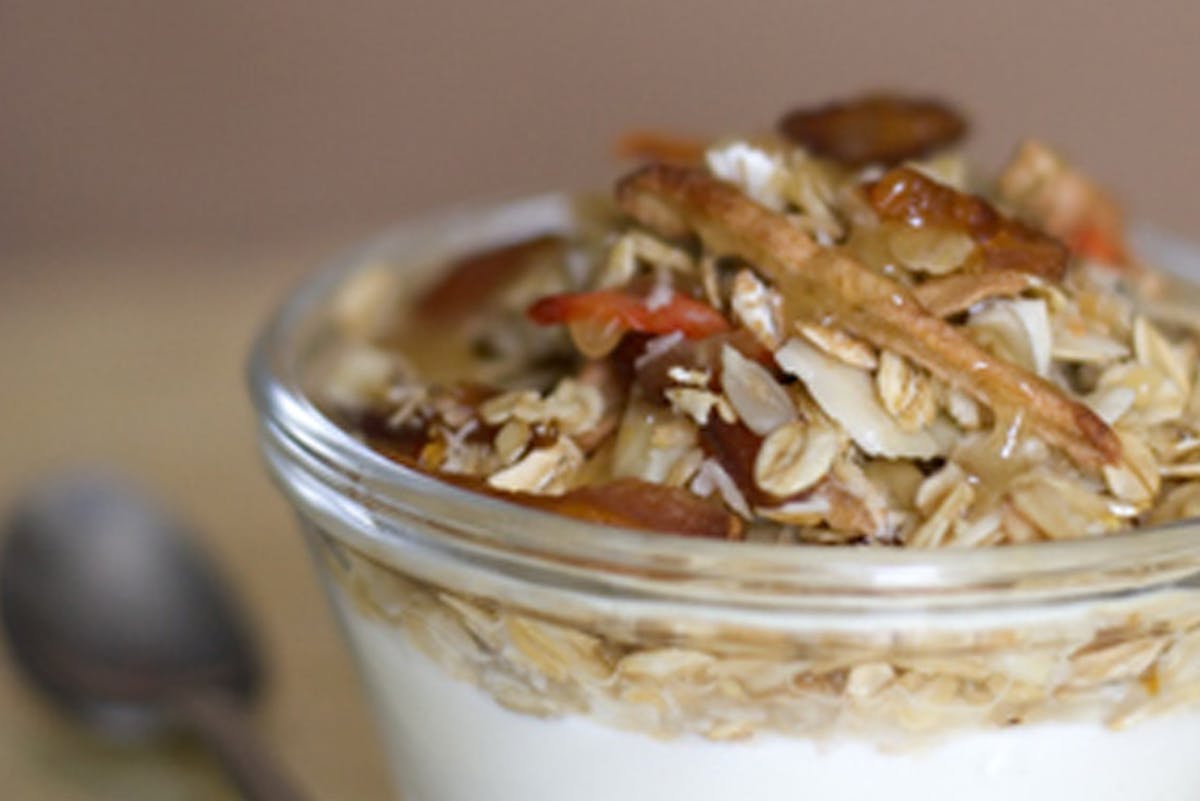 I've been wanting to dive into new muesli recipes recently. We've had an endless supply of homemade yogurt here at home ever since I bought Wayne a yogurt maker for his birthday a few months back. Some guys want watches or BBQ accessories for their birthdays, Wayne wanted a yogurt maker. I waited until the last minute to track one down, and knew I was in trouble when the clerk in one kitchen appliance department looked at me and said they hadn't carried yogurt makers in over ten years. Of course they haven't.
So, like I said - I've had my eyes peeled for an inspiring recipe that would pair well with the daily influx of new yogurt in our refrigerator. The day before I left for Mexico, my friend Sophie at Whitecap Books sent me a big, beautiful, hefty copy of the Michele Cranston's Kitchen book that is being re-released this September. You've all seen her books before - they are in that clean, modern Marie Claire Australia/ Donna Hay style - a format apparently belonging to Marie Claire where Michele is/was food editor.
I have Michele's food + drink book. It has a lot of fantastic recipes in it alongside all sorts of tips and creative ideas for entertaining and the like. This book, Kitchen, is about 2-inches thick and incorporates a jaw-dropping 400 recipes (each beautifully photographed) from her past three books, including food + drink. This new volume would make a great wedding present - the recipes are very straight forward and approachable even for beginner cooks. If you don't happen to like it - it could also give your phonebook a run for its money as an effective doorstop or booster-seat. It weighs FIVE pounds.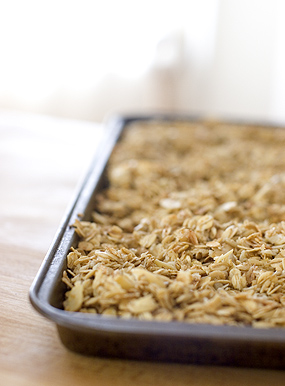 Her Honey-toasted Muesli caught my attention right off the bat. It makes a monster batch, which means I have enough for breakfast for the next few days. I also have enough so I can set aside a couple jars to keep my friends happy.
The dried fruit punctuates the seed and oat mixture and gives this muesli bursts of flavor and a beautiful appearance. The oats absorb just the right amount of natural sweetness from the honey. Another bonus, it is painfully easy to make. Toss your oats, nuts, seeds with honey and a splash of oil. Spread it out on a pan and toast in the oven for a half an hour or so. Stir in the dried fruit.
If you really like this recipe, I recommend mixing it up the next time around with different dried fruits, maybe a pinch of a couple of your favorite spices.
Enjoy!
Honey-toasted Fruit Muesli Recipe
HS notes: Michele's recipe calls for triticale. If you have a hard time finding it, just substitute another cup of rolled outs, I am able to get rolled triticale at my local natural foods store in the bin section.

Preheat the oven to 300F degrees.
Put 5 cups rolled oats into a large bowl. Add 1 cup unsalted sunflower seeds, 1 cup slivered almonds, 1 cup triticale (see above note), 1 cup shredded coconut and 2 tablespoons sesame seeds. Stir to combine.
Heat 3/4 cup honey and 4 tablespoons vegetable oil in a saucepan over low heat. Pour the warm honey mixture over the dry ingredients and stir until they are well coated.
Spread the mixture on across two (rimmed) baking sheets and bake for 30 minutes, stirring occasionally. Remove from the oven and allow to cool.
Add 1/4 cup finely sliced dried apricots, 1/4 cup finely sliced dried apples and 1/4 cup finely sliced dried peaches (heidi note: I used dried papaya). Toss to combine. Store the muesli in an airtight container.
Makes 12 servings.
Kitchen: The Essential Guide to the Kitchen by Michele Cranston (Whitecap, September, 2005) - reprinted with permission