Video: Big Sur Power Bars Recipe
A homemade powerbar recipe packed with lots of toasted nuts and coconut, crisped rice and ground espresso beans. Video how-to as well as written instructions.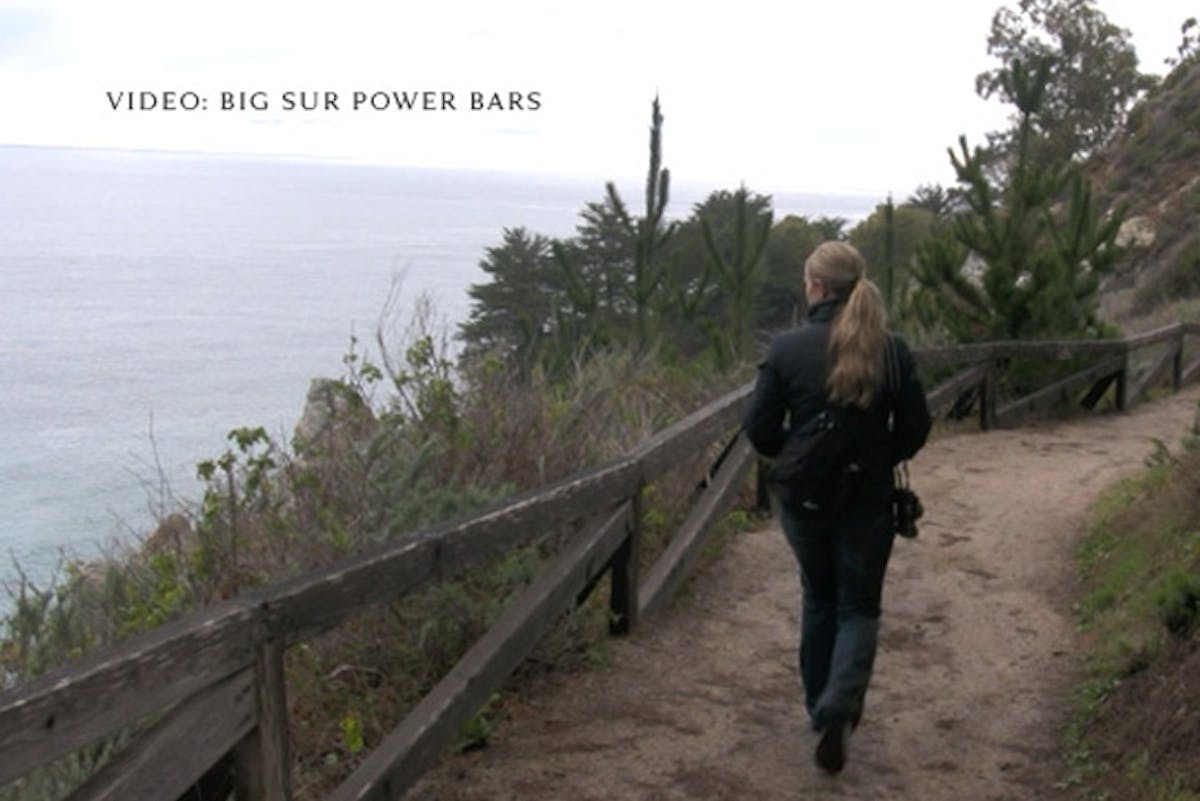 I wrote a homemade powerbar recipe for my last book, and it's one of those recipes I never get tired of. Wayne and I spent a few days in Big Sur last week so I made a batch with a few twists. The Big Sur version is packed with lots of toasted nuts and coconut. The crisped rice is flecked with a sizable dose of ground espresso beans. It has been a while since I've shared any video, so I thought I'd share some of the footage from our trip, along with a show-and-tell of how the powerbars come together. The written recipe instructions are still down below.
Video: slightly larger version
Let me know if you have ideas for other twists on this recipe - I was thinking toasted walnuts, cocoa powder (to turn them chocolate flavored), and even more espresso than I used in this version. Sam did a beautiful version here (with a lovely photo).
Related links:
- We stayed at the fantastic Treebones Resort in a yurt. (ask for #15 or #8)
- This is the state park you see in the video, we hiked the Ewoldsen Loop.
- For those of you looking for a no bake, high-protein, high-fiber bar (it is sweetened with agave nectar and stevia instead of sugar) have a look at Elana's version.
- Allen of Eating out Loud's hickory nut, blueberry, and flax seed version.
Big Sur Power Bar Recipe
If you can't find the crisp brown rice cereal, no worries - just use regular rice cereal for ex: Rice Crispies - just stay clear of "puffed" rice cereal, it will throw the recipe off. Feel free to substitute other types of nuts, seeds, or whatever little goodies you can dream up.
1 tablespoon coconut oil (or regular butter)
1 cup pecans, chopped
1 cup slivered almonds
2/3 cup (unsweetened) shredded coconut
1 1/4 cups rolled oats
1 1/2 cups unsweetened crisp brown rice cereal
1 cup brown rice syrup
1/4 cup natural cane sugar
1/2 teaspoon fine-grain sea salt
2 tablespoons ground espresso beans
1 teaspoon pure vanilla extract
Preheat oven to 350 degrees. Grease a baking pan with the coconut oil. If you like thick power bars, opt for an 8 by 8-inch pan; for thinner bars, use a 9 by 13-inch pan.
On a rimmed baking sheet toast the pecans, almonds, and coconut for about 7 minutes, or until the coconut is deeply golden. Toss once or twice along the way. Mix the oats, toasted nuts, coconut, and the cereal, together in a large bowl and set aside.
Combine the rice syrup, sugar, salt, espresso, and vanilla in a small saucepan over medium heat and stir constantly as it comes to a boil and thickens just a bit, about 4 minutes. Pour the syrup over the oat mixture and stir until it is evenly incorporated.
Spread into the prepared pan and cool to room temperature before cutting into whatever size bars you desire.
Makes 16 to 24 bars.