Beluga Lentil Crostini Recipe
This has become one of my favorite crostini recipes - goat cheese, black beluga lentils, and chives on garlic-rubbed crostini.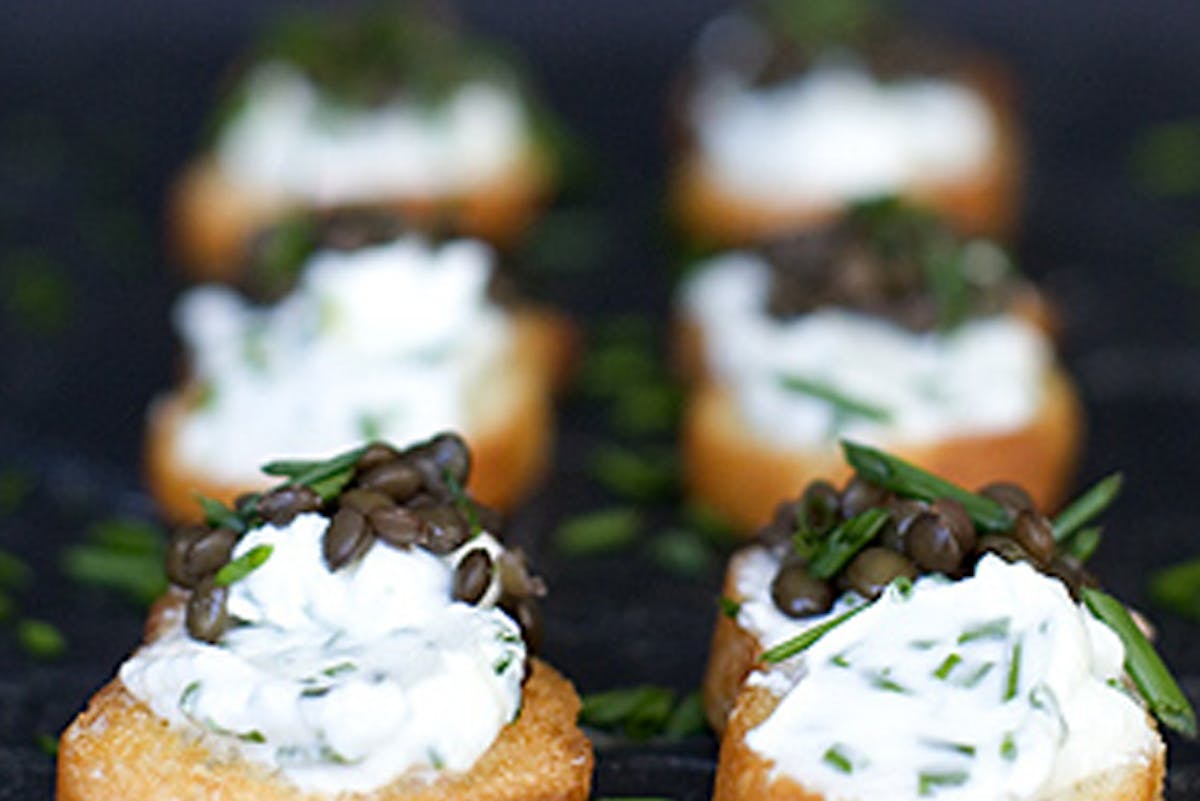 It took me a while to think of this beluga lentil crostini recipe, but it has since become a favorite. Here's how it came to be. Last month I brought back a one pound bag of jet-black beluga lentils from Los Angeles, and until yesterday they sat on the back corner of my desk. I would look at them, and a thousand black beady eyes stared back. I would occasionally stop typing, look over, and wonder - what to do with you? And then go on with my work.
I wanted to do a recipe that would highlight the lentils. Not just the flavor of the lentils, but their caviar-like appearance as well. Pureed lentil soups, lentil loafs, lentil patties, and lentil dals were all out. No mush. So I thought about it a bit and came up with a plan for the crostini you see up above.
I took thin baguette slices, baked them and then rubbed them with a bit of garlic. I like to use chives any chance I get - so I took goat cheese and added snipped chives to make a spread. The spread would also help anchor the lentils so they wouldn't roll right off the crostini. I cooked up a batch of the lentils in a big pot and used a small spoon to top each crostini with the tiny legumes. The lentils are very earthy tasting with a bit of grassiness - which works nicely with the chives and the tanginess of the goat cheese. The garlic rub gives a bit of kick, and punctuates the whole bite. You can do all the components a day ahead of time and assemble just before a party or get-together. I really love how these turned out, if you give them a shot let me know how you like them.
For those of you who are interested, our trip to LA was nicely timed - we arrived just after a week of 95 degree heat, and skipped out just before the next furnace blast moved in. I visited Los Angeles semi-regularly as a kid, and will forever associate the feeling of bare skin on hot vinyl car seats with Orange County. This time, it was sweaters all around, particularly at night. We spent the bulk of our long weekend with old friends, visited a couple farmer's markets, and enjoyed a back yard barbecue complete with charcoal, lighter fluid, and a steadily flowing keg of ice cold draft.
Spending time on a Los Angeles freeway can ruin any trip, so my strategy is to avoid them altogether. For you LA haters - if you want to hate LA less, drive less. On this trip we stayed near friends in Venice Beach and spent minimal time in the car - walking and eating out in that general area. It makes for a much more enjoyable visit. Here is the list of a couple places we ate, and as you can see, we didn't branch out much. Most of these restaurants are in a 1 or 2 mile radius of each other.
- Axe: Those in the know pronounce it 'ah-shay'...Looks more pretentious from the outside than it actually is - we walked to Axe for a late Sunday lunch. I had a big delicious bowl of buckwheat soba soup with miso dashi and shitakes. Everything here is fresh - from the food to the bright, simple interior space.

-Mao's Kitchen: Four stars for the tofu lettuce cups.

-Le Pain Quotidien: Go for the Belgian praline spread. We must have had the last pot at our table. When I went to buy some to bring home, they were sold out.

-Jin Patisserie: The thing that makes Jin Patisserie special is being able to sit in the pretty garden oasis just off the hustle-bustle of Abbott Kinney. The shade, calming aesthetic of the garden, and well stocked magazine rack make it easy to sit there for hours. The fresh strawberries served with Devonshire cream were perfect.

-Real Food Daily: I would consider driving to Los Angeles just to have the Real Food Daily club sandwich. I noticed yesterday that Ten Speed Press is publishing the Real Food Daily Cookbook, and my fingers are crossed that she included the club.

-Juliano's: We also had a raw meal at Juliano's. My favorite thing was their un-meatballs - they came with one of the pasta dishes.
So, while some people return from LA with bags from Fred Segal, tales of celebrity sightings, and a seashell or two - I came back with a bag of beluga lentils.

Beluga Lentil Crostini Recipe
1 lb. black beluga lentils
1 sweet baguette, sliced thinly into 1/6th-inch rounds
1/3 cup extra-virgin olive oil or melted clarified butter
1/2 t. fine-grain sea salt
8 ounces spreadable goat cheese
a small splash of milk
3-4 large cloves of garlic
2 big bunches of chives
more salt to taste
Preheat oven to 350.
Cook the lentils: Wash and pick over the lintils Place the lentils in a large saucepan and cover with water using 2-3x the quantity of lentils.Bring to a boil and simmer for 15-20 minutes. Lentils should be tender but not splitting and falling apart. Salt to taste at this point - I use somewhere between 2t. -1T. of salt for a pound of lentils. Remove from the heat and drain any remaining liquid. Let cool.
Make the garlic crostini: In a large bowl add the oil/butter and salt. Add all the sliced baguette rounds to the bowl and toss well. Place rounds in a single layer across two baking sheets. Place in the oven and bake for about 10 minutes or until slightly golden. Remove and let cool. Cut the ends off the garlic cloves. Take a single clove in your fingers and gingerly rub the top of each crostini with the garlic to give each slice a bit of a garlic kick. Don't overdo it.
Make the chive goat cheese spread: In a small bowl add the goat cheese and a small splash of milk (just enough to thin the cheese and make it spreadable). With scissors, snip one bunch of chives into the goat cheese and stir to combine. Set aside.
For assembly all ingredients should be at room temperature. Take each crostini and give it a spread of the goat-chive spread. Top with a small spoonful of lentils. Garnish with more chopped chives (and pretty purple chive blossoms for the platter if you can find them).
Makes about 5 dozen. You will have plenty of lentils leftover to experiment with....