Cele's Old-Fashioned Pear Cake Recipe
From Michael Ableman's book, Fields of Plenty, a rustic, homey, unfussy pear cake recipe that comes together in five minutes before baking.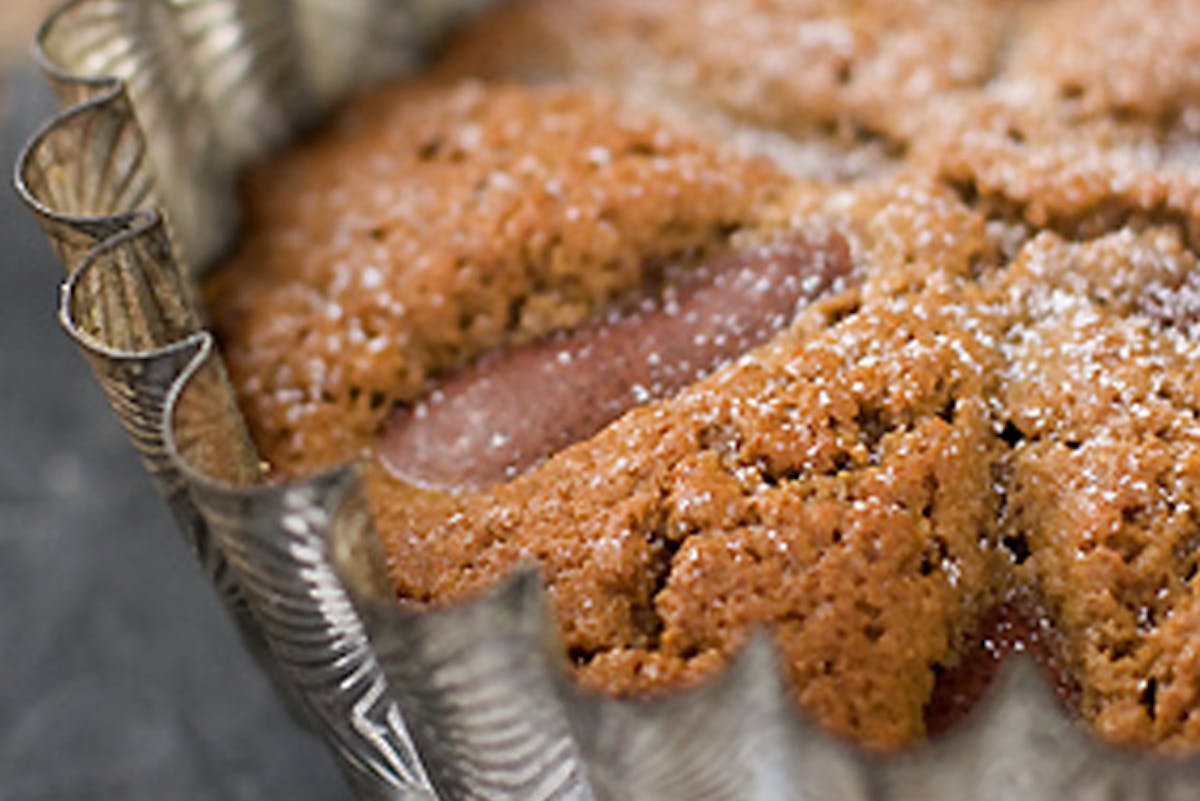 I've been enjoying Michael Ableman's book, Fields of Plenty over the past week. Fruits, farms, free-thinkers, and freeways - my kind of read. Today's pear cake recipe comes from this new volume.
Let me set the stage: Michael Ableman, a British Columbian farmer on the cusp of his fiftieth birthday, packs up his late-model Volkswagen at the peak of the summer harvest, and hits the highway in a quest to visit twenty-five North American artisan farms. In addition to the cameras, film, notebooks, harmonicas, and provisions a trips like this requires, he also brings along his twenty-three year old son, Aaron.
Not so much a father-son road trip story, this book actually sets out to profile each farm, the individuals who bring them to life, their chosen crops, how they survive, and in many cases - how they thrive. Not surprisingly, we are introduced to a cast of renegades and independent thinkers like the Lanes, a couple of aging hippies who decided it was a good idea to grow fruit an hour west of Madison, Wisconsin despite the extreme weather. Their Future Fruit Farm is the only commercial pear orchard in Wisconsin - 6,000 fruit trees in a vast sea of dairy farms.
It's not all rolling fields and tractors. There is a chapter on space-constrained Eli Zabar and his half-acre of rooftop food gardens in Manhattan. Or the two 1-acre plots below the Cabrini-Green sixteen story housing project in Chicago. You begin to realize quite quickly that it is time for more of us to think outside the children's book image of a farm - all red barns and grain silos. There are some 6,000 acres of vacant plots of land within the 200 square miles of the city of Chicago alone. The book not only profiles exciting farms and individuals, more importantly it helps redefine the way people think about farms, farming, and what is possible.
As if that wasn't enough, the book looks smart too. It is full of big, straight-forward, real photography by the author. And what are you to do with the bounty? Each section is punctuated by a cluster of delicious sounding recipes that in many cases were shared by the farmers themselves.
One of the recipes that jumped out at me was titled Cele's Old-Fashioned Pear Cake. It is a rustic, homey, unfussy cake originally made by Ellen Lane's mom. Her mom would make make this cake with Italian prune plums, but because Ellen and her husband have the aforementioned pear orchard, it makes sense that they would make it with their own Seckel pears.
I lucked out and stumbled on the prettiest red star krimson pears at the market today. Their skins imparted big kisses of color all across the top of this cake. A little dusting of powdered sugar made it look even more inviting. The cake was simple and came together in less than five minutes, then right into the oven. I kept thinking it would make a fantastic breakfast cake because of the fruit and it being frosting-free. Or even better, it would make a good picnic cake because it is sturdy enough to slice and then eat with your fingers without making much of a mess - just a few crumbs for the ants.
Cele's Old-Fashioned Pear Cake Recipe
1/2 cup unsalted butter, at room temperature, plus 2 tablespoons melted
All-purpose flour for dusting
1 cup whole-wheat pastry flour
1 teaspoon ground cinnamon
1 teaspoon baking powder
1/4 teaspoon sea salt
1 cup sugar
2 eggs
6 firm but ripe small pears such as Seckel, cored and cut lengthwise into quarters
Preheat the oven to 350 F.
Brush a 9-inch round springform pan with the 2 tablespoons melted butter, and dust the pan with a thin, even layer of flour, tapping out the excess. Set aside.
Whisk together the whole-wheat pastry flour, cinnamon, baking powder, and salt in a bowl. Set aside.
Using an electric mixer, beat together the 1/2 cup butter and the sugar on high speed until pale, light, and fluffy. Scrape down the sides of the bowl, add the eggs, and beat again until well combined. Using a rubber spatula, fold in the dry ingredients just until combined. Transfer the batter to the prepared pan and neatly arrange the peat quarters on top, skin side up. Bake for about 1 hour, or until the top is nicely browned and a toothpick inserted into the middle comes out clean. Let the cake cool for 10 to 15 minutes before removing it from the pan.
Note: to prepare the original version with the Italian prune plums, use 12 plums, pitted and halved, in place of the pears.
Serves 10.