Toasted Pecan Toffee Recipe
My sister Heather teaches me her favorite toffee recipe. It is peppered with toasted pecans and slathered with a thin layer of chocolate on each side.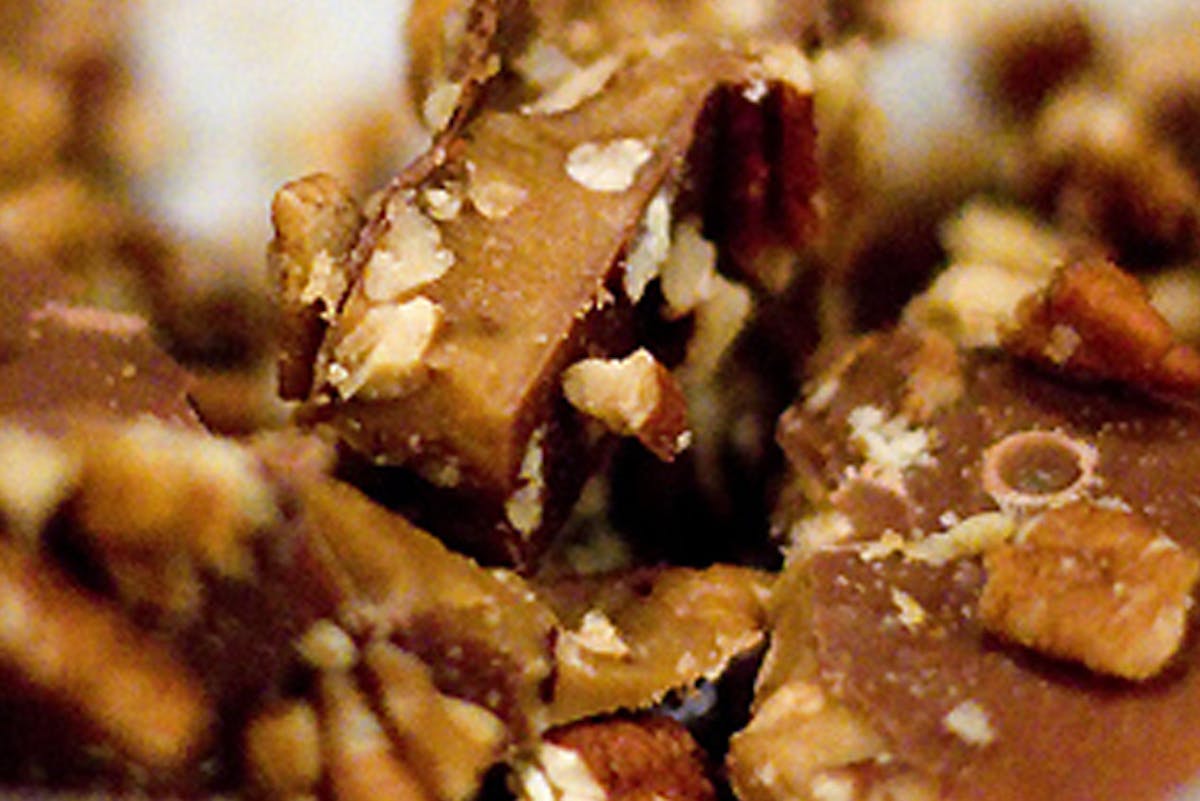 I went to my sister's house in Mill Valley last night to have her teach me her toffee recipe - she makes amazing toffee. We made one batch with her recipe, and then I got ahead of myself and tried to get fancy with the second batch. Here's the conversation I had with Bruce Cole on AIM about it this morning. He's orange, I've got a green hat.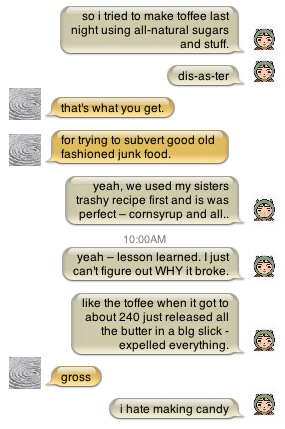 So...it didn't really work out. I'm no sugar artist, and my knowledge of cooking candy doesn't go much beyond having a grasp on the concept of the soft ball - hard crack spectrum.
Luckily, Heather's straight-shooting toffee tastes fantastic, has a snap to it, and ends up being my sugar fix of choice during the holiday season - I'll include it below. I wanted to do a batch using a less refined, but still fine-grained sugar in place of the white sugar. I wanted to get rid of the corn syrup, and I wanted to add a spice mix of ground smoked chilies, cinnamon, and sea salt to both the toffee and the chocolate coating. Unfortunately, you can't always get what you want - particularly on your first try - maybe next year!
Heather's Toasted Pecan Toffee Recipe
You need a candy thermometer for this recipe.
1 cup butter, cut into chunks
1 1/2 cups granulated sugar
3 tablespoons corn syrup
3 tablespoons water
2 cups well-chopped pecans, toasted (divided)
1/2 pound (8 ounces) chocolate, cut into chunks - milk, semi, or bittersweet (your choice)
Cover a baking sheet with parchment paper and set aside.
In a medium, thick-bottomed saucepan over medium/med-low heat add the butter. Wait a minute or two until the butter really starts to soften and melt. Stir in the sugar, corn syrup, and water. Cook, stirring regularly until the mixture is bubbling (lava-style) and the candy thermometer hits 300F degrees. Remove from the heat and stir in one cup of the pecans.
Pour the hot toffee out onto the prepared baking sheet. Depending on hot thick you like your toffee, spread it out into a round 10-12-inches wide. Set it aside to cool.
While the toffee is cooling go ahead and melt half the chocolate - Heather uses a microwave in 20-second bursts or you can use a double boiler. Be sure the toffee has set up a bit before you spread the melted chocolate over the top. Immediately sprinkle with 1/2 cup of the remaining pecans.
Wait 20 minutes, or until the chocolate has firmed up. Carefully flip the toffee over. Melt the remaining chocolate and spread on the second side - sprinkle with the remaining 1/2 cup of pecans. Let cool.
I've seen people break brittle or toffee into big shards by smacking the baking pan on the counter. If this doesn't work for you, break the toffee into pieces by (carefully) using a knife or ice pick to break of pieces.
Makes a big plate of toffee.