Espresso Caramels Recipe
A favorite caramel recipe yielding dozens of generously espresso-flecked caramels that you can individually wrap. They have a deliciously subtle undercurrent of sea salt and are great for the holidays.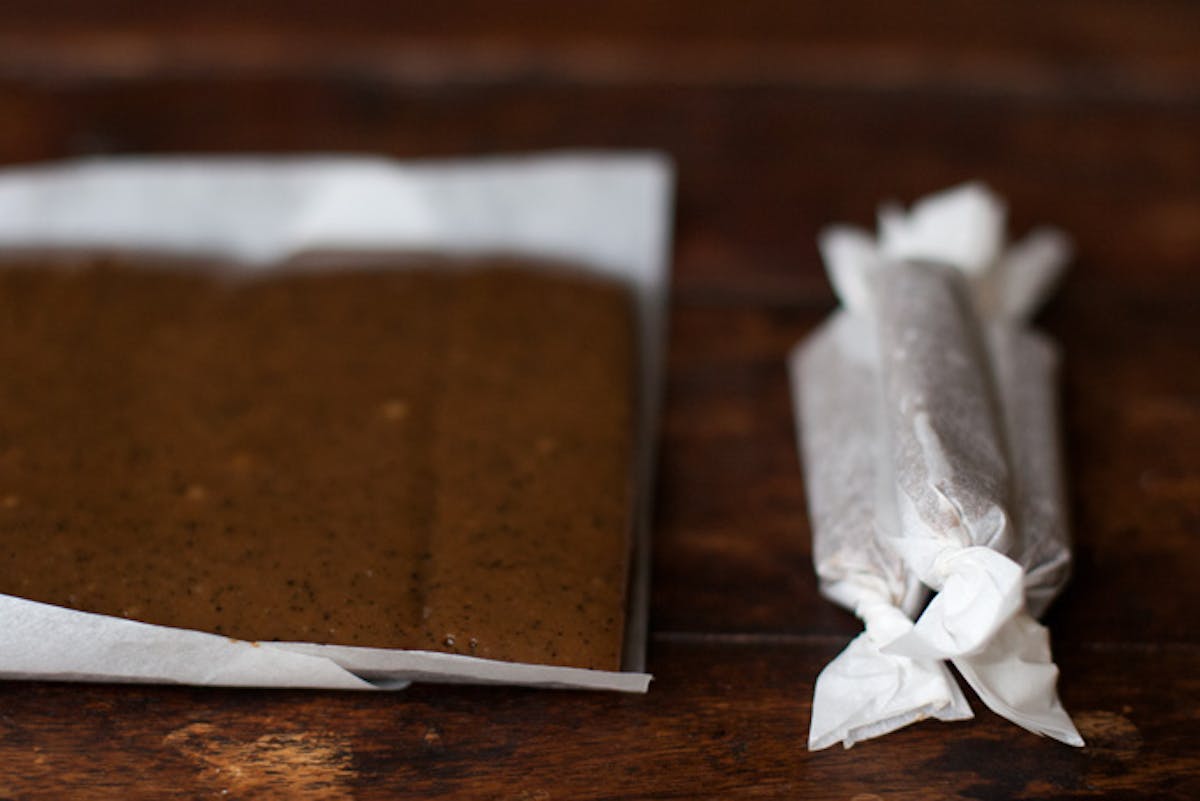 I thought about waiting until the holiday season to share this recipe with you but decided against it for a couple reasons. First, I know many of you are completely intimidated when it comes to the realm of candy making. It's understandable - all that thermometer gazing and bubbling lava-like sugar could scare anyone. But I'm not-so-secretly hoping that at least a few of you will give these little treats a home in your holiday cookie/treat boxes this year, so I wanted to give you enough time to give the recipe a test run between now and then. Maybe some of you will find your inner candymaker. Secondly, because the flavor of these caramels is likely different than caramels you've tried in the past - they are generously espresso-flecked with a subtle undercurrent of sea salt- I'm dying to get this recipe out there and see if you all like it as much as I do. I did a version with nuts, and a version without.
A few things you should know. You need a candy thermometer. I paid $4 for my latest one -this is after Wayne and some friends destroyed my old one "experimenting" with a deep fryer. They are relatively easy to find and I picked mine up at Whole Foods Market. You need the candy thermometer because the key to this caramel recipe is achieving a good set, meaning you want your caramel to be able to hold a shape once it cools. To make this happen you need to heat the ingredients to a very specific temperature. I know it all sounds so precise and fussy, and to a certain extent it is, but really all you are doing here is putting a very short list of ingredients together in a pot, and bringing the temperature up, up, up into what is considered "hard ball" territory - 260F degrees. It actually took me two attempts to get the set I was after for this recipe - the first time I only brought the caramel up to about 246F degrees- firm ball stage, resulting in my nut-caramels turning into blob city when left for any length of time at room temperature. Never one to be deterred - hard ball was what I needed.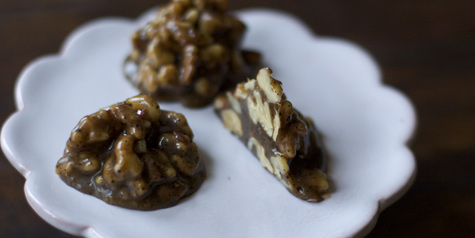 Once the caramel is done cooking there are quite a few things you can do with it. I've written the recipe so you can make the little nut caramels you see right here, or skip the nuts and make the individually wrapped caramels you see in the lead photo - they both come from the same place. I didn't get around to it, but I couldn't help but think dunking an ice cream cone or frozen yogurt cone in this would be amazing. Or what about using the caramel as a bottom later in a chocolate tart - or the chocolate pudding pie a few of you mentioned a couple weeks back when I posted my chocolate pudding recipe. I'm sure you'll come up with some great other ways to use it.
Espresso Caramels Recipe
Feel free to experiment with the type of nuts you use. I found that nuts that were chopped were easier to deal with when forming the shape of the caramels, big intact walnut halves contributed to caramels with strange shapes. When choosing honey, I went for a mild clover honey.
And as I mentioned in the post, feel free to forgo the nuts altogether. You can make individually wrapped caramels. If you do decide to roll-your-own caramels, do it assembly style. Make one "prototype" that you are happy with, it might take a few practice ones. Based on the prototype cut all the parchment paper wrappers first, next the caramel into the appropriate size squares, then roll and twist.
2 1/2 cups walnuts, toasted and chopped
1 cup heavy cream
1 tablespoon espresso powder / finely ground espresso beans
1/2 teaspoon sea salt
1 cup honey

Special equipment: candy thermometer
Place the nuts in a medium sized, glass or ceramic mixing bowl.
In a medium, thick-bottomed saucepan heat the cream, espresso powder, and salt until tiny bubbles start forming where the milk touches the pan - just before a simmer. Stir in the honey. Bring the mixture to a boil. Now reduce the heat to a simmer and cook, stirring constantly with a wooden spoon, for about 15-20 minutes minutes or until the mixture reaches 260F degrees - hard ball stage. Remove from heat.
Pour the caramel over the nuts and stir until all the nuts are well coated. Place the bowl in the refrigerator for 10 or 15 minutes to allow the caramel to thicken before you attempt to shape it. It is easier to handle this way - not as much spread. Stir one last time and drop by tablespoonful onto a prepared baking sheet (Silpat, parchment-lined, or oiled). Alternately, skip the nut addition and simply spread the (cooled but not set) caramel out on a slab or parchment-lined pan, let it cool completely before cutting into small pieces. Wrap & twist in parchment paper.
In either case keep the caramels in a cool place (or refrigerate) until completely set.
Makes 1 1/2 dozen nut caramels, or a couple dozen individual caramels (depending on the size).