Cranberry Jam Recipe
A delicious cranberry jam recipe, the most riveting shade of ruby red you've ever seen. Would be perfect with toasted walnut bread and an antique gruyere cheese.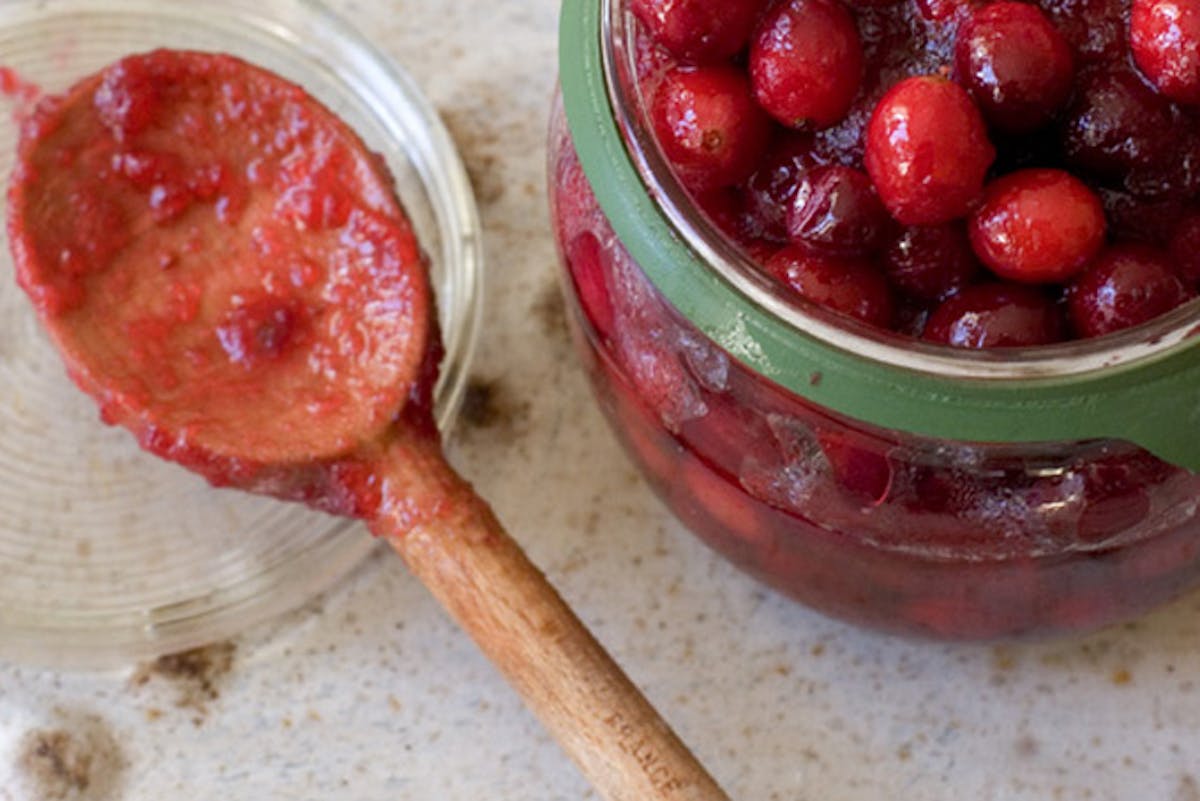 I picked a delicious cranberry jam recipe to feature today. It comes from a beautiful cookbook by Tessa Kiros called Falling Cloudberries. I suspect many of you are familiar with it. For those of you who aren't, this personal volume is a scrapbook of Tessa's food memories anchored in family and the many countries where she has lived. The journey she takes us on is beautifully colorful, eclectic and full of interesting flavors - we go from Italy to South Africa, Finland to Greece.
You fall for Tessa the minute you see her. In her author photo she wears a mango pink gingham-check blouse, around her neck is a perfect strand of bright sky-colored beads - she oozes personal style and good taste. Dewdrop skin and introspective eyes tell us she will be a kind and patient teacher (and I can't keep myself from thinking she'd be the perfect person to shop or visit a flea market with). Falling Cloudberries is her second book. Twelve, rooted in Tuscan recipes, was her first book - also stunning and worth tracking down.
I chose the cranberry jam recipe because it's seasonal, sounded delicious, and is the most riveting shade of ruby red you've ever seen. If you've got lingonberries on-hand (which I never see at our markets), those will work too. The jam is very easy to make, you start your berries the night before and it only takes about 20 minutes or so to make the jam and put it in jars the next morning. I didn't bother to seal the jars, because I figure we will finish off the batch inside of the week. Tomorrow I'll shop for some tasty walnut bread and maybe an antique gruyere cheese to go with the jam - but it seems to go with just about everything. If you've never tried making jam before, this is the time to give it a shot.
Books by Tessa Kiros:
- Twelve
- Falling Cloudberries
- Apples for Jam
Related links:
- Jen Maiser on Apples for Jam
- Jam Faced on Twelve
- And if you're interested in reading an interview with Tessa, hop on over to Who Wants Seconds.
Lingonberry or Cranberry Jam Recipe
Depending on the tartness of the berries you may need to adjust the amount of sugar.
1 lb. 2 ounces (500 g) frozen or fresh lingonberries or cranberries

A scant cup (7 oz/200g) of caster (superfine) sugar (hs note: I just gave my regular granulated sugar a whirl in the food processor for 15-20 seconds)

Finely grated rind and juice of 1 lemon
1 small apple, peeled and cored
Rinse the berries, if necessary, then drain well and put them in a non-metallic bowl with the sugar and lemon juice. Leave overnight, turning once or twice.
Coarsely grate the apple and put it into a jam-making pan or other heavy based saucepan with the grated lemon rind. Strain in all the juice from the berries (hs note: I didn't end up with a ton of juice, but scraped all the thick, sugary juice in) and add two wooden spoonfuls of berries, leaving the rest of the berries in the bowl for now. Add 1/2 cup (125 ml) water and simmer for 20-30 minutes, or until the apple is very soft and the whole lot has thickened (hs note: I ended up ~10 minutes). Add the rest of the berries and heat through for 5-8 minutes. Pour into sterilized jars. Seal tightly and turn upside down. Cover with a cloth and leave to cool completely before turning upright and storing in a cool place. The jam will keep for a couple months but, once open, keep it in the fridge and use fairly quickly.
Makes about 2 cups.
from Falling Cloudberries by Tessa Kiros (Murdoch Books, 2004) - reprinted with permission