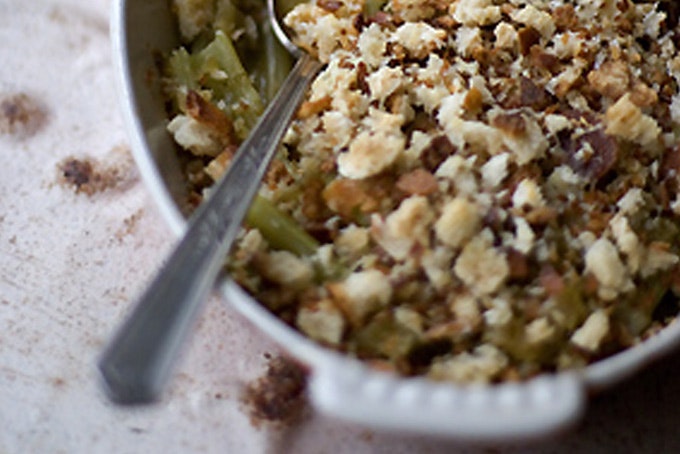 Braised Celery with Crunchy Bread Crumb Topping Recipe
Loud claps of thunder are setting off car alarms up and down the block, and black clouds are spitting rain at the pavement so hard it's doing its best to bounce right back up. I've been waiting for the perfect day to write about this book, and today is the day - rainy, dark, cold and nasty. This is prime braising season, and Molly Steven's All About Braising is the bible. This is the perfect book to pull off the shelf when you are looking for hearty, slow-cooked, richly-flavored inspiration.
I met Molly last year at the IACP Conference in Dallas when a bit of fairy dust and the spelling of our last names put us in the same place at the same time. She is an ST (Stevens), and I am a SW (Swanson) - we were signing books along with what seemed like 100 other authors at the IACP cookbook expo. Each author shares a table with one other person and because of the ST/SW connection, for a couple of hours Molly and I shared a card table, two fold-up chairs, and a stream of get-to-know-you stories.
Later that night Molly went on to win the IACP award for Best Single Subject Cookbook, and followed that up with the award for Best Single Subject Cookbook from the James Beard Foundation later in the year. It has been fun to root her on from afar.
You are likely familiar with the technique of braising, even if you don't know it. Braising is a cooking method that uses low temperatures and lengthy cooking times to cook food in a closed vessel or pot. Many people associate braising exclusively with meats - dishes like osso buco or coq au vin, but there are many delicious, classic, braised vegetable dishes as well. Molly includes a robust vegetable chapter in All About Braising. This closed-and-sealed pot technique gives you a depth of flavor and texture that you just can't get with any other cooking method - it is almost as if the food is immersed in a self-marinating shower cycle inside the pot throughout the entire cooking duration.
View of Duboce park from my office window.
Molly's book is treasure chest of one-pot meals - perfect for lazy, cold-weather days like today. I made the Braised Celery, which shows you a tasty new way to approach celery. You take a dish of celery segments topped with a dose of sauteed aromatics (celery hearts, shallots, and thyme), and a bit of broth. Slowly cook it all down under a roof of tinfoil until it is nice, moist, and tender - then finish it off gratin-style with crunchy bread crumbs and a bit of nutty gruyere. Next on my list is Molly's Red Cabbage Braised with Maple & Ginger, you can get it from her website if you want to give it a try (scroll to bottom).
Braised Celery with Crunchy Bread Crumb Topping
Heidi note: do your best to get all the strings out of the celery - or else you will end up with tender celery streaked with strong, stringy fibers.
2 tablespoons unsalted butter, at room temperature

1 head celery (about 1 3/4 pounds)

1 large shallot or 1 small yellow onion, finely minced (about 1/4 cup)

1 1/2 teaspoons finely chopped fresh thyme or 1/2 teaspoon dried

Coarse salt and freshly ground black pepper

1/4 cup dry white wine or dry white vermouth

1 cup chicken stock, homemade (page 448) or store-bought (hs note: I used a veg. stock)

1/3 cup freshly grated Gruyere, or half Gruyere and half Parmigiano-Reggiano

3 to 4 tablespoons fresh bread crumbs made from day-old rustic white bread
1. Heat the oven to 325 degrees. Using about half the butter, generously butter a large gratin dish or baking dish (9- to 10-by-13- to 14-inch).
2. Washing and trimming the celery: Tear the celery stalks from the head. You should have about 10 or 12 sturdy outer stalks. Stop tearing off the stalks when you reach the shorter, pale, tender stalks, or the heart. Set it aside. Rinse the celery stalks, giving special attention to the inside of the base of each stalk, where dirt tends to lodge. You may need a vegetable scrubber to remove stubborn dirt. Trim off the top part of the stalk where it branches into leaves, and set the tops aside with the heart. Using a small paring knife or vegetable peeler, scrape the outside of each celery stalk to remove the fibrous strings that run its length. Cut the stalks into 3- to 4-inch lengths. Arrange them in a layer in the baking dish. It's fine if the sticks overlap some; they will shrink and flatten into a single layer as they braise.
3. The aromatics: Finely chop the reserved celery heart, with the celery tops and leaves. Melt the remaining butter in a medium skillet (IO-inch) over medium-high heat. Add the shallot, thyme, and chopped celery heart and leaves. Season with salt and pepper. Saute, stirring occasionally, until the vegetables are soft and beginning to brown, about 10 minutes. Pour in the wine and simmer until the pan is almost dry, about 3 minutes. Add the stock and simmer until reduced by half, another 6 minutes or so.
4. The braise: Pour the celery-shallot-stock mixture over the celery sticks. Cover with foil and slide into the middle of the oven to braise until the celery has collapsed and feels very tender when prodded with a knife tip, about I hour and 15 minutes.
5. The finish: Remove the celery from the oven, and increase the oven heat to 400 degrees. Sprinkle the cheese and bread crumbs over the celery, and return to the oven until the cheese is melted and the top is crusty and browned, about 10 more minutes. Serve hot
or warm.
Serves 4 I Braising Time: about 1 1/2 hours.