Onion Soup without Tears Recipe
A twist on a classic onion soup recipe adapted for cry-babies (like me). Caramelized onions, white wine, butter, vegetable stock, and grated cheese.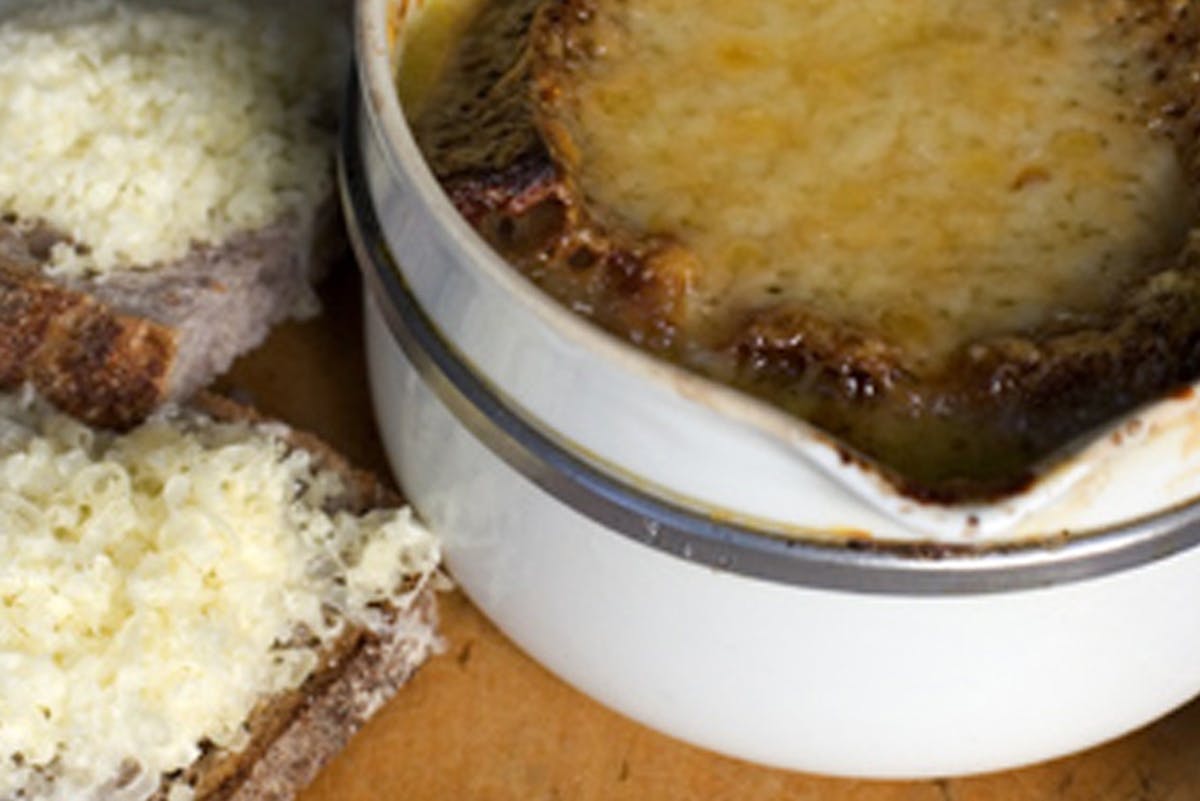 Onion soup recipes are best dusted off on dreary days. Though, after weeks of what seemed like endless rain, we finally saw a break yesterday. The clouds gradually cracked to reveal crystal blue sky and by mid morning the sun was bright overhead and the shadows were strong underfoot. We packed up the car and head north to Point Reyes National Seashore to go on a favorite hike.
We parked the car at the Bear Valley Visitor Center and set out a nine mile walk through forests and along fast-moving streams toward the dramatic cliffs where the continent meets the Pacific in a bubbling cauldron of foam and seawater. To call the journey a hike is a bit misleading, it is more of a stroll - leisurely with no big climbs or descents. Easy, but long. We didn't see many people along the trail eventually realizing that mud, fallen trees, and closed roads must be effective deterrents.
Hiking in Point Reyes: White-spotted tree trunks
It was a perfect day, and exactly what was needed after being inside for weeks. My eyes could stretch out across sprawling meadows and everything was an organic mixed palette of a million shades of green and brown and grey.
Some of the things I saw: tight clusters of tiny mushrooms huddled at the base of tall trees, white horses that seemed to have stepped out of a fairy tale, a tiny bird I've never seen before in California - no bigger than a chubby shallot in size and shape, a violent white foamy high tide, the darkest red ladybug I've ever seen perched on my shoulder, turkey vultures circling hundreds of feet overhead, and a bobcat on the hunt.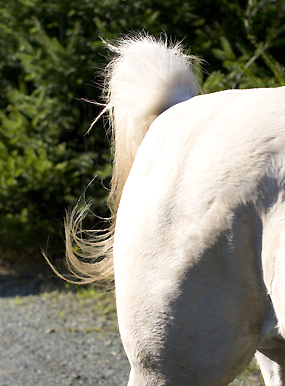 Hiking in Point Reyes: White pony tails
Worn-out and tired, we weren't home more than a couple of hours when the clouds closed in overhead and the rain started coming down again. I decided to spend the evening sitting around in front of the fireplace with the new Nigel Slater cookbook. If anyone knows how to cook a good, hearty cold-weather meal it is this U.K.-based favorite. His past books are packed with warm, indulgent curries, hearty soups, and oven-roasted goodness. His new book is signature in this regard, but the format is a bit different.
The Kitchen Diaries captures a years worth of life through recipes. Delicious, everyday fare and the rationale behind them - Nigel Slater captures and communicates the rhythms and logic of his day to day cooking. Some days it is quick and easy throw-it-together approach, other days more thought, planning, and consideration comes into play. The book is a glimpse into the life of an exceptional and approachable home cook and there is plenty to be inspired by here.
As my first foray into this volume I chose his January 11th entry, Onion Soup without Tears. It's a twist on classic onion soup adapted for cry-babies (like me). Slicing a pot full of onions for a soup can be rough going if you are weepy, so in this recipe Nigel has us roast peeled and halved onions, and do some loose slicing after they come out of the oven. The caramelization from the pan adds a beautiful layer of flavor and depth to the soup. Other than the initial roasting of the onions, the rest of the soup comes together in a snap with a short list of ingredients. Finish it off under the broiler topped with flavorful Gruyere and you've got something special to savor on a cold night.
Onion Soup without Tears Recipe
(hs note: adapted for U.S. measurements)
onions - 4 medium
butter - 1 - 2 tablespoons
a glass of white wine
vegetable stock 6+ cups
a small french loaf
grated Gruyere, Emmental or other good melting cheese - a few generous handfuls
Set the oven to 390 degrees. Peel the onions and cut them in half from tip to root, then lay them in a roasting tin and add the butter, salt and some pepper. Roast until they are tender and soft, and toasted dark brown here and there. You might have to turn them now and again.
Cut the onions into thick segments. Put them in a saucepan with the wine and bring to the boil. Let the wine bubble until it almost disappears (you just want the flavour, not the alcohol), then pour in the stock. Bring to the boil and simmer for about twenty minutes.
Just before you want to serve the soup, make the cheese croutes. Cut the loaf into thin slices and toast lightly on one side under a hot grill (broiler). Turn them over and sprinkle with the grated cheese. Get the soup hot, ladle it into bowls and float the cheese croutes on top. Place the bowls under a hot grill (broiler) and leave until the cheese melts. Eat immediately, whilst the cheese is still stringy and molten.
Enough for 4.
from Nigel Slater Kitchen Diaries - reprinted with permission.