Roasted Tomato Soup Recipe
A roasted tomato soup recipe I featured in my last cookbook. Roast tomatoes, onions, garlic, and a red pepper then puree and season with a touch of smoky paprika. Couldn't be simpler or more flavorful.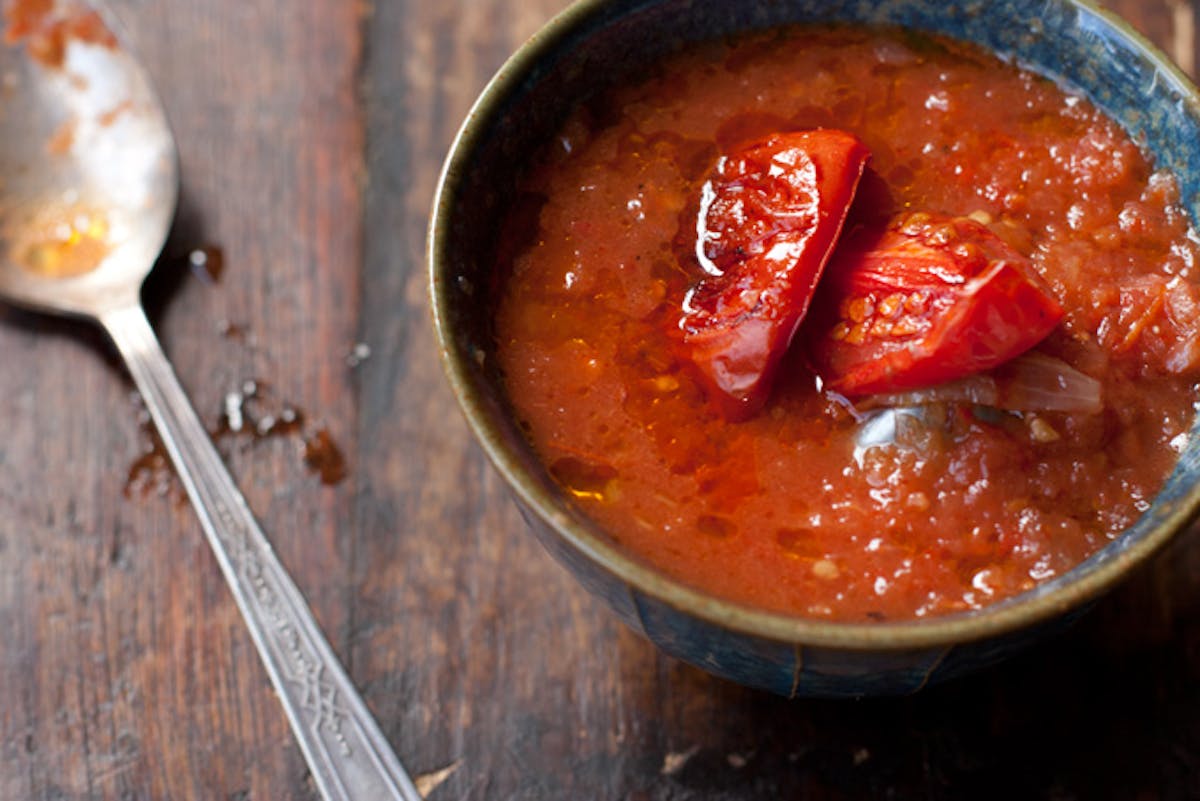 I picked up my mystery box the other night, and it was no joke. So heavy, I suspect it weighed in the thirty pound range. It was overflowing with a rainbow of produce - little gem lettuce, Hungarian spicy peppers, lacinato kale, Danish carrot beets, minicor carrots, tomatoes, sweet peppers, chard and scallions. Hidden beneath the rest of it, at the very bottom, so as not to crush the rest of her leafy neighbors, was a hefty rouge vif d'estampe pumpkin the color of a fiery sunset. Plenty to keep the kitchen lively in the coming week. We started by reaching for the tomatoes - slicing them, dicing them, snacking on them raw. That said, we still had plenty that needed to be used up. I thought of the roasted tomato soup in Super Natural Cooking, fired up the oven, and started slicing. It's quite simple, just a handful of ingredients, the majority of which are sliced and roasted to the point of browning and/or collapse. Puree, season with a kiss of smoked paprika, and enjoy. That's it.
I tweaked the recipe a shade from the original by saving a few of the roasted tomatoes from their fate with the hand-blender, which added a bit of rustic texture to each bowl. I like this soup heated, but you can serve it hot, cold - whatever the weather calls for. And you can do it a day or two in advance if need be, it keeps well.
For those of you who missed it, I also wrote in more depth about Mystery Thursdays here.
Roasted Tomato Soup Recipe
5 tomatoes, cored (if necessary) and quartered
1 large red bell pepper, seeded and quartered
3 medium yellow onions, peeled, quartered
extra-virgin olive oil
5 plump cloves of garlic, unpeeled
fine-grain sea salt
2 - 3 cups light vegetable stock or water
1/4 teaspoon smoked paprika
Preheat the oven to 375F degrees and position 2 racks in the middle of the oven. Line 2 rimmed baking sheets with parchment paper, alternately you can just rub them down with a thin glaze of olive oil.
Arrange the tomatoes, skin side down, on a baking sheet. Coat the bell pepper and onions with olive oil and put them on the other baking sheet along with the garlic, place the pepper skin side down as well. Give both sheets a light showering of salt, then bake until the tomatoes start to collapse and the onions start to brown and caramelize, about 45 minutes. Turn the onions if they start getting overly dark on the bottom .Check on the garlic as well, once the cloves are golden and oozy inside, pull them from the oven.
Peel the garlic, dump all of the roasted vegetables into a big, high-sided bowl, and puree with a hand blender. Alternately, use a conventional blender or food processor and work in batches. Blend in a cup of the stock, and keep adding the rest 1/2 cup at a time until the soup is the desired consistency. I like a little chunk and texture to this soup particularly if the weather has a bit of a chill, but smooth or chunky is your call. Add the paprika and a bit more salt if needed - adjusting to your taste.
Serves 4.