Lilikoi Passionfruit Curd Cake Recipe
A lilikoi curd-swirled loaf cake. It moist in the middle, sliceable, and delicious. Change curds with the seasons or as you are inspired - any flavor will work.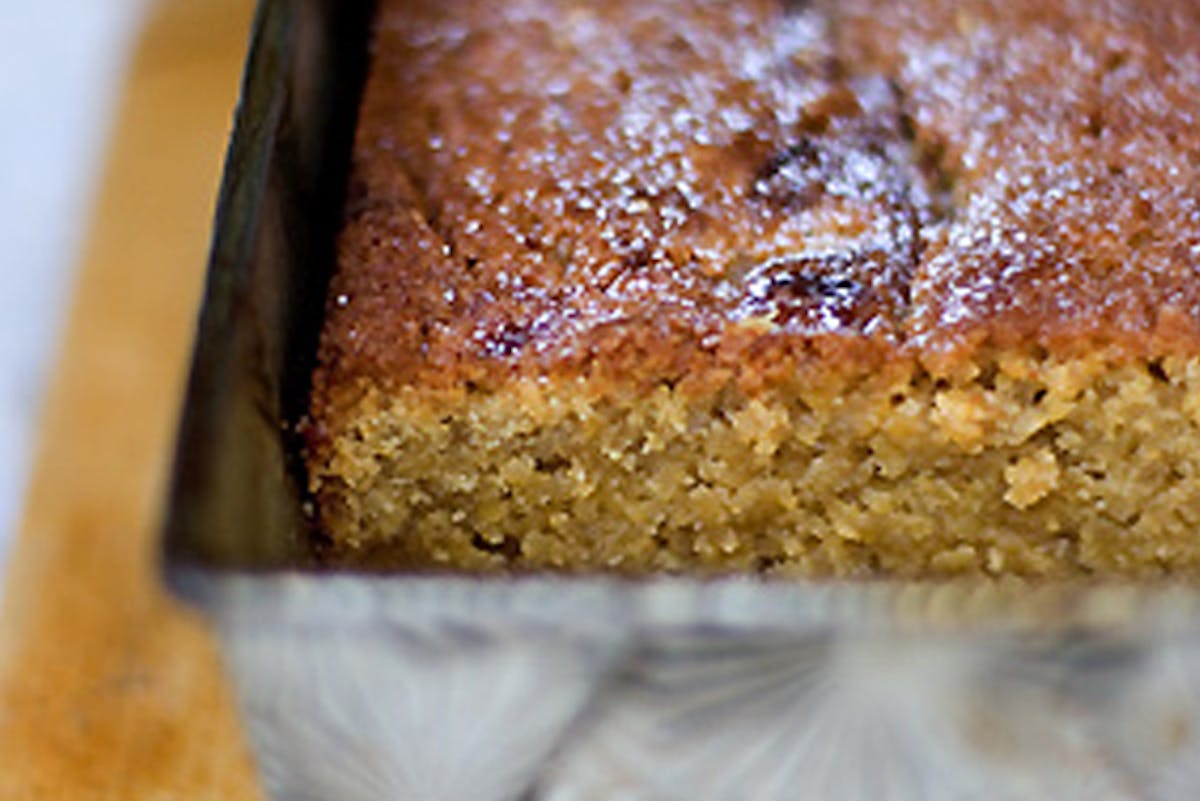 I've been meaning to do a special recipe with my favorite Lilikoi curd, and today is the day. My idea was to bake a lilikoi curd-swirled loaf cake - moist in the middle, sliceable, and delicious. You can use Randy and Donna's curd (read below), or take a shot at making your own. Change curds with the seasons or as you are inspired - any flavor will work with this over-the-top-moist cake foundation.
A little history, I was lucky to run into Randy Nakamoto in the midst of all the salsas, shortbreads, and endless samples that make up the Winter Fancy Food show taking place this week here in San Francisco. Randy and his wife Donna make a line of exotic fruit curds on the island of Oahu. Nothing beats their Lilikoi Curd with Li Hing Mui, and after being introduced to it at last year's show, I stocked up on a half-dozen jars of it at ten dollars a pop.
Lilikoi is the Hawaiian passion fruit and it tastes as pretty as its name sounds - delicate, ever-so-slightly floral and fragrant. It looks like Randy and Donna use li hing mui powder (Chinese preserved plums) as an accent in their curd because you can see the minuscule little flecks dancing around the jar if you hold it right up to your eye.
Here's what I wrote about their lilikoi curd last year:
"...The gem of the day. At the end of five hours of walking, sampling, and small talk - I literally stumbled into a booth filled with a medley of Hawaiian products. In a zombie-like state I stood standing - staring, at a wall of curds. The name of one caught my attention: Lilikoi Curd with Li Hing Mui. So I took a little spoon and tried it -- sometimes I don't like curds, they have too much of an egg-y flavor. Not the case here at all. Someone made this curd just for me - it was one of the best I've tasted. Turns out the man who makes it was standing next to me, and he kindly told me it was passionfruit, the curd was a passionfruit curd."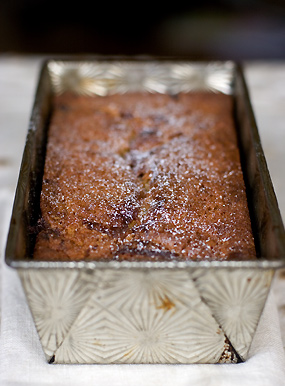 Lilikoi Passionfruit Curd Cake Recipe
You can make this cake in a variety of pans. This time around I used a vintage loaf pan (8x4? - it looks like it can hold about 6 cups), but a 9 or 10-inch spring-form should work as well. Just keep an eye on your cooking time and adjust accordingly. Small, individual cakes would be great too.
1 cup whole wheat pastry flour
1/2 cup unbleached all-purpose flour
1 1/2 teaspoon baking powder
3/4 teaspoon fine-grain sea salt

1 1/2 sticks organic unsalted butter

1 1/2 cups granulated sugar (I used 1 cup Florida Crystals organic + 1/2 cup Alter-Eco unrefined ground cane sugar)

3 large organic eggs
1 teaspoon vanilla extract
3/4 cup lilikoi curd (or curd flavor of your preference - lemon, raspberry, etc)
Preheat your oven to 350 degrees, and make sure one of your racks is on the middle level.
Choose your cake pan(s) and butter generously. I was going to flour the pan as well, but I forgot and it turned out that I didn't really need to. In the end the cake pulled away from the sides of the pan ever-so-slightly making it very slice-friendly.
Combine your dry ingredients: Sift the flour, baking powder, and salt into a small/medium-sized bowl and set aside.
Combine your wet ingredients: In a separate medium-sized bowl (or mixer) beat the butter with the whisk or paddle attachment for about three solid minutes. You want the butter to be smooth and creamy before you add any of the rest of the ingredients. Now add the sugar(s) and beat some more - another three minutes minimum. Scrape down the sides of the mixing bowl once or twice during the process so you end up with a nice, even, creamy butter/ sugar blend.
Add the eggs one at a time: After you add each egg, mix until the egg is fully incorporated and the batter is smooth and creamy - scrape down the sides of the bowl now and then along the way. If you don't beat well enough at this stage you'll end up with little butter/sugar flecks throughout your batter in the end. After the eggs are well incorporated stir in the vanilla extract.
Combine wet and dry ingredients: Dump the dry ingredients into the mixing bowl and gently fold in the flour. You don't want to over mix the batter at this point, so continue to fold the flour in until the last of the flour just barely disappears.
Get ready to bake: Scoop half of the cake batter into the prepared cake pan. It is pretty thick, so you may need to spread it around a bit with the back of a spoon. Now take about 1/2 of your curd and cover the batter, staying clear of the sides of the pan if possible. Add the rest of the cake batter and smooth out the top until it is level if you need to. Now you are going to finish off the top of the cake with some curd swirls. Plop big spoonfuls of the remaining lilikoi curd and plop them on top of the cake (again staying clear of the sides of the pan if possible). Drag a butter knife through the curd in a loop-de-loop motion so the cake batter swirls with the curd and you get a marble effect.
Bake for 50-60 minutes (depending on pan shape/size), or until the cake bounces back a bit when you push the top of it with your finger - it will be very moist (see picture), so don't overcook - trust your eyes, nose, and instinct. Let cool and serve at room temperature dusted with a bit of powdered sugar (I bet ginger-kissed, loosely whipped cream would also go well with this).
Makes about 12 modest slices.