Edamame Salad with Shiso + Meyer Lemon Vinaigrette Recipe
Makes a fantastic lunch, and it comes together quick and easy. For those of you unfamiliar with shiso, it is a fierce looking herb with spiky leaves, and wonderful edgy green nose.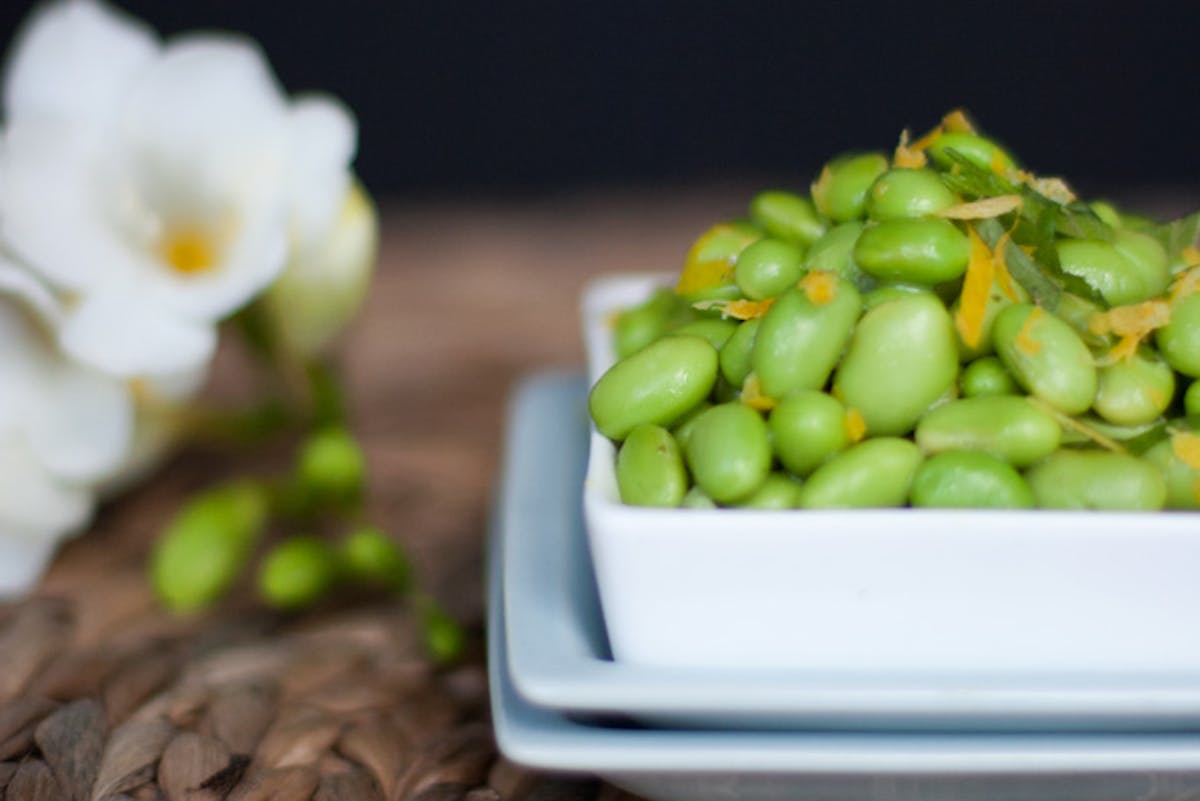 Ready to take your sake consumption to a new level of sophistication? Ready to move beyond those colorful saketinis you order at trendy bars, or the occasional white-hot sake ordered with your sushi? You're in luck. Beau Timken (owner of TrueSake) and Sara Deseran (senior editor at 7x7 magazine in San Francisco) have published a precious little hardcover sake primer, the perfect starter book for any budding sake connoisseur.
Sake lays down a nice foundation of basics to get the amateur (but aspirational!) sake-drinker off on the right foot. The small (in size) volume doesn't lack in scope - it is packed with well-organized information punctuated with helpful side-bars - sake lingo 101, sake categories, tricks to reading a sake label, how to have a sake tasting at home, which sakes are best for heating, etc. The book closes with a list of 50 sakes (with tasting notes and food-pairing suggestions) as well as 40+ sake-friendly recipes.
If your eyes start to glaze over when you look at the dizzying combination of Japanese characters and numbers on a sake label the section on how to read a label will be a favorite. You'll learn how sake is unlike some of the other beverages you drink. For example, if sake was like wine it would be categorized by type of rice, in the way wine is categorized by type of grape - cabernet, zinfandel, pinot, etc. Sake is different. It is all about the rice, and sake is categorized by how much the rice has been polished (polishing rates). This defines the level of purity for each sake. The more a grain is milled down to the more pure endosperm, the more pure the sake will be. A sake marked as 60% has had 40% of every grain polished off. A 50% sake will be more 'pure' than one marked 30%. Got it? There's more where this comes from. Sake is great because in a sense it is a beautifully photographed, thoughtfully presented, sake cheat-sheet.
Fresh shiso
The recipe section focuses on sake-friendly recipes, and yes, plenty of sake cocktails. For todays write-up I chose the Edamame Salad with Shiso and Meyer Lemon Vinaigrette. Sounds good, right? I thought it would make a fantastic lunch, and it comes together quick and easy. For those of you unfamiliar with shiso, it is a fierce looking herb with spiky leaves, and wonderful edgy green nose. You can often find it in Asian markets - there is a supermarket here in San Francisco's Japan Town that carries the fresh leaves. If you can't find the shiso, don't worry, the salad is still wonderful, bright, and delicious without it - just different. A neat way to twist up your edamame snacking.
One last thing I'll say about the book before we jump into the recipe. It would make a great gift. Bundle the book with a nice sake set, and bottle of the good stuff and you have a thoughtful and educational housewarming present on your hands. It is brand spanking new and should start shipping from Amazon sometime this month (you can pre-order), it should start showing up in bookstores shortly after that.
Edamame Salad with Shiso and Meyer Lemon Vinaigrette Recipe
Sara and Beau's recipe header notes: This recipe was provided by Eric Gower, author of The Breakaway Japanese Kitchen. Eric, who lived in Japan for years, finds that already shelled edamame, usually sold frozen, taste every bit as good when cooked as the ones sole in the pod, which tend to be much more expensive and require considerably more time to prepare. Serves 4.
3 cups shelled edamame, or soy beans (about 12 ounces)
2 Meyer lemons or regular lemons
5 shiso leaves, sliced into a chiffonade
3 tablespoons fruity extra virgin olive oil
2 tablespoons rice vinegar
2 tablespoons maple syrup
Kosher salt to taste
Freshly ground black pepper to taste
Cook the edamame according to the package's instructions (the frozen kind are typically boiled for about 5 to 10 minutes). Drain, place in a serving bowl, and let cool to room temperature.
Zest one lemon and set aside. Squeeze the juice from the lemon (about 1 tablespoon plus 1 teaspoon). In a blender, add the lemon juice (hs note: and zest here too, I think), half the shiso leaves, the olive oil, vinegar, and maple syrup. Add the salt and pepper to taste. Blend well and gently mix the dressing with the edamame. Toss with the remaining shiso. Zest the other lemon and sprinkle the zest on top.
Sake pairing suggestions: Ichinokura Himezen Junmai, Dewazakura Dewasansan Junmai Ginjo, Hoyo Kura No Hana Junmai Dai Ginjo