Video: Citrus Parmesan Farro Salad Recipe
This is the farro salad I took to Jack's first birthday party. My favorite citrus Parmesan vinaigrette dressed a bowl of healthy salad greens, plump farro grains, crumbled goat cheese and almonds.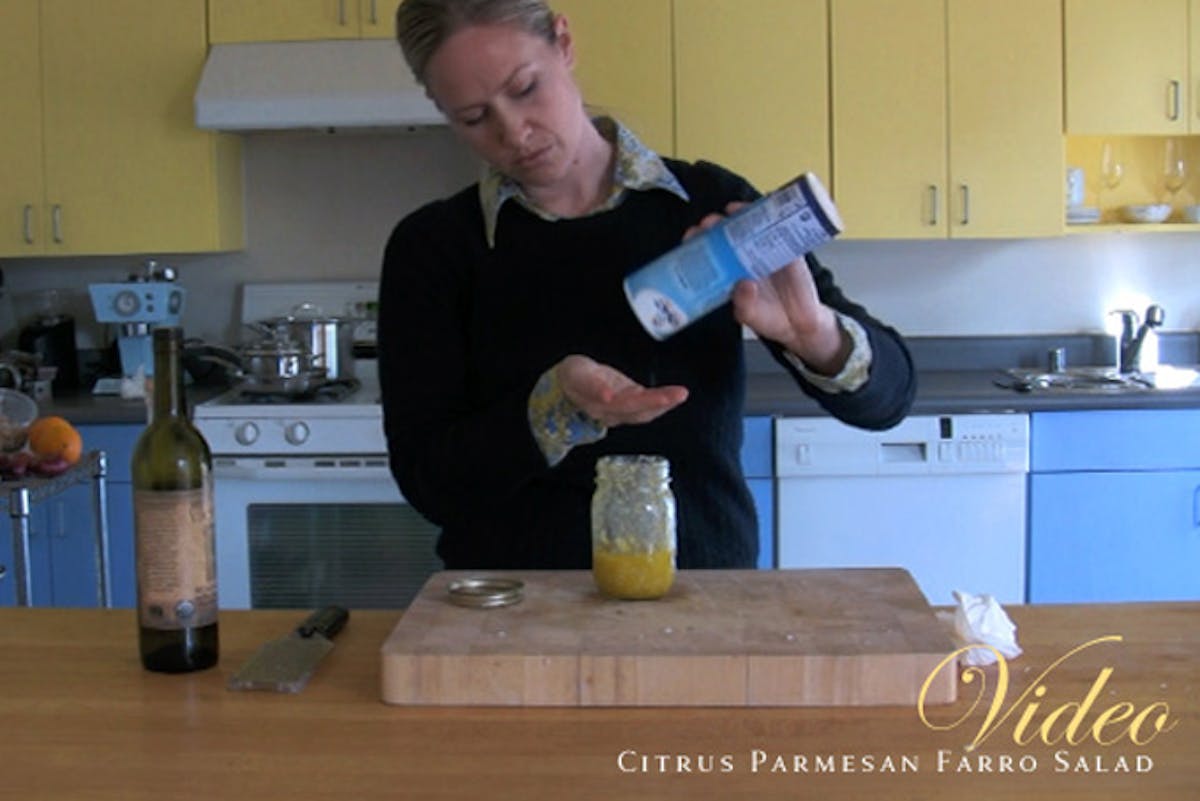 This farro salad accompanied me to a special birthday party recently. Those of you who have either of my books might recognize some of the components. I used my favorite citrus Parmesan vinaigrette to dress a bowl of healthy salad greens and farro grains, crumbled goat cheese and almonds. I make variations of this throughout the year using whatever is in season to go along with the greens and grains. I thought I'd share some footage of the party along with a video show-and-tell of how the salad comes together. You can find the written recipe instructions at the end of this post. And my apologies in advance, I swear it didn't dawn on me until after exporting the final video that you might be more interested in how to make the beautiful cupcakes you'll see at the end. Whoops. Maybe there will be a cupcake post in our future. ;)
- Video: larger version on You Tube
Related Links:
- Video: Big Sur Power Bars
- The cupcakes in the video were from Kara's Cupcakes
- Bluebird Grain Farms
Citrus Parmesan Farro Salad Recipe
If you are short on time, choose a lightly or semi-pearled farro (actually easier to find in some places), which will cut the cooking time for the grains down to about 20 minutes. You lose some of the nutrients as the the bran is pearled away, but you still get more than if you were using a completely refined grain, for example white rice. ON a separate note, hot farro grains will cause the salad greens to wilt, so give yourself enough time for the farro to cool to room temperature before tossing the salad. If you want to do a warm/hot version of this salad use spinach (3 handfuls) and toss with hot farro and dressing just before serving - this will wilt the spinach in a good way.
4 to 6 big handfuls of mixed salad greens, washed and dried
2 cups farro, rinsed and drained
5 cups water (or stock)
2 teaspoons fine-grain sea salt
1 medium orange, zest and juice
1 shallot, chopped
1/3 cup Parmesan, freshly shredded
1 tablespoon white wine vinegar
1/2 cup good quality olive oil
a couple big pinches of salt
1/2 cup Spanish almonds, or toasted regular almonds
1/2 cup goat cheese, crumbled
Combine the farro, salt, and water in a large, heavy saucepan over medium heat. Cover and simmer, stirring occasionally, until the farro is tender, 45 minutes to an hour, or about half the time if you are using semi-pearled farro. Taste often as it is cooking, you want it to be toothsome and retain structure. Remove from heat, drain any excess water, and set aside.
While the grains are simmering make the dressing. Whisk together the orange juice, orange zest, shallot, Parmesan cheese, white wine vinegar, and olive oil. Salt to taste and set aside.
Just before serving, in a large bowl, toss the salad greens with a bit of the dressing. Add the farro and another generous splash of the dressing - gently toss again. Taste and add more dressing and/or salt. Finish by sprinkling the goat cheese and almonds across the top. Be careful not to over mix.
Serves 12 as a side.