A Good Soup for the Sick Recipe
Turn to this miraculously delicious soup when you are feeling sick - beans, water, garlic, shallots, chiles. Total active prep time was under five minutes, the rest is just waiting and anticipating.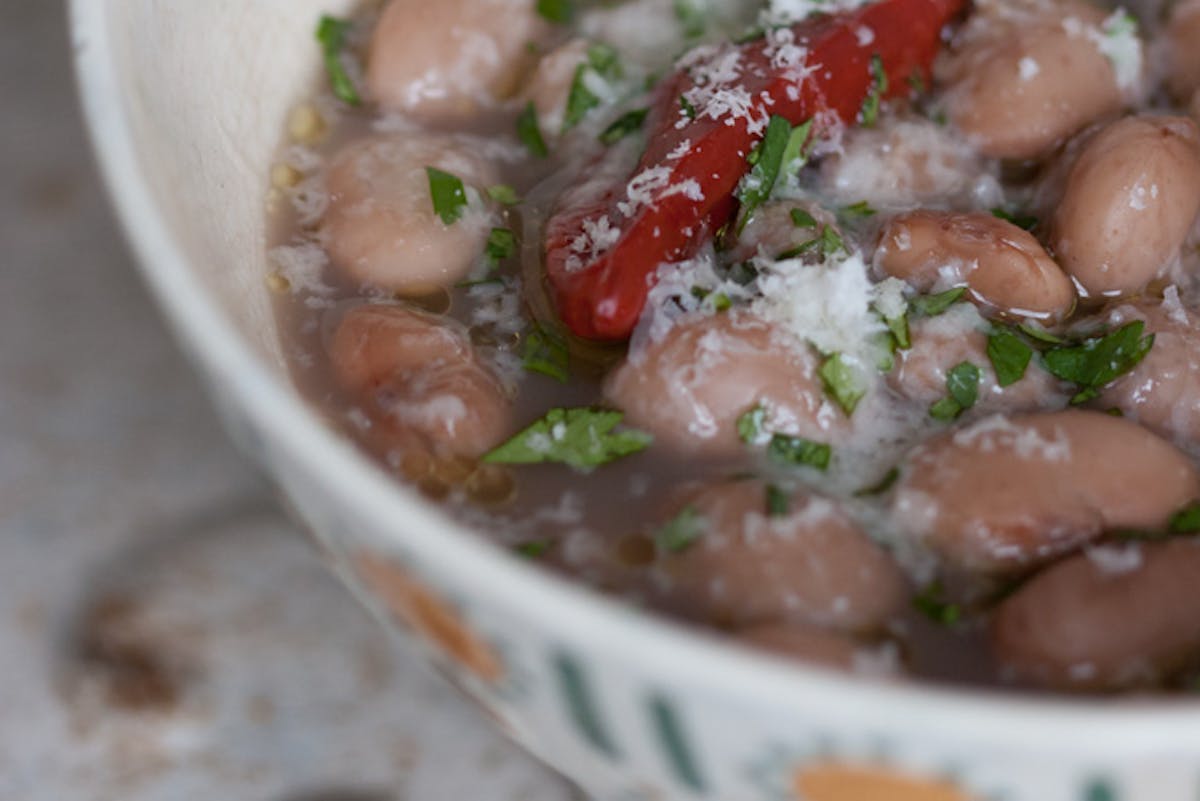 You don't really appreciate your lungs until they decide to mount a revolt against your body. This is what is happening to me. I've been hacking, coughing, and wheezing for the last forty-eight hours. It is a dry cough which makes it all the more unsatisfying. To add insult to injury, I think my teeth are rotting from all the cough drops I've been popping. As much as I hate to admit it, they seem to be the only thing to help. Cough drops, and if I sit really still, and don't talk.
Sounds like I need a big, brothy, nourishing bowl of soup, right? That's what I thought too. I wasn't going to walk to the store though. I made it about two blocks to the coffee shop this morning, but that was my outing for the day. My soup would need to consist of ingredients already in my pantry or refrigerator.
Lucky for me, my main market squeeze, Steve Sando sent me (and Pim) home with bags of beautiful (new crop) Borlotti beans last Saturday. Borlotti are a beloved type of cranberry bean with a thin skin and melt-in-your-mouth creaminess. A fantastic bean for pasta e fagioli. My focus wasn't on pasta though, I was thinking more about broth. Hot, fragrant, delicious broth. A look around the kitchen turned up a few dried, smoked chiles, garlic, shallots, cilantro, olive oil, salt, and a mystery wedge of hard cheese. Plenty to work with.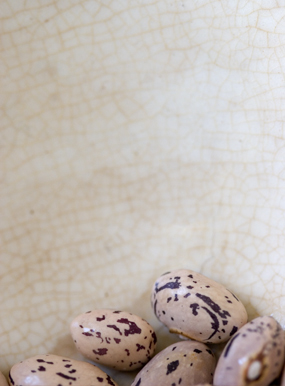 Beautiful Borlotti Beans
Keep in mind I don't actually feel like cooking, I only want to reap the benefits of a homemade bowl of soup for lunch. I want to do as little as humanly possible to get it. So at about 10:30 this morning I dumped a bunch of the above ingredients in my Le Creuset pot, put the lid on it, and stuck it in the oven for two hours, hoping for the best.
After an hour the smell of the chiles, garlic, and shallots started creeping out of the oven and into my office. I was pretty sure I was onto something good. An hour later a quick taste made me a believer. A couple ladles of the beans - just on the brink of falling apart at this point - topped with chile and garlic-infused broth, and showered with a thin veil of finely grated cheese and a kiss of cilantro. It was good and it made me feel better for a little while. Here is my gift to all the other people out there with this nasty cough- A Good Soup for the Sick. Total active prep time was under five minutes, the rest is just waiting and anticipating.
I just realized that this recipe is pretty close to being 'all local' for you Bay Area cooks participating in the Eat Local Challenge - chiles from Tierra, beans from the delta, farmers market produce, Sciabica olive oil and Three Sisters Cheese (not within 100 miles, but still from California and the neighboring San Joaquin Valley).

A Good Soup for the Sick
I used Rancho Gordo Borlotti beans for this recipe, but you could use other beans from the cranberry family if they are more readily available. The thing I love about Rancho Gordo beans is that they are fresh crop dried beans. Some of the dried beans you come into contact with in stores are from crops five or more years ago. Steve's beans are typically less than a year old and they plump up beautifully.
1 pound cranberry beans (like Borlotti)
8 cups of water
15 medium cloves of garlic, peeled and trimmed

2 big shallots (I might have used a white onion but didn't have one), sliced on the axis into thin crescents

2-3 dried smoked chiles (I used smoked serranos) but I suspect dried chipotles or even one or two chipotles from the can (in adobo sauce) would work nicely

2 teaspoons+ fine sea salt for seasoning

a drizzle of flavorful extra-virgin olive oil

a small handful of cilantro, chopped

a couple (optional) handfuls of a salty hard cheese, Parmesan, grated (I think my mystery cheese was actually Three Sisters Serena)
Soak your beans overnight. Before soaking give them a good rinse. Look carefully for any pebbles or dirt clumps. Cover with a few extra inches of water, the Borlottis take in a lot of liquid. When you are ready to use the beans, drain them, rinse again, and set aside.
Preheat your oven to 350. Place the racks near the bottom of the oven.
Put the beans, water, garlic, shallots, and chiles in an oven-proof pot or casserole - preferably one with an oven-proof lid. Place the pot on a rimmed baking sheet (in case of accidental overflow), and place in the oven for two hours, or until beans are nice and tender. After the first hour check every twenty minutes or so. When the beans are done, pull the pot out of the oven and season generously with salt. Stir and taste. Season so the broth tastes just right, the beans need some time to take in the saltier broth at this point, so once you have the broth seasoned nicely, just let the soup sit there on the top of the stove, covered for another ten minutes or so. Taste and adjust for seasoning one more time and drizzle with a bit of olive oil.
To serve, first ladle a generous scoop of beans into each bowl, and follow with the broth to cover. Sprinkle with cilantro and cheese.
Serves 4 to 6