Miso Soup Recipe
A simple, everyday approach to miso soup - it yields me a bowl of soup in five or ten minutes. You can keep it simple if you like, but in this version I add soba noodles and tofu, and a few garnishes.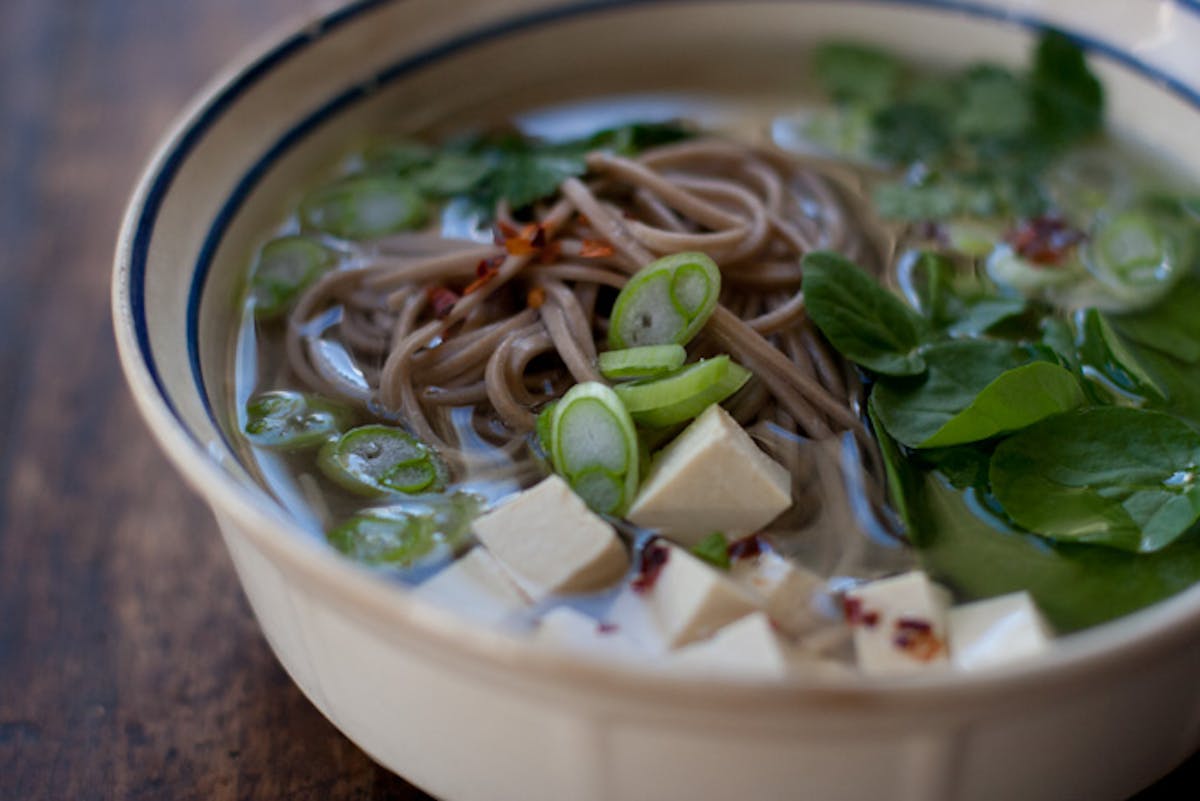 This is the miso soup recipe that nourished me back from illness. Remember when I was sick last month? Well, after a couple days of nothing but crackers and popsicles, it was miso soup that eventually brought me back to the land of functioning human beings. The first few pots were simply a couple tablespoons of light, mild white miso paste whisked into water with a pinch of salt - but I began to build from there. A handful of tiny tofu cubes went into the next pot, and noodles into the pot after that. Little by little I started to feel like myself again.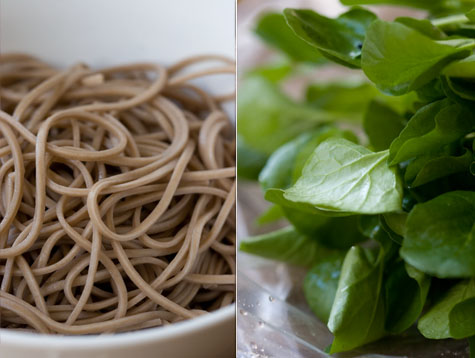 This is a simple, everyday approach to miso soup - it yields me a bowl of soup in five or ten minutes. Sometimes I go simple, other times I start adding ingredients. Just keep in mind, you can take it in a thousand different directions depending on how you are feeling, what's in season at the markets, or the time of year. I tend to use lighter miso pastes in warmer months and the darker ones when I'm after a heartier, more substantial soup - sometimes I do a blend of two pastes. In place of the water you can certainly experiment with different broths, or even tea. And while this version incorporates noodles and tofu, you could certainly do all sorts of variations with sautéed vegetables. A tiny drizzle of toasted sesame oil is often a welcome addition, and mushrooms are a natural fit as well.
I would argue that this post is less a miso soup recipe, and more an encouragement to give it a go in your own kitchens. Let me know if you have any recommendations for your all-time favorite miso pastes - or if you blend, let me know your favorite blends as well. I'd be up for tracking down some new miso pastes - not just for soups, but for dressing and drizzles, and all that fun stuff as well.
Miso Soup Recipe
Miso Choice: This time around I used an organic white miso, but I'd encourage you to experiment with a range of misos.
3 ounces dried soba noodles
2 - 4 tablespoons miso paste (to taste)
2 - 3 ounces firm tofu (2 handfuls), chopped into 1/3-inch cubes
a handful of watercress or spinach, well washed and stems trimmed
2 green onions, tops removed thinly sliced
a small handful of cilantro
a pinch of red pepper flakes
Cook the soba noodles in salted water, drain, run cold water over the noodles to stop them from cooking, shake off any excess water and set aside.
In a medium sauce pan bring 4 cups of water to a boil. Reduce the heat to a gentle simmer and remove from heat. Pour a bit of the hot water into a small bowl and whisk in the miso paste - so it thins out a bit (this step is to avoid clumping). Stir this back into the pot. Taste, and then add more (the same way) a bit at a time until it is to your liking. Also, some miso pastes are less-salty than others, so you may need to add a bit of salt here. Add the tofu, remove from the heat, and let it sit for just a minute or so.
Split the noodles between two (or three) bowls, and pour the miso broth and tofu over them. Add some watercress, green onions, cilantro, and red pepper flakes to each bowl and enjoy.
Serves 2 - 3.
Prep time: 5 minutes - Cook time: 5 minutes