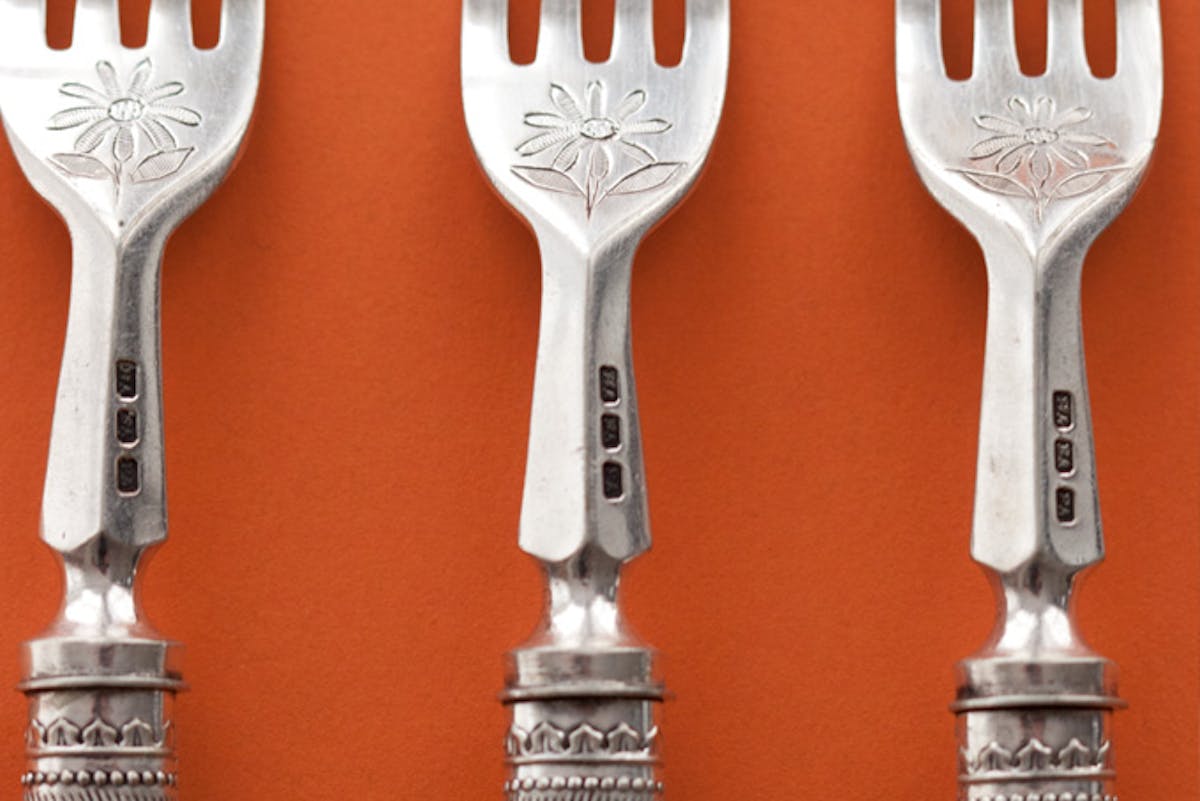 Well, it appears that San Francisco has finally pulled out of the long, wet winter and we've managed to make the jump straight into summer. Prime flea market and garage sale weather is upon us, and while I'm not one of those flea market maniacs - up before the sun riffling and rummaging - I do appreciate a good mid-morning estate sale. I thought it might be fun to share some of my recent finds with you.
Boxes and buckets of mix-and-match silver and flatware
I come across all sorts of interesting bowls, platters, flatware, cake plates, cookie cutters, chocolate molds, and baking pans, but I only take home a select few. I look for things with patina and personality, or unique functionality. A sampling of items I've pulled out the pocketbook for in the past includes: big, tin, Swedish cookie cutters (heart and star-shaped); a powder green, hand-crank grain mill; glossy, white, French ceramic pots; and a proper two-person picnic set complete with silver and gold-leafed plates.
Paint-by-number Postcards
This morning my friend Lily and I met up (along with what seemed like the rest of the Bay Area) at the famous Alameda Flea Market. It's been rained out for most of the year, so the good weather brought hundreds of vendors and thousands of buyers out onto the tarmac at the old naval base. I'll make a proper introduction to Lily at some point in the very near future, we have an exciting project up our collective sleeves that I'm itching to share.
Vintage belt buckle assortment
Lily stumbled on a cool vintage belt buckle collection, and cherry-picked a handful of the best ones. I picked up a two bright, floral Texas ware bowls. It might take me a couple of weeks to decide whether they are stunningly beautiful or really ugly - definitely one or the other. Regardless, they are destined to make an appearance in a future post or project, so I'm sure you'll let me know.
Tiny butter knives - detail
Occasionally I'll buy complete sets of things - for example the forks in the picture at the top of the page - there are six of them, they live in a blue, velvet-lined box above six matching knives. Sets are fun, but don't underestimate the fun of mixing-and-matching from different sets. I see drawers, and buckets, and boxes of interesting silver - now I keep my eyes open for pieces that have been monogramed with an "h"....and look to use that graphical element to tie my collection together.
Vowels and consonants from old signs
Speaking of letters or initials, flea markets are THE place to find letters and numbers from old signs. Fonts of all sorts, big and small, a wide spectrum of metals. They make neat personalized gifts, you can use them to decorate your kitchen or office, or look for numbers to identify your house or cabin in a distinct way...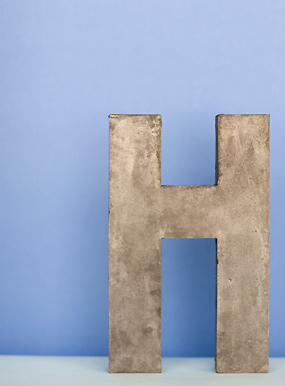 A big H for my office.
My sister is also an H, Heather. So I've been on the lookout for interesting H letters (her birthday is coming up) - it's not the most popular letter out there, but there is certainly a bounty of S, N, P, and T's.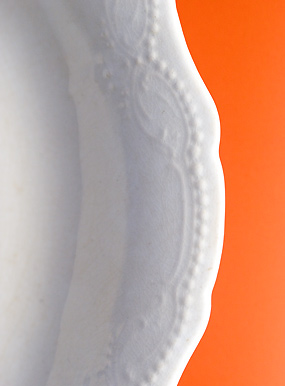 Platter detail
While it's not technically a flea market, Etsy is a unique global marketplace with it's heart in the right spot, and a talented group of people behind it. The possibility that I might discover something unique or one-of-a-kind fuels my compulsion to check-in often. Poke around a bit. It's a great place to find emerging artists and all-around crafty creators. If you fit either of those descriptions, its also fantastic place to sell your wares.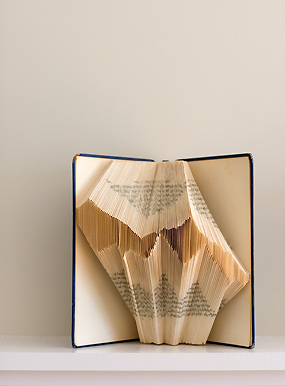 Folded Book - Katya Marritz
I fell hard for Katya Marritz's folded books, two of them have a new home here in my office. I was going to give one away as a gift, but I don't think I can stand to part with either of them. I also had my eye on a couple of Shayna Bethany's soft, ethereal Poloroids.
Folded Book - Katya Marritz
I'd be willing to bet quite a few of you have stumbled on some culinary-related flea market gems. Post some links so I can check them out.