20 Things I Encountered in Rome Recipe
Rome, Italy is at the top of my list of cities I love. Here's a list of some of my favorite things I experienced on a recent trip to Rome - food, farmers markets, and frozen treats.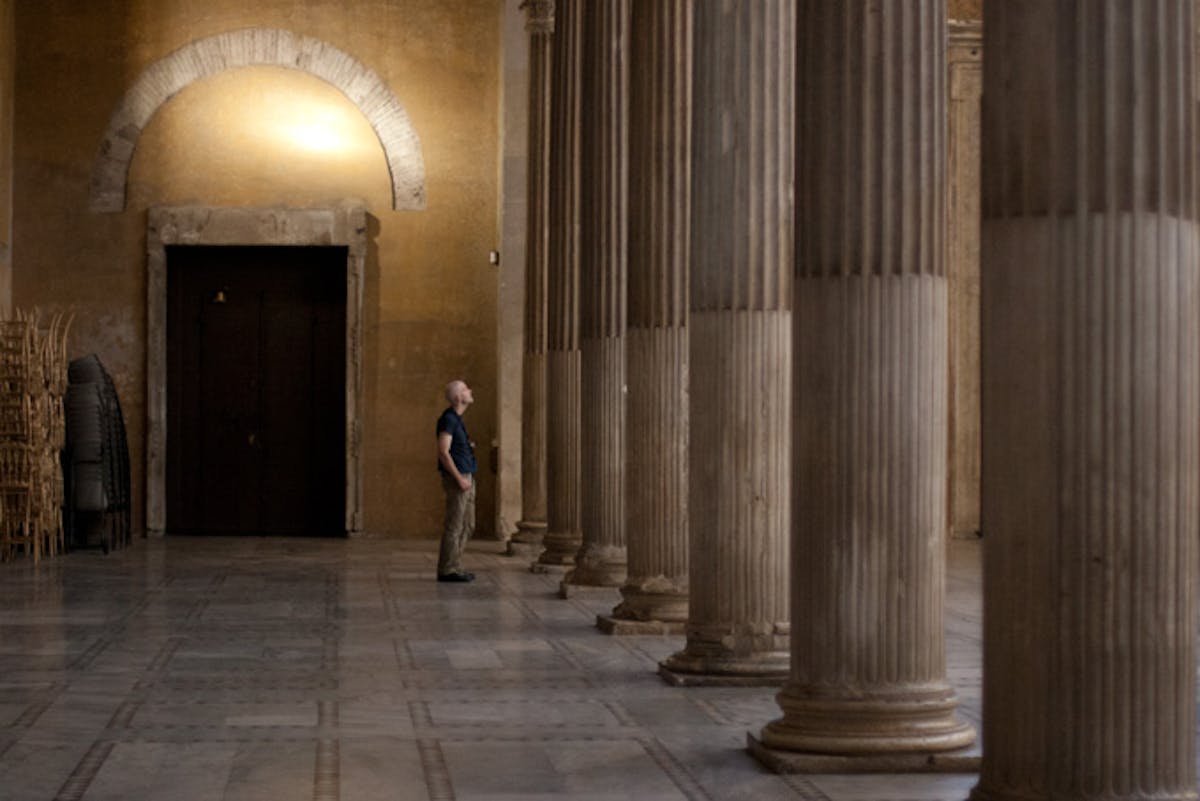 1. The heat coming off of the massive, buttery yellow oven at Innocenti Biscottificio Artigiano. It diligently turns out countless biscotti each morning including my favorite, the brutti ma buoni. Stefania was nice enough to let me shoot there one afternoon. She told me it was her mother who was queen of the biscotti, and that she took over the shop after her death. Via della Luce, 21, Trastevere.
2. The Pantheon at dawn, piazza empty.
3. Every public clock set to different times - most are wrong.
4. A two euro afternoon pick-me-up I'll likely be thinking about months from now. Imagine a sludgy, unctuous and dark layer of strong and sweet espresso granita sandwiched between two billowy clouds of unsweetened whipped cream, served in a see-thru plastic cup. Cafe granita at Caffe Tazza D'oro, Via dei Orfani, 84, Pantheon
5. A gang of five ten-year-old girls adeptly pick-pocketing strangers at the Trevi Fountain.
6. Porcini mushrooms the size of baby's arms at the Testaccio Market. Piazza di Testaccio
7. A dozen burly construction workers taking a lunch break at Margutta Vegetariano Ristorante. Via Margutta 118, near Spanish Steps. And while the lunch buffet here was diverse, tasty, and a (very) welcome break from pasta and pizza, at 15 euro it was pricey compared to the delicious 5 euro antipasti spread at Da Francesco. Piazza del Fico, 28 near Piazza Navona
8. A school bus on foot or scuola bus a pied! Eight tiny kids following their "driver" in tight formation as they walked on to the next stop.
9. An invigorating, spicy vegetable and rice noodle soup at Green T. It had me breathing fire in the best way possible with a rainbow of shredded vegetables, noodles, and beans in a perfectly seasoned peppery broth. If you are looking for an alternative to Italian, it is open for lunch and dinner. Via del Pie di Marmo, 28, near the Pantheon
10. The all-natural nut gelatos hand-crafted at Gelateria del Teatro. Almond captured my heart, but I should mention there were also raves all-around for the pear-caramel, coconut, and tartufo.Via di San Simone, 70, Navona
11. The ultimate pizza margherita at Nuovo Mondo. Via Amerigo Vespucci, 9-17, Testaccio
12. Mind-rattling church bells at 7 a.m.
13. The perfect cappuccino at Camilloni a Saint Eustachio. I also tried two other world-famous favorites (here and here), but kept going back to Camilloni for their perfectly balanced cup. Piazza S. Eustachio, 54-55 - just across the piazza from Caffe Sant'Eustachio
14. Potato rosemary flatbread drizzled with olive oil.
15. Mosquito bites upon mosquito bites on my feet, bottoms of feet, wrists, and ankles.
16. Open wi-fi networks in piazzas and sitting on church steps throughout Trastevere.
17. Five hundred water bottles and cheap plastic soccer balls churning in the shallow waterfall beneath Ponte Garibaldi.
18. Pavarotti posters large in music store windows.
19. An accordion, bass, piano, and violin providing music two tango dancers at the foot of the Pantheon one evening. Their shadows were cast large on the facade and columns while hundreds of onlookers watched.
20. The hypnotizing swarms of swallows starlings who decided to see us off on our last night in Rome. Their seemingly effortless arobatics at sunset in the skies over the Tiber was one of the things I'll remember best about the trip. Have a look at Richard Barnes's beautiful starling photographs to get a sense of what I'm talking about.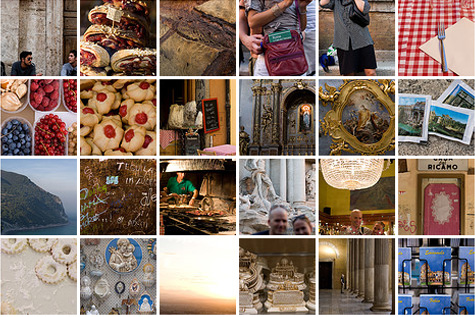 I've been uploading a selection of snapshots to my Flickr directory thinking that some of you would like to see those. I also might have some video at some point...
And while we're at it, here's a short list of a few of my favorite Rome guidebooks for those of you who might be visiting at some point in the future:
Fred Plotkin's Gourmet Guide to Italy: Fred Plotkin's book has been a been in my travel bag every single time I've visited Italy. He meticulously outlines restaurant suggestions, markets, gelaterias, and local specialties worth pursuing - organized by city/town. Its great. I've purchased four copies because I keep giving it away to friends. It's a weighty volume, so I (sorry!) cut the book into sections depending on which part of the country I'm traveling to - north, south, central, etc. There is a brand new, updated edition out so keep your eyes peeled for it.
LUXE City Guide Rome: A great pocket guide. The oh-so-sassy voice is a bit much, but every recommendation we tried was spot on. I picked it up at Flight 001. Luxecityguides.com
City Secrets Rome - edited by architect Robert Kahn. This is a fantastic gem of a guide book, a mix of art, restaurant, and cultural recommendations. What makes it unique is the contributers - fellows, residents, and friends of the American Academy in Rome share their favorite discoveries and places to visit.
- David Lebovitz on Rome here and here.
- Shauna in Umbria on her recent honeymoon.
- Photos from my trip to Puglia last year.
I'll be back home tomorrow, and have quite a few recipes to share with you from this trip once I'm back in my own kitchen! For any of you who have sent me emails recently, I'm terribly behind (!) and will try to respond as soon as I can. -h
Update: Wayne was nice enough to plot many of the points (and a few extra for good measure) to a Google Map.