Animal Crackers Recipe
Make crispy crackers from wonton wrappers. The great thing about this cracker recipe is the way the wrappers provide a quick and easy blank canvas to experiment with - sweet or savory, spicy or seedy - there are countless directions to explore.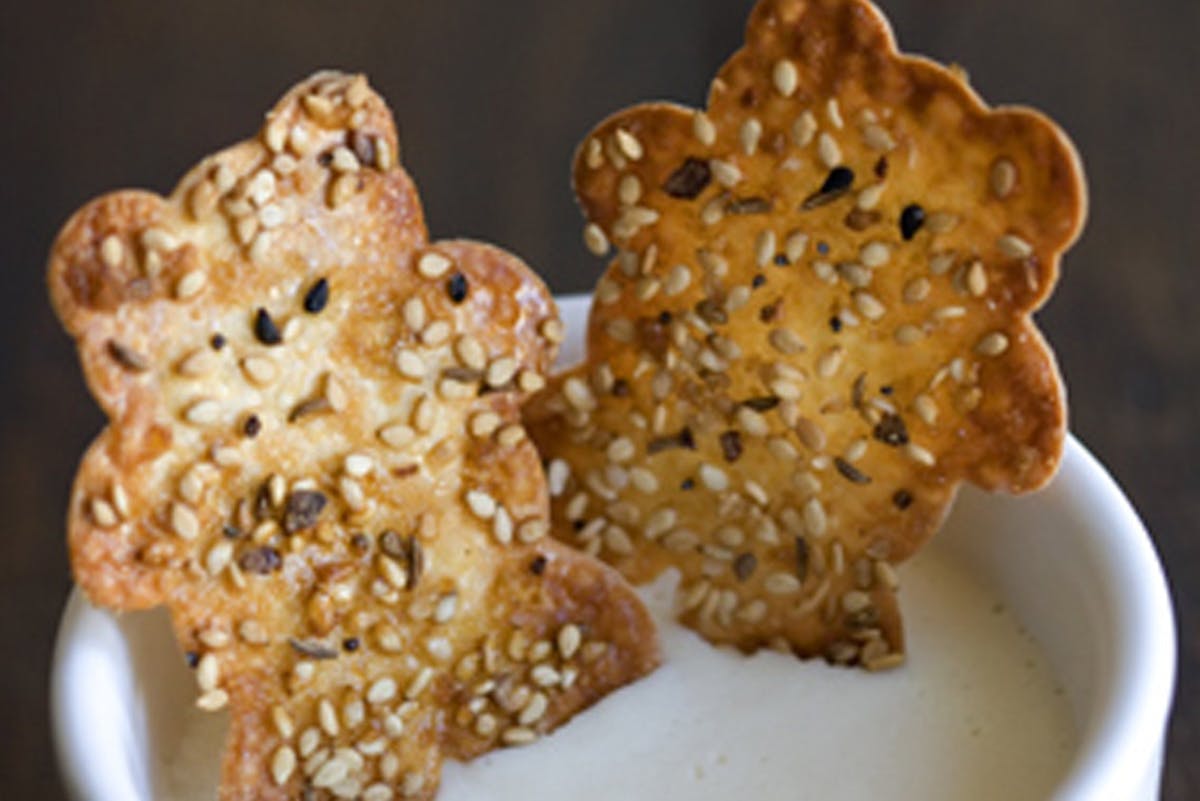 I've been making spring rolls quite often lately and had half a pack of extra-large wonton wrappers leftover in the refrigerator. We've had fresh spring rolls, baked spring rolls, and steamed dumplings - so I wanted to explore a use for the wrappers that didn't involved stuffing them. Armed with a menagerie of animal-shaped cookie cutters I made cut-outs and baked them off into thin, crispy, light (and sweet) crackers.
The great thing about this cracker concept is that the wrappers provide a quick and easy blank canvas to experiment with - sweet or savory, spicy or seedy - there are countless directions to explore. I opted for sweet this time and topped each cracker with a few ingredients including cane sugar, ground ginger and sesame seeds. My rational for this direction was to keep the palette in the Asian realm and to create a garnish that would give some visual flair to the ginger panna cotta I made last night (agar-thickened, for the vegetarians out there). I suspect they would also compliment tropical sorbets and sherbets like mango, coconut, or pineapple nicely as well. They might even hold up as the structure in an extra skinny ice-cream sandwich.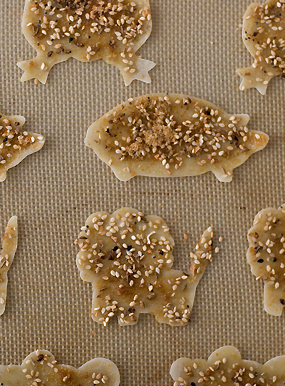 Animal Crackers - ready for the oven
Other ideas:
- Bake extra, extra-large ones and use them as a platform for an Asian-style tostada.
- Cut the wrappers into thin strips, season and use them as a crunchy element in salads.
- Instead of bread-based crostini, use these as your foundation.
- I was tempted to use a touch of ground tea as a seasoning after they came out of the oven, maybe I'll do that next time in place of the ginger.
Anyone else have ideas? Serving ideas or variations on the seasonings? Throw them out there!
Animal Cracker Recipe
I've found chia seeds make nice eyes, but only if you have the patience to drop them into place with tweezers. Be vigilante once the crackers are in the oven, they go from undercooked to burnt in a flash, so you need to watch them closely. Use a mix of whatever seeds you like, I used a sesame-heavy bunch of seeds left in the bottom a container of my favorite seed-crusted crackers. I should also mention, for those of you who would like to do a nut-free version, Crystal wrote to me and said she had great success using the following substitutions: she substituted McCann's quick oats (pulsed in a food processor a little bit with the shredded coconut) for the nuts, and upped the amount of coconut oil by 1 1/2 teaspoons to make up for the nut fat.
1 packet of extra-large wonton wrappers
1/4 cup natural sugar, evaporated cane sugar
1 1/2 teaspoons ground ginger
1/4 teaspoon fine grain sea salt
1 organic egg
tiny splash of heavy cream
1/4 cup mixed seeds

Special equipment: cookie cutters
Preheat oven to 350 degrees and place racks in the middle. Line a couple baking sheets with Silpats or parchment paper.
In a small bowl combine the sugar, ginger, and salt. In a separate bowl whisk the egg and cream together. Cut the wonton wrappers into various shapes using the cookie cutters. Brush the wontons with a thin glaze of the egg wash and be sure to get anyplace you want seeds to stick. Sprinkle each cracker with seeds, and then a generous dusting of the sugar mixture.
Move the crackers into a single layer on the baking sheets and bake until the wontons are golden and crisp 5 to 8 minutes. Don't let them burn!