Coconut Chocolate Pudding
A deeply dark and impossibly decadent coconut chocolate pudding. Creamy coconut milk base infused with a whisper of warming spices.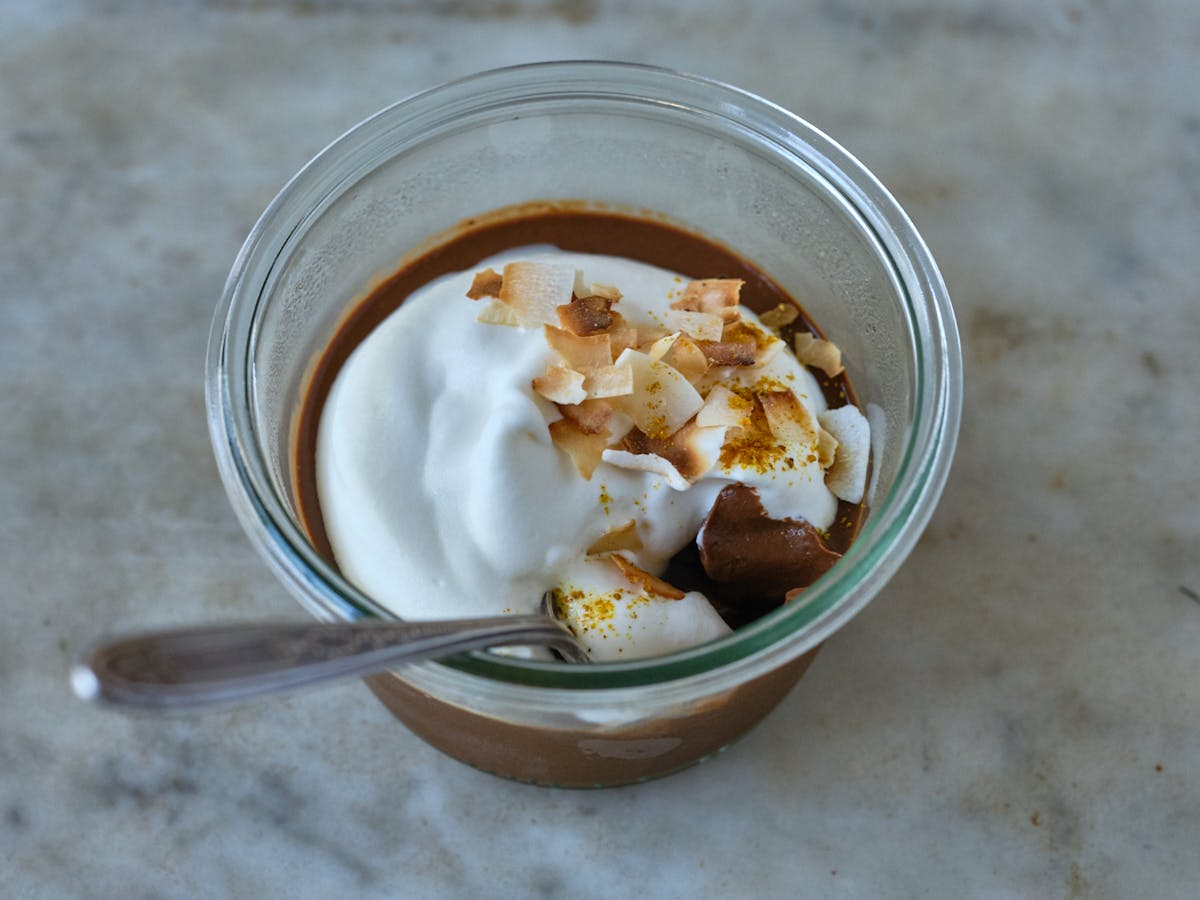 This chocolate pudding recipe took a while to get just right. It took almost thirty dollars in premium chocolate and many lackluster attempts to come up a version special enough to share with you. Before this there were bland puddings, runny puddings (yuck), and oddly rubbery ones as well. But this version is a keeper.

This chocolate pudding is deeply dark with intense chocolate flavor. It is rich, glossy, fragrant, and silky smooth. I use a coconut milk base in place of dairy, and infuse the mixture with a whisper of warming spices to give it a wink of something special, a bit of unexpected magic.
Hitting the Mark
On my journey to the final recipe, I ran into a number of problems that needed to be addressed. I had a pudding in mind, and a game plan of how to achieve it. The version in my mind was a serious and sophisticated dark chocolate pudding. I planned to use a dairy-free coconut milk base, arrowroot would be used as the thickener, non-alkalized cocoa powder (natural, not Dutch processed) would be enlisted, as would semi-sweet chocolate. I'm usually somewhat close to the mark when imagining how ingredients will come together into a final creation or recipe, but my first attempt here was wildly off. The pudding took almost twelve hours to achieve any sort of set, and even then it was on the runny side.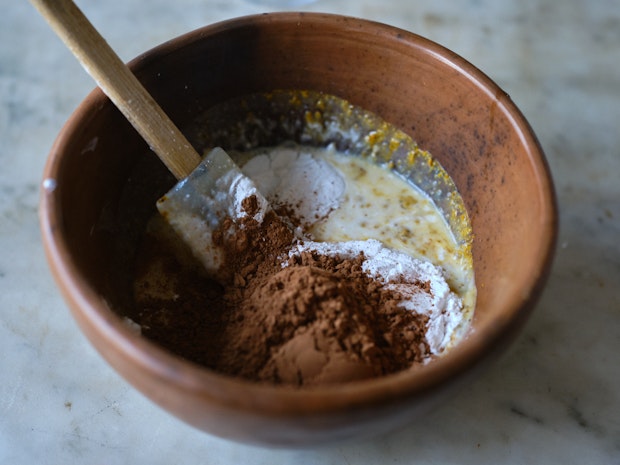 Troubleshooting
It dawned on me the acidity in the non-alkalized (natural) cocoa powder might be rendering the arrowroot thickener ineffective, so I corrected for that variable and made changes a bit at a time over the course of five batches until I finally had a chocolate pudding recipe that matched the one in my imagination. It's a beautiful silky texture glossy triumph.  If you love a little pot of chocolate pudding as a treat, this is one to try. Pictured below is the slurry of ingredients that will be added to coconut milk over heat.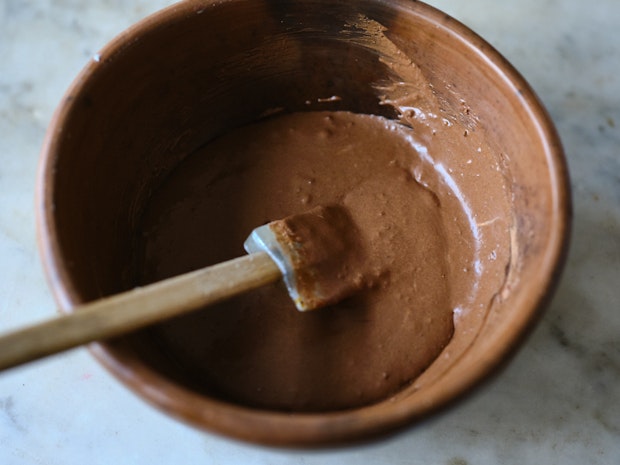 The great thing about making chocolate pudding like this one?  It only takes a few minutes of active cooking time. As far as substitutions go, if you want to use regular or low-fat milk, give it a go. You can use cornstarch in place of the arrowroot, but it didn't deliver the smooth glossy texture and sheen that came with using arrowroot powder. I also mention a few other variables to play with in the recipe head notes.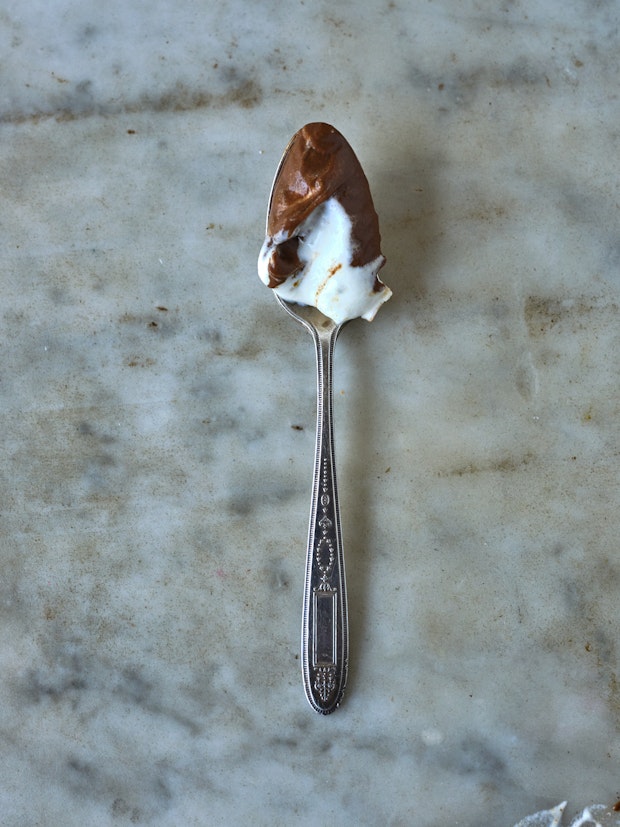 Variations: Chocolate Pudding
Toasted Almond Chocolate Pudding: Swap almond extract instead of vanilla extract. Swap out the toasted coconut for toasted almond slices, and skip the curry powder.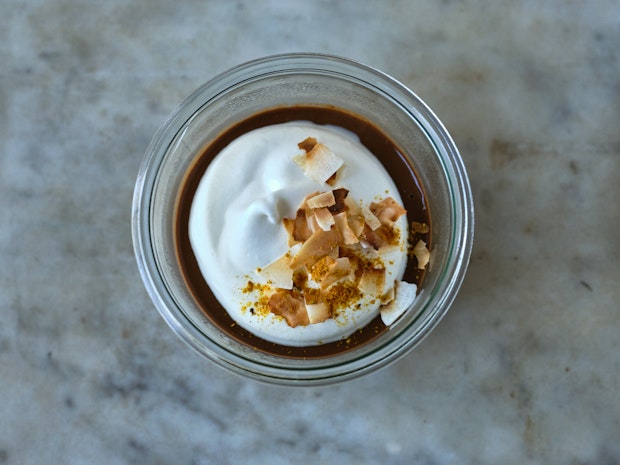 More pudding recipes:
Glissade Chocolate Pudding: This is my other favorite chocolate pudding. It is ridiculously rich and wonderful. It's not like a typical American chocolate pudding, it has no milk, cocoa powder, or cornstarch (or arrowroot). It's more of a deep, concentrated, dark chocolate mousse, although if you're used to chocolate mousse that has whipped cream folded in, it's different from that as well.
Tapioca Pudding

:

If you're on the lookout for a creamy, delicious, vanilla-spiked tapioca pudding recipe, this is it. Inspired by the tapioca enthusiasts in my family.

Coconut Chocolate Pudding
Use chocolate that is 60-70% cacao. If you want to use regular or low-fat milk in place of the coconut milk, you can. Be sure to let the pudding chill and set well.
Ingredients
1 14-

ounce

can of coconut milk, divided

3

tablespoons

sugar

1/4

teaspoon

salt

1/4

cup

arrowroot powder, sifted

1

teaspoon

curry powder

3

tablespoons

alkalized dutch-cocoa powder, sifted

1 3.5-

ounce

bar semi-sweet chocolate, chopped

1

teaspoon

vanilla extract

1/4

cup

coconut flakes, toasted in a dry skillet

To serve: whipped cream, lightly whipped, lightly sweetened
Instructions
Shake the can of coconut milk vigorously for a few seconds. In a heavy saucepan bring 1 1/4 cups of the coconut milk, sugar, and the salt (just) to a simmer over low heat.

While that is heating, in a separate bowl whisk together the remaining coconut milk, arrowroot powder, spice blend (or curry powder), and cocoa powder. It should look like a chocolate frosting.

When the coconut milk and sugar mixture has started simmering take about 1/4 cup of it and whisk it little by little into the arrowroot mixture, creating a slurry. Turn down the heat to the very lowest setting. Now drizzle the arrowroot slurry mixture into the simmering pan of coconut milk whisking vigorously all the while. Keep whisking until the pudding comes back up barely to a simmer and thickens up a bit, about a minute.

Remove the saucepan from heat, continue whisking while it is cooling for about a minute. Now whisk in the chocolate and vanilla. Keep stirring until the pudding is smooth. Place in a refrigerator to chill thoroughly. To prevent a skin from forming press plastic up against the surface of the pudding. Serve dusted with the coconut flakes and a tiny pinch of curry powder.
Related Recipes
More Recipes
Popular Ingredients