Baked Polenta Fries Recipe
Great party finger food. A thick slab of polenta is sliced into the shape of a french fry and baked off.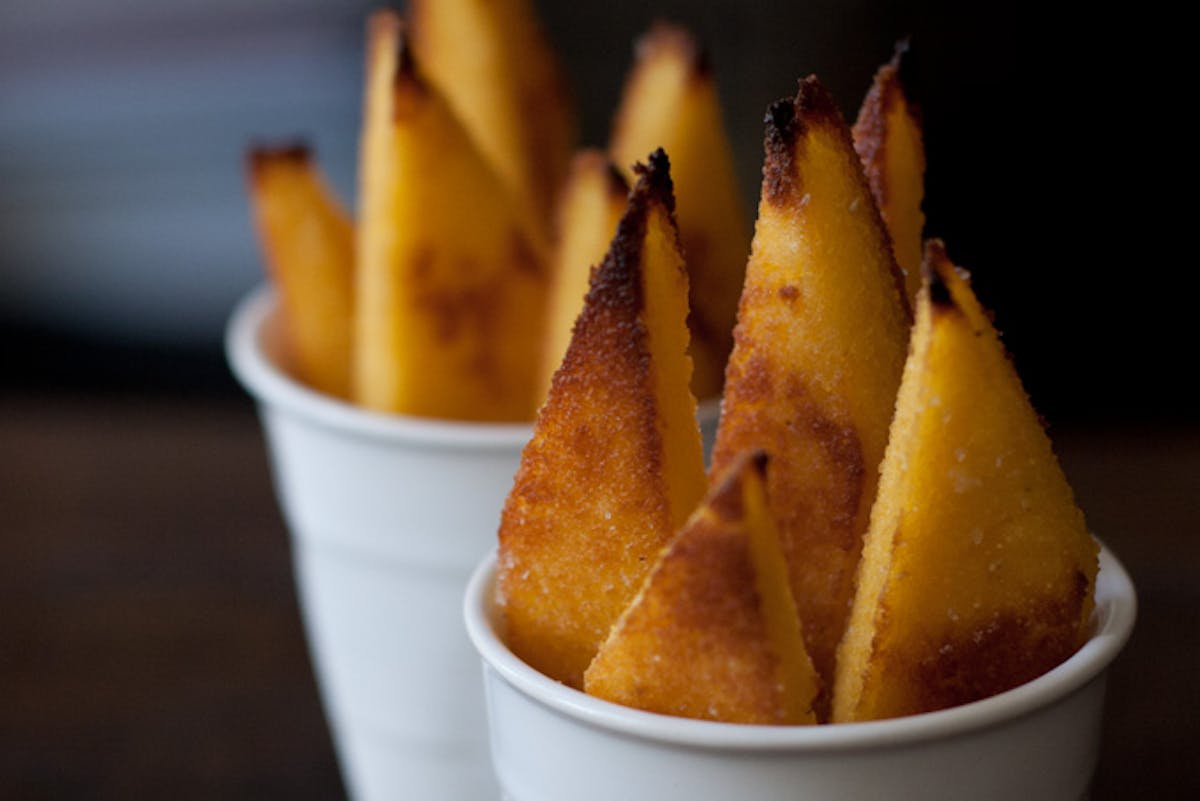 Let's talk about all the great things you can do with a thick, shapeable, structured polenta. Don't get me wrong, I love a hearty, satisfying, sloppy-textured bowl of soft polenta with its porridge-like spirit now and then, but over the past few days I've been thinking about all the creative things you can do with a thicker polenta base.
The premise is simple, bring a bit of liquid to a simmer and add in enough polenta to create a structured dough. Cook until the mixture is thick enough that you can spread it and it will hold its shape. Smooth that dough out onto a baking sheet and allow it to cool. Now you have a slab of polenta that you can cut, slice or dice and then recook in many different ways - grill, fry, saute, bake, etc.
Today I wanted to make baked polenta fries, but you could just as easily fry or cook them up in a big skillet until they are nice and golden.
Other ideas:
- Cut the polenta slab into small cubes and pan-fry them in a little bit of oil until you've got a crunchy crouton - perfect for salads and soups.
- Cut it into cookie-sized rounds, layer them in a casserole with a favorite pasta sauce and some cheese, bake, and you've got a great family-style dinner.
- Cut into little diamond-shapes, bake or grill, and use as a crostini base.
- Your turn. I know you can probably do better that this. How about some ideas in the comments?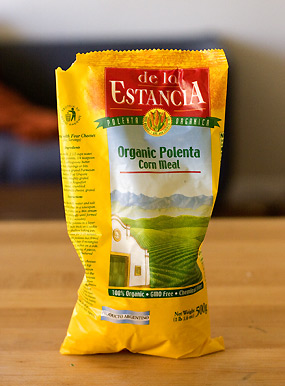 When you are shopping look for Italian brands of polenta, or de la Estancia ( from Argentina), a brand I like to use (see photo). I turn to de la Estancia quite often because it is milled very fine and cooks up in just a couple minutes - perfect for weeknights. It has a beautiful egg-yolk yellow color and I give it bonus points for being made from organic, non-GMO corn. Every polenta has its own personality based on the type of corn used, how it is milled, and how fast it gets to market. Many of the readily available brands can take 20, 30, 40 minutes to cook and texture and taste will vary from one to the next, so try a variety of brands before settling on one you like. For recipes like this one, at the end of the day you want a very thick polenta that will hold its shape.
I used a mix of water and milk for the liquid base because the milk would help me get that nice golden color when the polenta went into the hot (450 degree) oven to bake. I went for "wide-cut" fries because I thought they would be easier to handle, but after this batch I realized that with a little TLC you could certainly cut them half as thick before baking.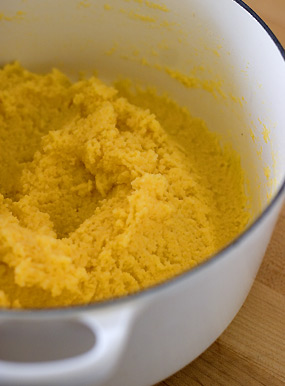 Polenta: This is the thickness you are after.
They make great party-fare or finger food, with enough structure to stand up to a fondue (cheese-based, tomato-based, the options are endless) - pretty much anything that pairs with corn should be open for discussion.
I'll leave the dipping sauce suggestions up to you as well - I'm thinking a chipotle-spiked tomato sauce, or a creamy salsa like this one....or something creamy and garlicky? Yum.

Baked Polenta Fries Recipe
This is a great make-ahead recipe. You can make a selection of dipping sauces in the days before you want to serve it and cook up the polenta in advance as well. The day of a party or dinner cut and bake-off the fries just before serving.
2 cups organic milk
2 cups water
1 1/2 cups polenta (see above)
1 teaspoon fine grain sea salt
1/2 cup grated Parmesan cheese
1/4 cup melted clarified butter or olive oil
Bring the milk and water just to a boil in a large saucepan. Slowly stream in the polenta while stirring constantly. Stir in the salt and turn down the heat a bit if needed (you don't want the polenta to scorch). Continue stirring until the polenta thickens up (see picture), this can take anywhere from just a few minutes to much longer depending on your polenta. Stir in the cheese.
Remove from heat and spread out 1/2-inch thick onto a baking sheet using a spatula (although I feel like I get a better shape by letting it cool a minute or two and then using my hands). Chill in a refrigerator for at least an hour, or overnight. Cut into wide-cut "fry" shapes using a straight-edge for guidance and uniformity (or opt for a more rustic cut). Rub each fry with a bit of clarified butter or olive oil and sprinkle with some salt.
Bake in a 450 degree oven, middle rack, for 20 minutes or until golden and crispy. Flip the fries once after ten minutes.
Makes 2 dozen wide-cut fries.