This is what happens when you cook a pot of cornmeal until it is thick and creamy. Add a bit off cheese, some deeply caramelized onions, spread it in a pan, drizzle generously with olive oil and bake until the bottom and sides are deeply golden and crunchy. The insides stay a tad bit melty and creamy, the caramelized onions on top add depth and sweetness.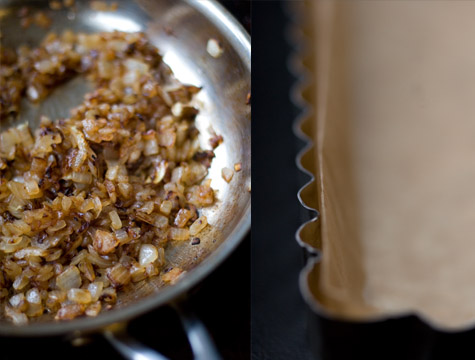 We've been doing all sorts of things with the leftovers - dunking slabs in stews, slathering pieces with goat cheese, tossing smaller cubes into salads, and (my personal favorite) topping with sauteed spinach.
Cornmeal Crunch Recipe
I make an effort to buy whole grain cornmeal - this is cornmeal that still has the nutritious bran and germ included. You can easily make this recipe vegan by omitting the cheese.
1 1/2 cups (medium grind) cornmeal
fine grain sea salt
4 cups yellow onion, chopped (about 3 medium)
1/4 cup olive oil
1/2 cup Parmesan cheese, freshly grated
3 cups water or vegetable broth
Preheat the oven to 400F degrees, racks in the middle. Butter and flour (or line bottom with parchment paper) one 9 x 12-inch baking dish or tart pan - or roughly this size.
In a medium bowl combine the corn meal with 1 1/2 cups water and 1/2 teaspoon salt. Stir and set aside.
To caramelize the onions, heat a splash of olive oil in a large thick-bottomed skillet with a pinch or two of salt. Cook over high heat, stirring and scraping the pan occasionally - more often as the onions begin to get increasingly brown. Continue cooking until the onions collapse and turn deep brown in color. Remove from skillet and set aside.
Bring 1 1/2 cups water (or broth) to a boil in a medium saucepan, add the water and cornmeal mixture, bring back up to a boil and stir until it is thicker than a heavy frosting - about 5 minutes. Remove from heat and stir in the cheese and 2/3 of the onions. Spoon the mixture into the prepared pan, spreading it to an even thickness, and drizzle with about 3 tablespoons of olive oil. Bake for about 45 minutes, or until the bottom is golden and the cornmeal begins to pull away from the sides of the pan a bit. Serve topped with the remaining onions (and more grated cheese if you like).
Makes about 16 pieces.