Purple Jasmine Coconut Rice Recipe
My favorite coconut rice recipe - rich, fragrant, and just sticky enough.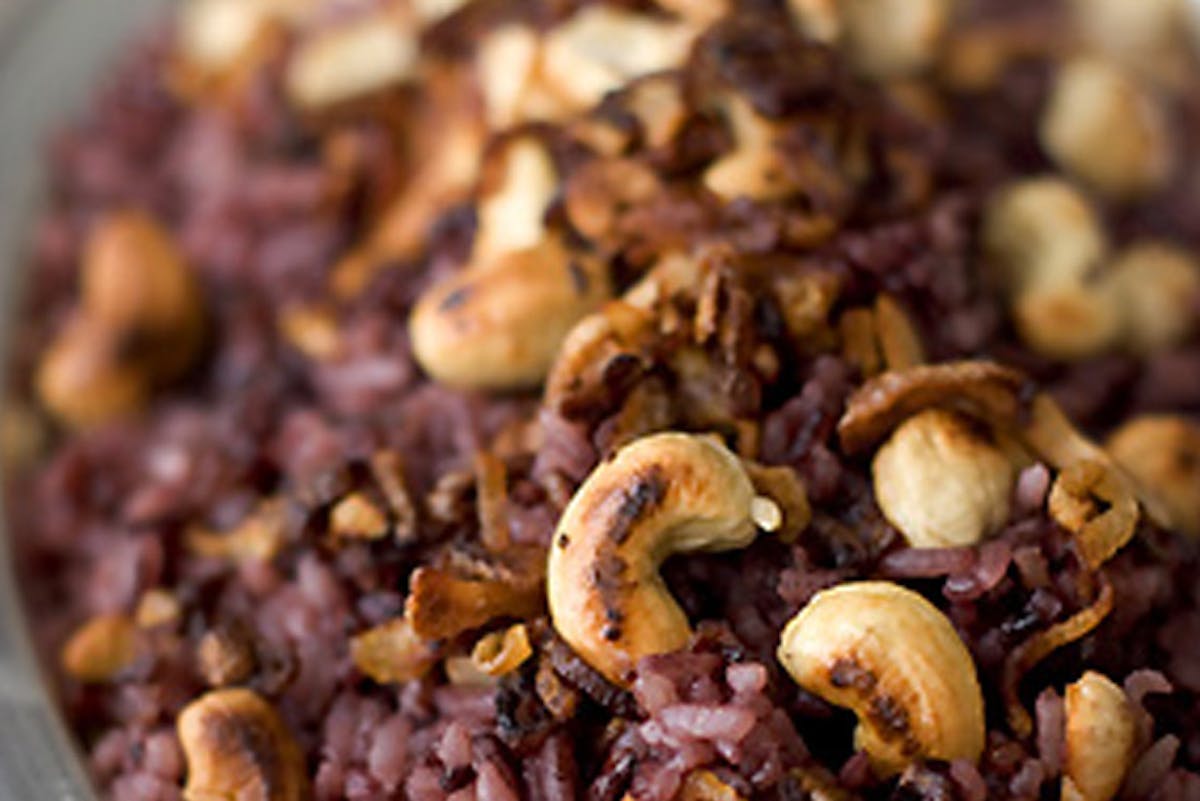 I use this jasmine coconut recipe constantly, but I wasn't always so. My friend Joycelyn owns the hugely popular Burma Superstar restaurant here in San Francisco. Drive by any night of the week and you'll find a line out the door, people patiently waiting for a seat inside the modest-sized, one room dining area. Joyce always brings us the perfect parade of dishes. I'm know I'm not alone in singing the praises of the samusa soup, tea leaf and rainbow salads - and I'd never leave without a side of the rich, fragrant jasmine coconut rice.
Burma Superstar is where I typically get my coconut rice fix. My friend Jen and I talk about how good it is - a lot. That being said you would think I would make it at home. But no. Truth be told it has been a long, long time since I've cooked coconut rice, but when I came across a box of beautiful "purple jasmine" rice last week I took it as a sign. I made my way home from the store with visions of a vibrant platter of rice that would be as stunning to the eye as it was to the stomach.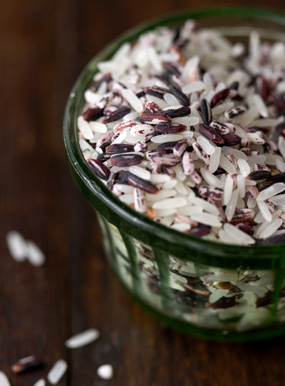 Purple rice blend.
The purple rice (Khao Gram variety) is available under the Alter Eco brand (you already know how much I enjoy their sugar). The purple rice is actually blended with a percentage of naturally fragrant white jasmine rice (Hom Malee) - hence the purple/jasmine name. The purple grains are glutinous (sticky) when cooked and ever so slightly sweet. You can use this rice blend for both sweet and savory preparations. I've also tried their coral rice previously - it was used for another coconut rice preparation, sweetened and topped with mango. Delicious.
I topped this platter of coconut rice with crispy shallot slices, and pan-toasted cashews. Don't skimp on the shallots, they really set the rice off with their smoky, just-this-side-of-burnt crunchiness.
Leftovers make an easy rice salad, just toss in whatever you've got on hand - sliced green onions, tiny pan-seared tofu cubes, more cashews, etc and you've got yourself a satisfying meal. Or for a sweet, dessert preparation, just omit the shallots and cashews, sweeten up the coconut milk with a bit of palm or brown sugar, and top with mango.
Purple Jasmine Coconut Rice Recipe
Look for these delicious, colorful rices in natural food stores. You can find them at some (many?) Whole Foods Markets as well. Here's a link to Alter Eco's store locator.
2 cups purple jasmine rice (or substitute white jasmine rice)
1 cup unsweetened coconut milk (don't use lite)
1 1/2 cups water
1 teaspoon fine grain sea salt

4 medium shallots, thinly sliced
1/4 cup unsalted butter
A handful of cashews, chopped and toasted
Start by rinsing the rice. You can do this by putting the rice in the thick-bottomed pan it is going to cook in. Fill the pot halfway with water, swish the rice around (the water will get cloudy), and pour out the cloudy water. Repeat 3 times. The water might still be a bit cloudy, and that is o.k.
To the rinsed (and drained) rice add the coconut milk, water, and salt. Stir to combine. Place the pot over medium high heat and bring the liquid to a boil (uncovered). Stir often to prevent the rice from scorching down at the bottom of the pot. Once the liquid comes to a boil reduce the heat to a low, low simmer, cover the pot tightly with a lid. Cook for about 15- 20 more minutes (resisting the urge to peek). Remove from heat (still covered!), and let the rice steam for another 10-15.
While the rice is cooking cook up the shallots in a small frying pan over medium to medium-high heat. Too hot and you'll burn the butter instead of browning it. Add the butter to the pan, then stir in the shallots and a couple pinches of salt. Stir every few minutes letting the shallots brown increasingly until they are dark in color. Transfer to a paper towel until ready to use.
I fluff the rice in the pot so I don't completely dirty up the edges of my serving bowl or platter. Transfer the rice to desired serving vessel and sprinkle with cashews and the crispy shallots.
Serves 4 to 6.