In a Hurry Green Curry Recipe
A quick and delicious green curry recipe - peas, asparagus, and tofu swimming in a fragrant, not-overly-rich Thai green chile broth.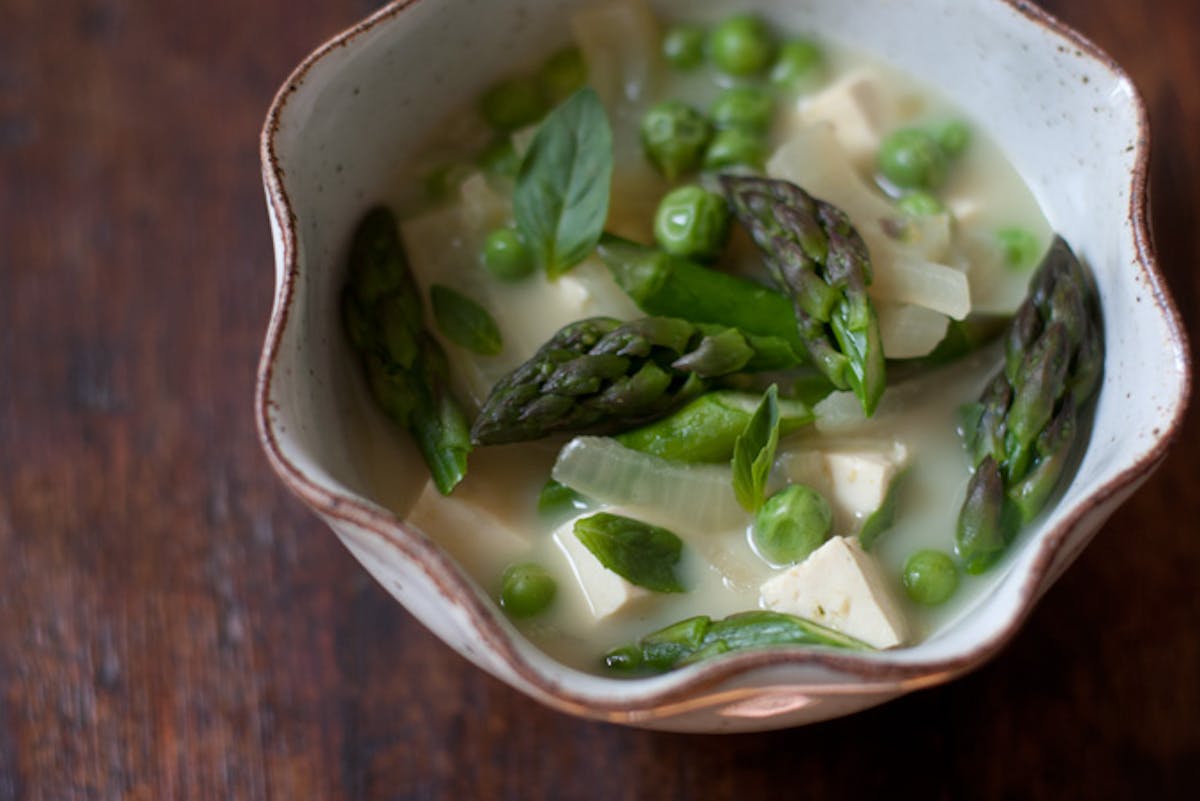 Note to self: a bowl of curry is perfect this time of year. A fact that annually slips my mind. If I'm not careful March, April and May can slip right by without a single pot making an appearance at my table. Not this year. Today we enjoyed a bowl bright with peas, asparagus, and tofu swimming in a fragrant, not-overly-rich green chile broth. I humbly suggest that the key to a good springtime curry is to keep things on the light side. And by light I suppose I mean leaning (just a shade) toward the brothy end of the spectrum. I love this kind of food - a seasonal, on-the-fly, one-pot meal that leaves you invigorated and not bogged down.
In a Hurry Green Curry Recipe
I call for a very small amount of green curry paste at the beginning of this recipe - keep in mind that some brands are stronger than others. Some days I make my paste from scratch, other times I grab for the jar. The worst thing you can do is make the curry too spicy too early in the process. If you start out light on the curry paste, you'll be able to adjust the amount of curry flavor toward the end. To add more flavor make a thin paste with some of the hot broth (this will help avoid curry paste clumps), now stir the paste in to the larger curry pot a bit at a time until the flavor is to your liking. On a separate note, I dont like the way most vegetables taste when they've been overcooked. In a recipe like this one, if you make the curry ahead of time, just be sure to hold off on adding the peas and asparagus until just a few minutes before you are ready to eat. Lastly, I forgot to but the basil in the bowl in the above shot before I took the photo - it went in after - sorry in advance!
2 teaspoons green curry paste*
scant 1/2 teaspoon salt
1 14-ounce can coconut milk (light ok)
1 large onion, sliced
14 ounces water or light vegetable broth
6 ounces of firm tofu cut into 1/2 inch cubes
1 cup peas, fresh or frozen
2 cups asparagus, cut into 1/2-inch segments
squeeze of fresh lime juice
1/4 cup small basil leaves
In a large thick bottom pot over medium heat whisk the curry paste with the salt and a small splash of the coconut milk. Simmer for just a minute. Add the onion and saute until it softens up, just a minute or so. Add the rest of the coconut milk and broth and simmer for another five minutes. Taste and adjust for flavor - this would be the time to add more curry paste if needed (see headnotes).
Stir in the tofu and (JUST BEFORE SERVING) the peas and asparagus, simmer for just a minute or two, just long enough for the vegetables to cook a bit. Finish the pot with a squeeze of lime and basil leaves. Taste, and adjust seasoning again if needed.
Serves 4.

* The green curry paste recipe I learned while visiting Chiang Mai, Thailand:
2 green hot chilies (Thai chilies)
1 tablespoon chopped garlic
1 tablespoon chopped shallots
1 teaspoon chopped galangal
1/2 teaspoon chopped kaffir lime rind
1 tablespoon chopped lemongrass
1 tablespoon chopped krachai
1/4 teaspoon roasted cumin seeds
1/4 teaspoon roasted coriander seeds
1/2 teaspoon salt
If you have a good-sized mortar and pestle, put the green chilies in the mortar and pound, add the garlic and pound. Now add the shallots and pound - continue down the ingredient list pounding away. Alternately, give it all a whirl in a food processor.