Curried Apple Couscous Recipe
Couscous, apples, curry powder, butter, mint, toasted pine nuts and green onions are highlighted in this dynamic, colorful couscous recipe.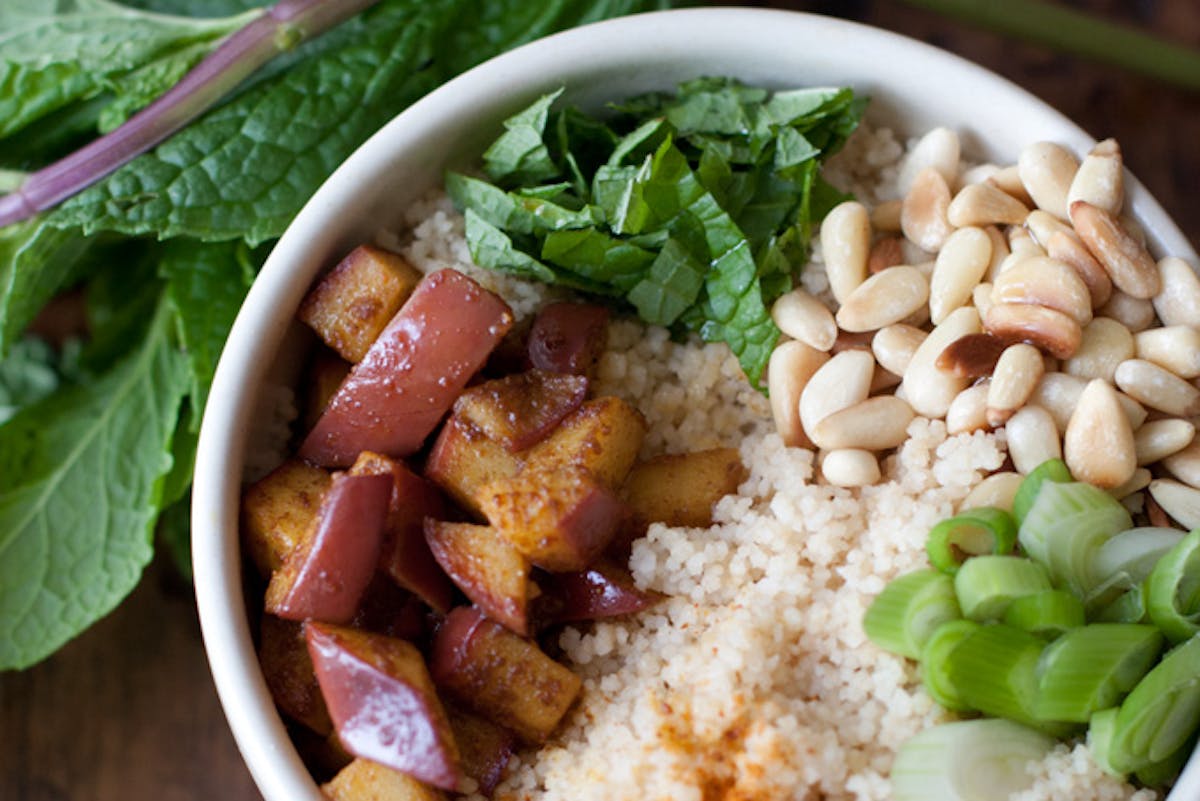 This curried apple couscous recipe makes for a wonderfully filling meal. I'm trying to finish up the very last photos for my cookbook. It's a great feeling and a huge sense of - I'm not exactly sure what - relief, accomplishment, excitement? When it is completely done, I'll be looking at close to one hundred recipes with corresponding photos for a good percentage them. I feel like a kid on the last day of school looking forward to a fun, light-hearted summer break. Almost.
The manuscript is out of my hands, but I still have all the photography. A year-plus worth of photography and you can only imagine the worry this can cause. So I've been obsessively burning discs of the images and then squirreling them away in random offsite locations in case something catastrophic happens to the house. A news chopper falling from the sky or something.
So I need to get back to work, but in the meantime I thought I'd do a quick post about the whole wheat curried apple couscous recipe I made for lunch.
When I surveyed the kitchen, I was able to find a nice selection of ingredients that I thought might work together for what I had in mind. Couscous (often mistaken for a grain, but really a pasta), apples, curry powder, butter, mint, and green onions. I heated the butter, tossed in a good dose of a stunning Marrakech curry powder Pim brought me from Paris, and then sauteed the chopped apples in the fragrant buttery goodness for a few minutes. These curried apples are delicious and I'm already thing of other ways to use them.
This was an on-the-fly lunch that I was trying to pull off in under 10 minutes, so I used the quick-cook method instead of steaming. I feel a bit guilty every time I do it this way, (sorry Paula!). Toss everything together and you've got yourself a meal. Couldn't be simpler, and the perfume of the spices permeates your home for the rest of the day.
Curried Apple Couscous Recipe
I suspect you could make this with plums with good results as well.
4 tablespoons unsalted butter
1 tablespoon curry powder
1 medium apple, cored and chopped
3 green onions, washed, trimmed, and thinly sliced
1 cup whole wheat couscous (or regular)
1 3/4 cup water
1 teaspoon sea salt
1/2 cup pine nuts, toasted
Small handful of mint, chopped
In a large saucepan over medium-high heat add 3 tablespoons of the butter, the curry powder, and a couple generous pinches of salt, and cook for a minute or until the spices are fragrant. Stir in the chopped apples and cook for about 3 minutes, enough time for the apples to soften up a bit and absorb some of the curry. Scoop the apples from the pan and set aside in a separate bowl.
In the same pan, again over medium-high heat, add the remaining tablespoon of butter. Stir in the green onions, let them soften up a bit and then add the water and salt. Bring to a boil, stir in the couscous, cover and remove from heat. Steam for 5 to 10 minutes and then use a fork to fluff up the couscous. Stir in the apples, pine nuts, and chopped mint. Season with more salt and curry powder to taste.
Serves 6.