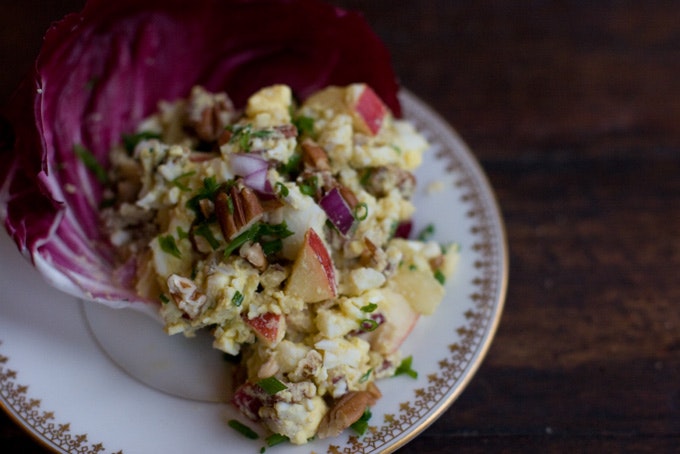 It has been nearly a year since I posted my favorite egg salad sandwich recipe. As some of you might remember, I have strong feelings about this type of sandwich. To this day I rarely (if ever) eat one unless I make it myself. That being said, I've become quite fond of my egg salad creations, and I'd like to share a version with you that is a bit more flashy and interesting than the one we did last time. It uses plain yogurt in place of mayo and incorporates curry powder, chopped apples, toasted pecans, and minced chives. Sometimes I eat it on toasted, garlic-rubbed bread, and sometimes I eat it wrapped in a big leaf of lettuce. Color-flecked, delicious and satisfying.
Other favorite egg recipes include: deviled eggs, egg salad sandwich, this frittata, and pickled turmeric eggs.
Curried Egg Salad Recipe
Use any type of onion you like here, I've done this version of egg salad using yellow, white, and in this version I had a tiny red one on hand, so I grabbed for that.
5 good quality eggs
1 1/2 teaspoons curry powder (your favorite)
3 tablespoons plain yogurt
2 big pinches of salt

1/2 small onion, chopped
1/2 medium apple, chopped
1/4 cup pecans, toasted and chopped
1 small bunch of chives, minced
First off, you need to boil the eggs properly (the key to good egg salad!). Place the eggs in a pot and cover with cold water by a 1/2-inch or so. Bring to a gentle boil. Now turn off the heat, cover, and let sit for exactly seven minutes. Have a big bowl of ice water ready and when the eggs are done cooking and place them in the ice bath for three minutes or so - long enough to stop the cooking.
While the eggs are boiling and cooling, combine the yogurt, curry powder and salt in a tiny bowl. Set aside.
Crack and peel each egg, and place in a medium mixing bowl. Add the curried yogurt, onions, apple, pecans, and chives. Now mash with a fork. Don't overdo it, you want the egg mixture to have some texture. If you need to add a bit more plain yogurt to moisten up the mixture a bit, go for it a bit at a time. taste and add more salt if needed. Enjoy as-is, or served wrapped in lettuce or between two slices of good, toasted bread.
Serves 3-4