Thai-spiced Pumpkin Soup Recipe
This Thai-spiced Pumpkin Soup couldn't be easier to make - roasted winter squash, coconut milk, Thai red curry paste, and sea salt come together in a pot of vibrant, rich, flavorful soup. A total crowd pleaser.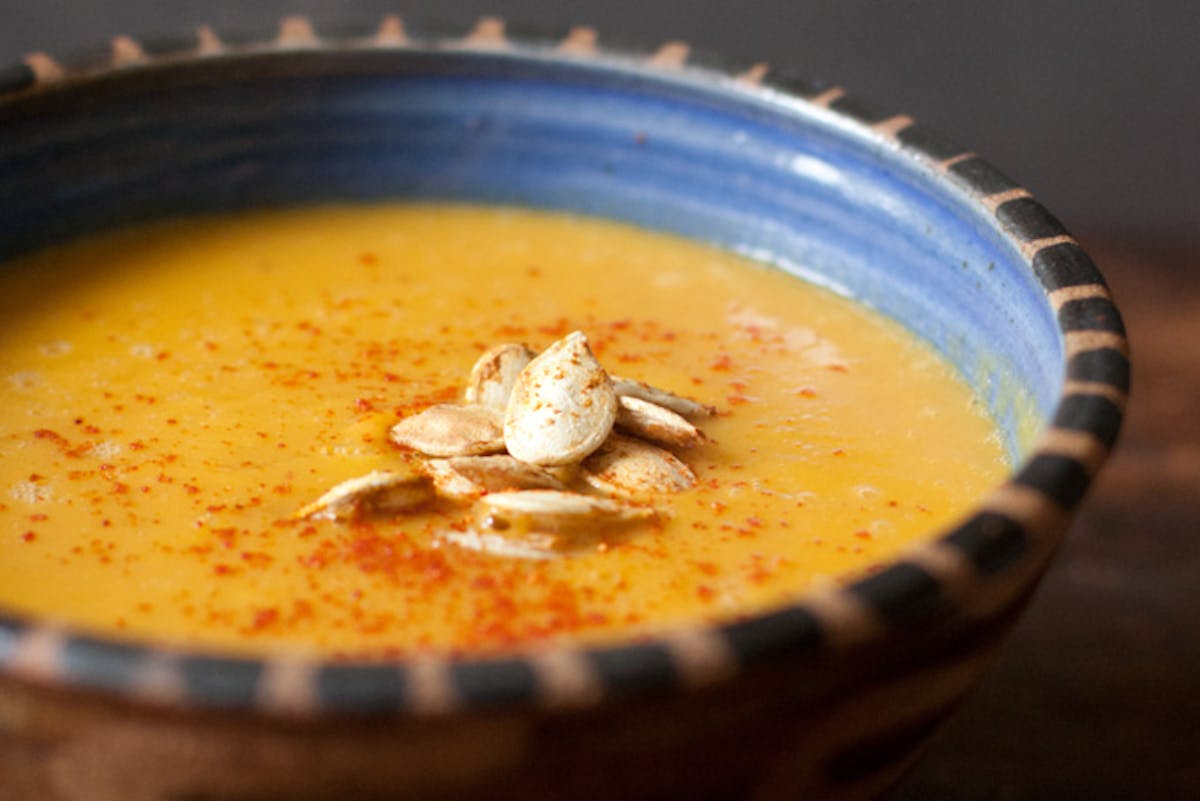 This pumpkin soup recipe is so perfect for this time of year that I can't help sharing it with you. That being said, I've got about 15 minutes of battery left on my laptop (with no power source in sight), so this write-up is going to be quick.
The other night after toasting pumpkin seeds the oven was hot so I cut both a small pumpkin and acorn squash in half, slathered them with butter, kissed them with a sprinkling of salt and in they went. I forgot about them for about an hour as they roasted and then removed them when they looked perfectly bronzed and a poke with a fork confirmed their tenderness. Although I was tempted to eat them just like that, I resisted and put the flesh into a pot with coconut milk, water, and a good amount of spicy Thai curry paste. There was just a whirl of the hand blender between me and a stunning, rich, flavorful soup. Less than five ingredients, about 90 seconds of active cooking time. Couldn't be easier.
It wasn't my intention to write up the recipe for 101 Cookbooks, so I wasn't paying particularly close attention to exact ingredient amounts. No worries though, this is a soup that might very well be impossible to screw up.
Thai-spiced Pumpkin Soup Recipe

Keep in mind that different Thai curry pastes have differing strengths. Start with a teaspoon to start and then build from there until the soup has a level of spiciness and flavor that works for your palete. Top with toasted pumpkin seeds.
2 acorn squash, pumpkins, or other smallish winter squash
3 tablespoons unsalted butter, room temperature
1 14-ounce can coconut milk
1 teaspoon (or more) red Thai curry paste
water
2 teaspoons fine grain sea salt (or to taste)
Preheat the oven to 375 degrees and place the oven racks in the middle.
Carefully cut each squash/pumpkin into halves (or quarters). Slather each piece of squash with butter, sprinkle generously with salt, place on a baking sheet skin sides down, and place in the oven. Roast for about an hour or until the squash is tender throughout.
When the pumpkin/squash are cool enough to handle scoop it into a large pot over medium high heat. Add the coconut milk and curry paste and bring to a simmer. Remove from the heat and puree with a hand blender, you should have a very thick base at this point. Now add water a cup at a time pureeing between additions until the soup is the consistency you prefer - a light vegetable stock would work here as well. Bring up to a simmer again and add the salt (and more curry paste if you like, I used just shy of 6 teaspoons but the curry paste I use is not over-the-top spicy).
Serves six.