Roasted Pumpkin Salad Recipe
A roasted pumpkin salad made with wild rice, tiny, caramelized red onions drizzled with a simple, honey-kissed, creamy sunflower seed dressing. A colorful harvest salad perfect for Fall festivities.
A few of you were curious about what I made with the lovely sunset-shaded pumpkin I found nestled at the bottom of my last produce pick-up. After enjoying it on my desk for a few days, I lined my countertop with a deconstructed paper bag (to contain the mess), and gave my knife a good workout. Flash-forward to a refrigerator full of pumpkin wedges, cubes, and slices - needless to say, pumpkin has been on the menu ever since. This particular pumpkin salad came together by combining a simple, honey-kissed, creamy sunflower seed cilantro dressing with a platter of roasted pumpkin, wild rice and tiny, caramelized red onions. You might use any leftovers in omelettes, tossed with salad greens, or as a component in an impromptu stir-fry later on in the week.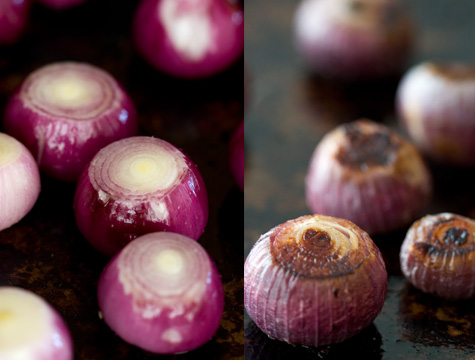 I should mention that the texture and flavor of pumpkins and winter squash can vary dramatically. That's not all, the flesh of some pumpkins are much more moist than others, and all of this can have an impact on your roasting time. Nothing to worry about, just something to keep an eye on. Broadly speaking, I approach each squash I bring home individually, and simply roast it until it's done.
The pumpkin I used for this recipe had flesh you could cut like butter. It was easy to work with on the prep side of things, but after 45 minutes in a hot oven I had to handle it carefully to make sure it didn't go to mush on me. I might choose a more structured squash the next time around - for example, butternut or acorn squash would be great, and both are relatively easy to come by.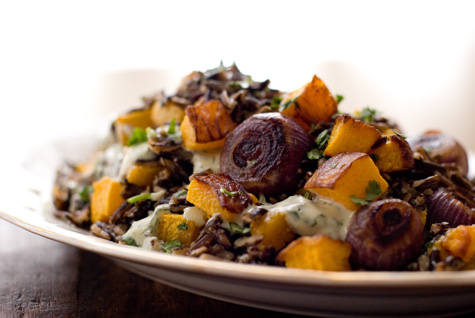 Also, for those of you looking for shortcuts, I've noticed that many stores are now carrying pre-cooked whole-grain rices (brown, wild rice, and more) in both the freezer section and on the shelves as well - Whole Foods Markets and Trader Joes.
Roasted Pumpkin Salad Recipe
I know many people have an aversion to cilantro - feel free to leave it out. This will change the personality and flavor profile of the dressing, but it will still taste delicious.
3 cups of pumpkin (or other winter squash), peeled and cut into 1-inch cubes
extra-virgin olive oi
fine grain sea salt

12 tiny red onions or shallots, peeled (OR 3 medium red onions peeled and quartered)
2 cups cooked wild rice*

1/3 cup sunflower seeds
1/3 cup olive oil
2 tablespoons lemon juice
1/4 teaspoon salt
1 tablespoon honey
2 tablespoons warm water
1/2 cup cilantro, finely chopped
Preheat oven to 375.
Toss the pumpkin in a generous splash of olive oil along with a couple pinches of salt, and turn out onto a baking sheet. At the same time, toss the onions with a bit of olive oil, sprinkle with salt, and turn out onto a separate baking sheet. Roast both for about 45 minutes, or until squash is brown and caramelized. The same goes for the onions, they should be deeply colored, caramelized, and soft throughout by the time they are done roasting. You'll need to flip both the squash and onion pieces once or twice along the way - so it's not just one side that is browning.
In the meantime, make the dressing. With a hand blender or food processor puree the sunflower seeds, olive oil, lemon juice, salt, and honey until creamy. You may need to add a few tablespoons of warm water to thin the dressing a bit. Stir in the cilantro, saving just a bit to garnish the final plate later. Taste and adjust seasonings (or flavors) to your liking - I usually need to add a touch more salt with this dressing.
In a large bowl, toss the wild rice with a large dollop of the dressing. Add the onions, gently toss just once or twice. Turn the rice and onions out onto a platter and top with the roasted squash (I'll very gently toss with my hands here to disperse the pumpkin a bit). Finish with another drizzle of dressing and any remaining chopped cilantro.
Serves 4.
* To cook wild rice: Rinse 1 1/2 cups wild rice. In a medium sauce pan bring the rice and 4 1/2 cups salted water to a boil. Reduce to a simmer. Cook for 40 minutes or until rice is tender and splitting open, stirring occasionally. You'll have enough for this recipe and some leftover.