Baked Carrot Oven Fries Recipe
Made from carrots, this is a healthy, simple and delicious alternative to deep-fried potatoes. These baked oven fries (made from carrots) are simply roasted with olive oil and a sprinkling of sea salt.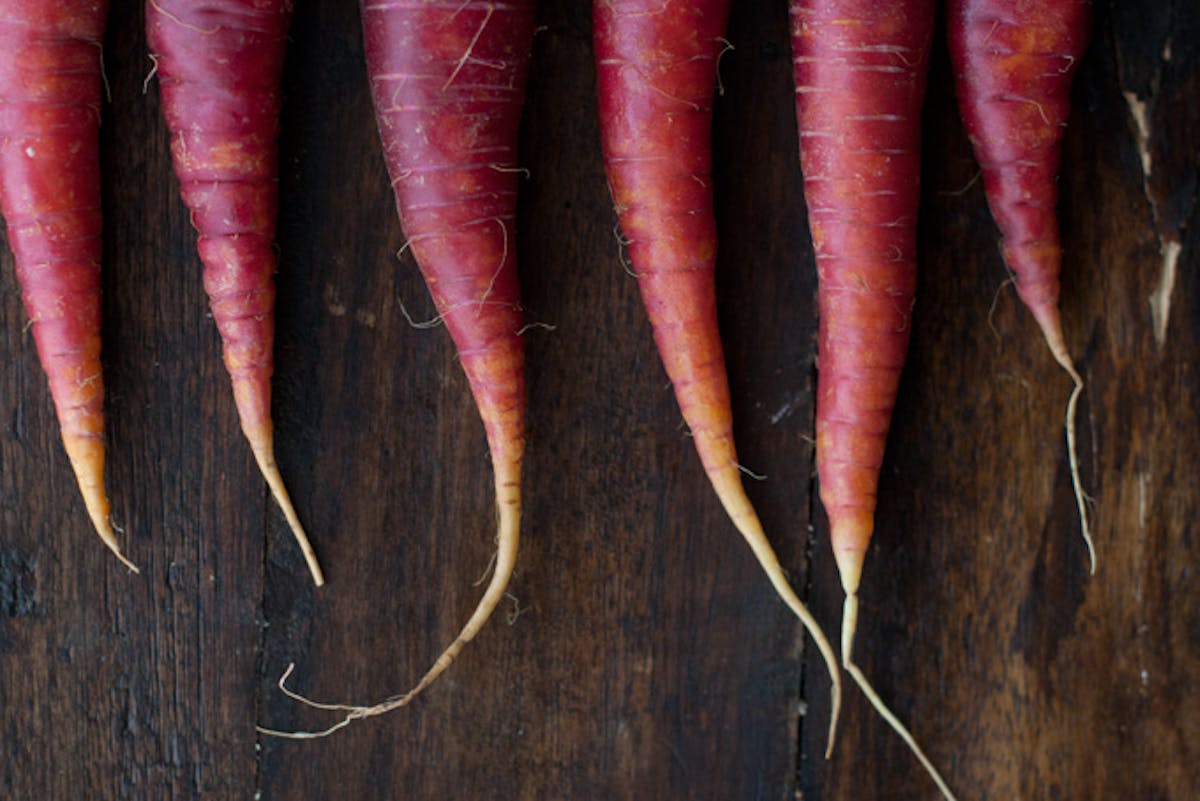 This recipe for baked carrot oven fries was inspired by a trip down to the market on Saturday. I don't know if it's the jetlag or the cold medicine (gross) but I was pretty out of it when I got there. It's the last market before Thanksgiving and I had no plan whatsoever. None at all. I was saying something to this effect to Julia from Mariquita Farm when I spotted her huge pile of stunning purple carrots. Perfect for making a batch of oven fries.
Mariquita always has a great assortment of colorful carrots, and while I generally have a soft spot for the red ones, I knew in my heart that today was the day I was going to cheat on red with purple. They were a deep fade of ruby-magenta and the perfect size for roasting - not too short, not too long, with a few stubby ones in the mix to make things interesting. Cut them open and the cross-section revealed a stunning shock of yellow and orange.
Mariquita Carrots
This was my score of the day. I'm roasting them (right now) and will throw together some sort of dipping sauce so people can pretend they are some sort of baked carrot "fries". It seems like people will give anything a chance if you somehow attach the word 'fry' to the name (even if they are baked, as is the case here).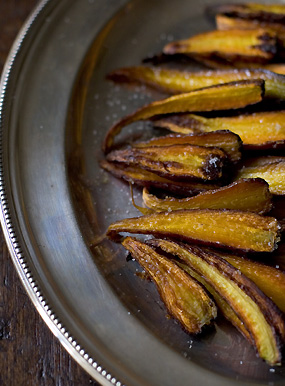 Roasted.
Once your oven is preheated they take all of three minutes to wash, cut, toss in olive oil, sprinkle in olive oil and pop in the oven. Another three to blend up the dipping sauce. You can use pretty much any small or medium sized farmers' market carrots this way.
What is everyone else making for Thanksgiving? Any break from the standards? I still don't have much of a plan in regards to what I'm going to contribute but I'm working on faith that it will all sort itself out over the next day or two.
Baked Carrot Oven Fries
The next time around I might do a chipotle spiked aioli in place of this tofu-based version (which is pretty good but....). The carrots are delicious straight off the pan with dipping sauce or without.
a big bunch of farmers' market carrots, washed, trimmed
extra virgin olive oil
sea salt
Heat oven to 375.
Cut each carrot in half. Toss the entire bunch in a bowl with a couple glugs of olive oil. Arrange cut side down in a single layer on a baking sheet and sprinkle generously with salt. Bake for 30 minutes or until carrots are golden brown where they touch the pan.
Chipotle Orange Dipping Sauce
4 ounces organic tofu
1/4 cup orange juice
quick squeeze of lime
scant 1 teaspoon adobo sauce from a can of chipotle chiles
1/2 teaspoon fine grain sea salt
Puree all ingredients with a hand blender, taste and adjust for seasoning.