Carrot Soup Recipe
A simple, weeknight carrot soup recipe finished with a thread of toasted sesame oil. You can leave it slightly chunky, or puree it until smooth - whatever your preference.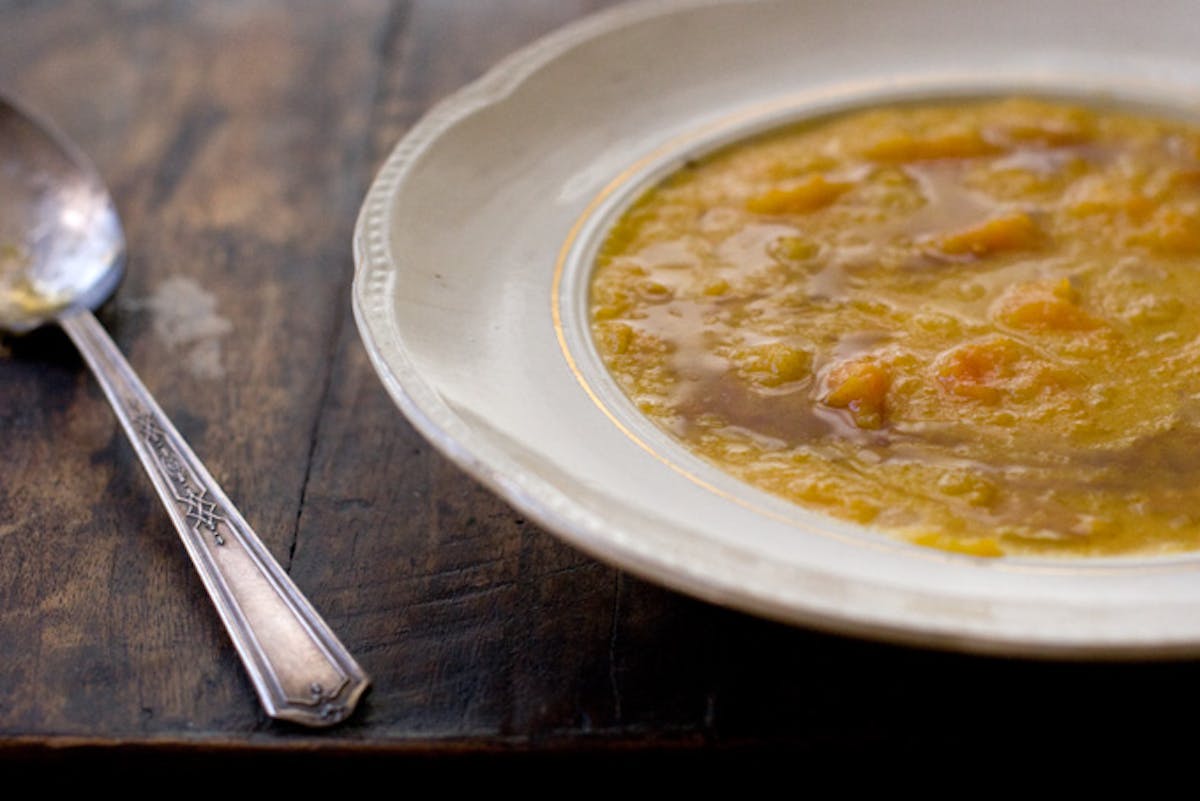 March was a bit of a whirlwind. The entire month went by in a blur of planes, trains, friends, and house guests. That's a round-about way of saying, I'm still trying to get my head above water. My suitcase has been on the floor in the middle of our bedroom since Saturday, still fully packed. My in-box is an embarrassment. To say I've been keeping it simple in the kitchen is an understatement. This basic carrot soup for example - I threw it together the other night using the best carrots I could find at the market and not much else. It's easy enough to make on a weeknight, and instead of getting complicated on the front end of a soup like this, I typically let any creative whims come into play just before serving. In this case I drizzled the finished soup with a potent thread of toasted sesame oil, other times I've used a fiery olive oil infused with crushed red pepper flakes, another time a thinned-out oregano pesto. You can leave it slightly chunky, or puree it until smooth - whatever your preference.
As many of you already know, I'm not one for making more work than necessary in the kitchen. And as long as we are confessing, I don't usually bother peeling carrots. If they are particularly dirty or have skin thicker or rougher than I like, I just give them a good scrub with the rough side of a sponge. It acts like a loofah, and usually does the trick.
If you like more crunch or texture in your soup try pan-fried paneer or halloumi cubes in this soup - in place of croutons. I like croutons too, and did a bowl with lots of garlicky croutons and chopped up fried egg the other day. No one was complaining.
Carrot Soup Recipe
I typically seek out "early" carrots with the bushy green tops still on. The leaves should be fresh and not wilted, and the carrots should have vibrant color. If they feel rubbery, pass on them. I pass on bagged carrots or the big, woody ones - the early carrots often have a much sweeter flavor.
1 1/4 pounds carrots
1 tablespoon extra-virgin olive oil (or clarified butter)
2 medium cloves garlic, minced
1 large yellow onion, chopped
3 cups+ vegetable stock or water
juice of 1/2 a lemon
fine grain sea salt (as much as you need)

- olive oil, toasted sesame oil, or red chile oil for a finishing drizzle - if you use toasted sesame oil (sometimes labeled pure sesame oil) it is very strong. I typically dilute it with olive oil. I use one part sesame oil to four parts olive oil.
Take the tops off the carrots (if they have tops) and give them a good scrub. Cut them into 1-inch segments and set aside. Heat the olive oil in a large, heavy soup pot over medium heat. Add the garlic and onions and saute for a few minutes or until the onions start to get translucent. Add the stock and carrots and bring to a gentle boil. Lower the heat and simmer for 20 - 30 minutes or until the carrots are tender - longer if your carrot pieces ended up larger. But try not to overcook. Remove from heat and cool for a few minutes.
Puree with a hand blender (sometimes I leave the soup a bit chunky, other times I go completely smooth) - then stir in the lemon juice. Now salt to taste. If you used a salty veggie stock, you might just need a little salt. If you used water, you'll need quite a bit more. Keep adding a few pinches at a time until the carrot flavor really pops. If it tastes flat or dull, keep adding.
Finish with a drizzle of great extra-virgin olive oil, one of the other drizzles I mention up above, or whatever twist you come up with.
Serves about 4.