Photos From Puglia, Italy Recipe
I spent a week in Puglia, Italy - which is very different from all the other regions in Italy I've visited. Olive trees, new friends, chats with local fisherman, and side-trips to artisan bakers.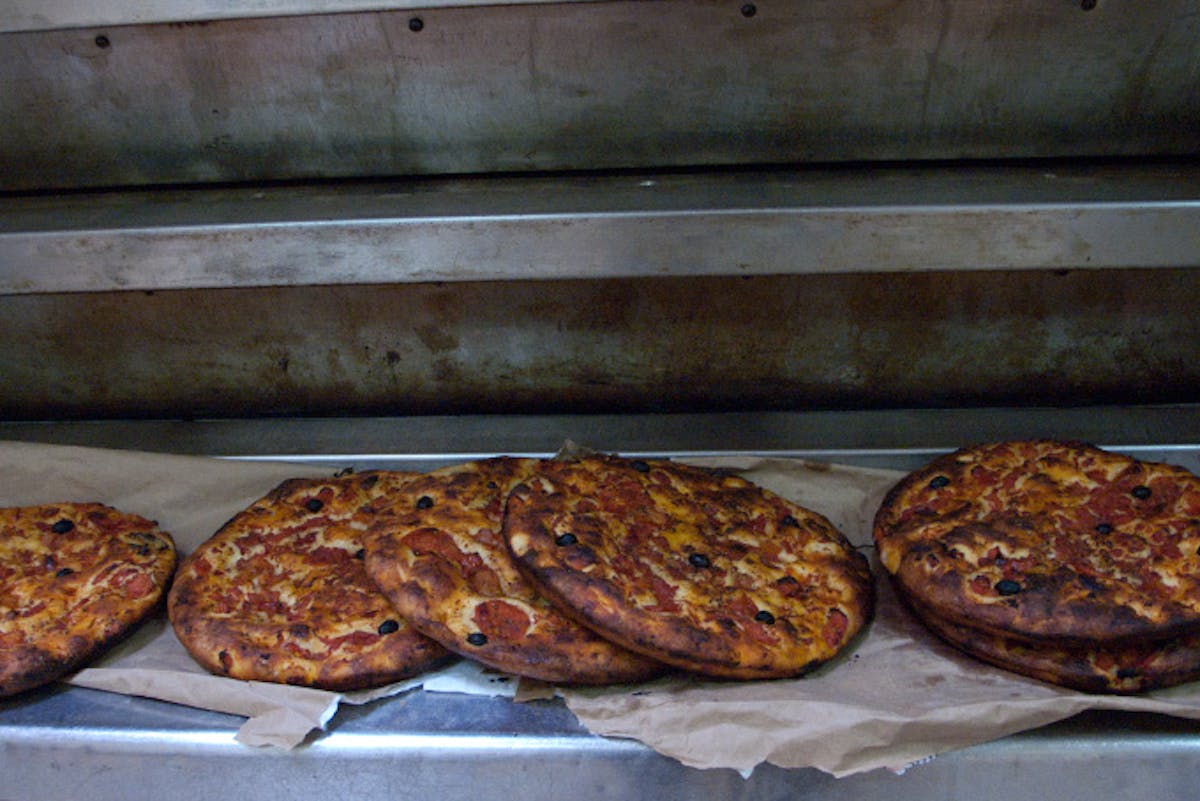 I figure that after yesterday the last thing people need is another recipe - so I've posted some photos from my trip to Puglia, Italy instead.
I was in Puglia (think heel of the boot, pronounced Pooh-lee-yah) last week for Olivita, an Oldways Conference focusing on the cuisine and culture of Puglia, and the benefits of olive oil and the Mediterranean diet.
For those of you who are unfamiliar with Oldways, they are a Boston-based food issues think tank doing very interesting work. They are behind the Whole Grains Council and the increasingly visible black-and-gold Whole Grain Stamp program adopted by hundreds of companies like Bob's Red Mill, Kashi, and Lotus Foods to help consumers identify products that are whole grain. I'm also looking forward to their cookbook (next month?)...I'll be sure to highlight it when it is available. At any rate, keep an eye on them they are doing important work on many fronts.
The first thing I noticed as my plane descended into Bari was the vast green carpet of olive trees that stretched from the sea all the way inland. I've never seen anything like it - the perfect welcome mat to olive oil country.
We stayed in a small coastal town not far from Bari named Bisceglie. In the middle of the night from my hotel room you could see a single line of lights equidistant from each other on the barely visible black on darker-black Adriatic horizon. As the sun would start coming up in the morning the lights would start moving in toward the harbor until you could see the tiny one or two man boats on the water. I put my sneakers on early the first day to go out and explore the town and harbor area and found this guy and his fisherman buddies pulling in the days catch.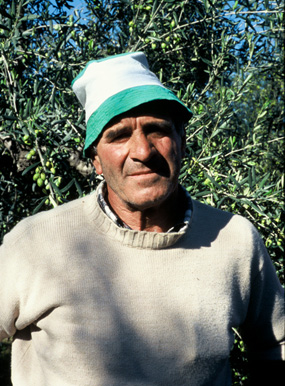 This guy is an olive picker at Spagnoletti Zeuli (as is the red sweatered guy in the photo way up top) - Piccolo Antionia and Lorusso Pasquale. We visited a number of olive oil facilities ranging from growers to producers to bottlers - both conventional and organic. A surprising (to me at least) percentage of the olive growers in the region are organic.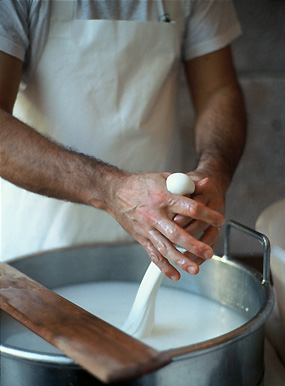 The food in Puglia is stunning. Lots of simply prepared fresh (and preserved) vegetables, beans, bitter greens and lentils. Wonderful cheeses, nice everyday wines, and plenty of vibrant, often wonderfully pungent, flavorful olive oils line shop shelves. All very affordable. One wine store I stumbled on in Bisceglie only sold Puglian wines - at least 100 different producers - and most of the bottles were in the 4 - 9 Euro range. You had to look hard for anything over that. The picture up above is the fresh mozzarella we were served (along with just-made orecchiette pasta and about 90 other delicious traditional dishes) at one of the most jaw-dropping lunches of my life at Masseria Barbera. I hope someone writes up that specific lunch in detail, because it was amazing and I was too busy eating to take many notes/photos.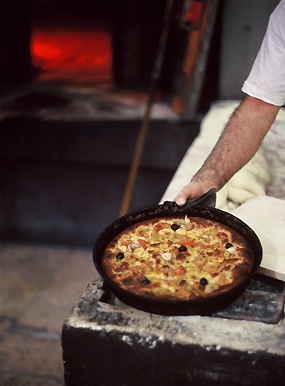 This is hot-out-of-the-woodfired oven focaccia bread at the Beppe DiGesu's bakery in Altamura. See the glow of the oven in the background? There are dozens of loaves in there. Harris goes into more depth about the bakery, their techniques and tradition here.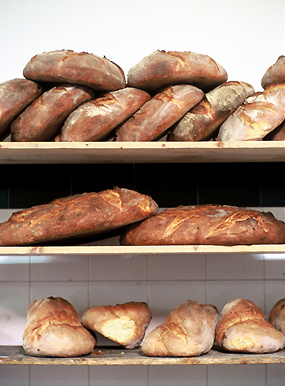 More bread at DiGesu. Some of those loaves are HUGE. Over a foot-and-a-half in diameter huge. Perfect crust, perfect color. And below a picture of me not sixty seconds after walking into the bakery with a monstrous piece of focaccia in my mouth (its hard to shoot and eat at the same time!). Photo credit : Beppe DiGesu.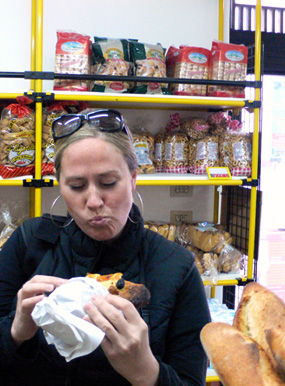 Gallery of larger (full-frame) photographs, here.
If you want to see more photos, here's a link to a slightly larger gallery of photos from the trip. I ran into a man in Bisceglie who had a "studio di arte e restauro" next to one of the old churches. He fixed up religious relics - mended angel wings, broken Jesus arms and worse. Some of the shots in that gallery are from the inside of his workshop.
Josh at the Food Section, as well as Nicki and Oliver at Delicious Days have posts/pics related the conference/trip as well.