Black Pepper and Lime Oven Fries Recipe
A healthy, simple and delicious alternative to deep-fried potatoes. These baked oven fries are finished with salt, pepper, a spritz of lime juice, and a dusting of Parmesan cheese.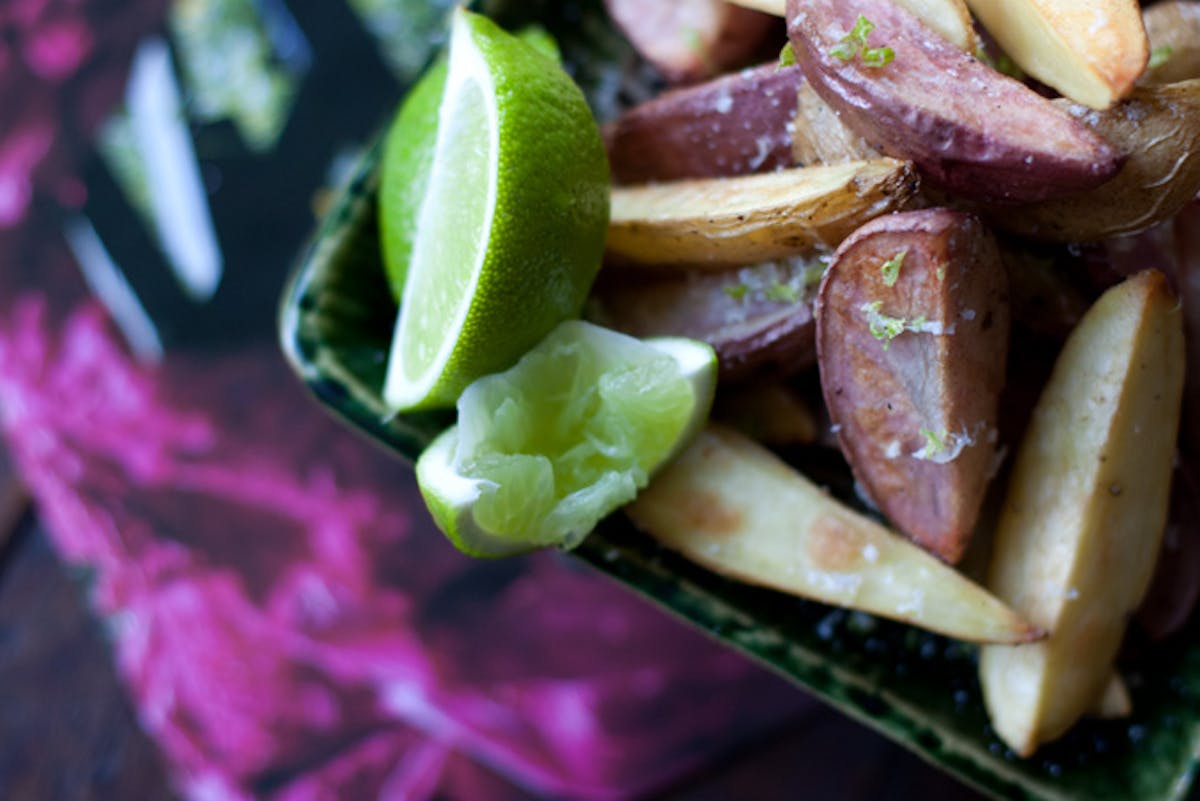 I'm kicking off the new year with these fantastic black pepper and lime oven fries. It is a recipe and flavor combination) inspired by a recent trip to New Zealand. But before we get too far into the food side of things I want to talk a bit about resolutions. Between marathon-length international flights and media-free evenings in a camper van I've had ample time to think about resolutions in the days leading up to the new year. The funny thing is, my resolutions don't seem to change drastically from year to year. A couple years back I wrote, "I look forward to 2005 being a year where; I see more of the world I live in through travel and photography, I spend more time with my sister, I make an effort to collaborate on projects with interesting, innovative individuals."
Thinking about this year, all of those resolutions still resonate. I'd like to focus my travel on experiencing more of the great cities of the world. On the photography front, I'd like to start work on a new long-term photo series (likely outside of the food space). And of course, spend more time with family.
I guess part of the lure of travel for me is being able to see places through fresh eyes, my brain switches into a different mode, my daily routine gets knocked off balance and I end up find inspiration in the unlikeliest of places. One afternoon early in this recent trip to New Zealand I popped into an small produce shop in Auckland. Nothing much to get excited about, it was well stocked with Kiwi standards like kumara (New Zealand's sweet potato), peppers, asparagus, tomatoes, asparagus, avocado, etc. It wasn't until I got to the back of the shop that I found an elderly Chinese woman diligently peeling and then cutting broccoli stalks into thin, biased, coin-shaped slices. She had a huge metallic mixing bowl filled to the brim - at least five or six pounds of slices. I asked what she planned on doing with the them (she was visibly amused by my curiosity) and in broken English said she would use them in her stir-fries. Somehow, this idea had never dawned on me and now I can't wait to add them to some of my favorite wok-creations.
On the road back to the hotel from the produce shop I looked up to see a billboard marketing a brand of New Zealand potato chips. The seasoning for the chips was black pepper and lime. I made a note to do a batch of oven fries when I got back to San Francisco trying out the lime and black pepper combination - New Zealander's have all sorts of interesting herb and spice uses. They use sea vegetables and native ferns in an array of rubs, dips, and infusions. I brought a bunch home to play with (future post!)...
Happy New Year everyone. Here's to health and happiness all around. Thank you for your continued support for this site. While in theory the site started as a way for me to explore ideas and influences, your feed back and continued curiosity brings a component to the site I could have never imagined. Hope you enjoy the baked oven fries.
Black Pepper and Lime Oven Fries
1 1/2 pounds small potatoes, cut into wedges
3 tablespoons extra virgin olive oil
sea salt
freshly ground pepper
1 lime
1/3 cup Parmesan cheese, grated
Preheat oven to 375, oven racks in the middle.
In a medium bowl toss the potato wedges with the olive oil, a few big pinches of sea salt and five or six cranks of the pepper grinder. Arrange the potatoes cut side down on a baking sheet. Place in the oven for 30-35 minutes, tossing the potatoes with a metal spatula half way through.
While the potatoes are baking, zest the lime and cut it into a few wedges.
When the potatoes are cooked through, remove them from the oven, taste, and adjust the seasoning. Add more salt and pepper to taste (don't skimp on the pepper!). Serve in a big shallow bowl, or on a platter, drizzled with lime juice and dusted with the lime zest and Parmesan.
Serves 4 - 6.