Cauliflower Soup with Gorgonzola Recipe
From Skye Gyngell's cookbook A Year in my Kitchen this simple, satisfying cauliflower soup recipe is perfect served up with a bit of cold winter weather.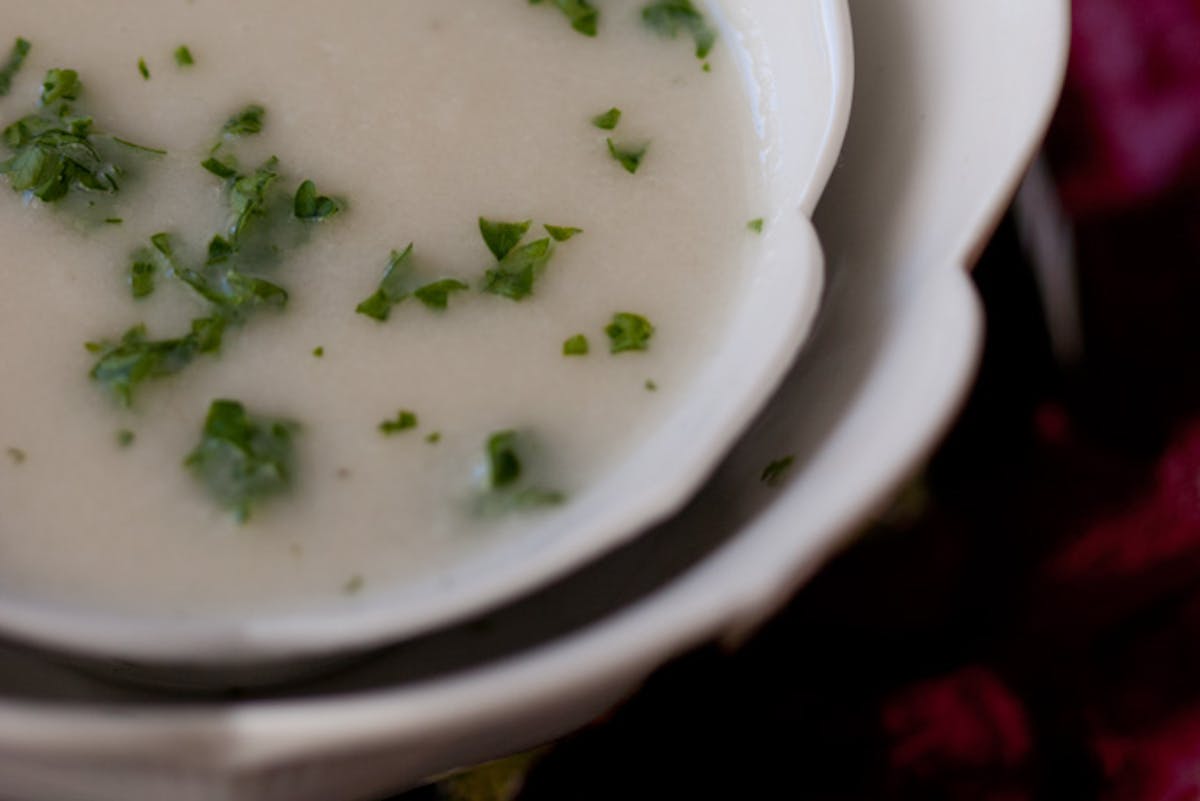 This wonderful cauliflower soup recipe was inspired by my trip to New Zealand - sort of. Let me back up and explain. My suitcase weighed in at 27 kilograms (or 59 pounds) when I checked in for my long flight home from Wellington on New Year's Eve. The woman at the Air New Zealand desk wrote 27k on a blindingly red tag and looped it through the handle - lest any unknowing baggage handler dislocate a shoulder trying to lift it.
Part of the reason my bag was so heavy is because I brought back books. Not many, just two - but in addition to the three weeks of clothing, fifteen bars of Schoc Chocolate, four jars of native honey, two bottles of olive oil, and two bottles of wine, it added up. The phrase that shot through my brain when I went to lift it onto the scale was - dead weight. People around me were snickering.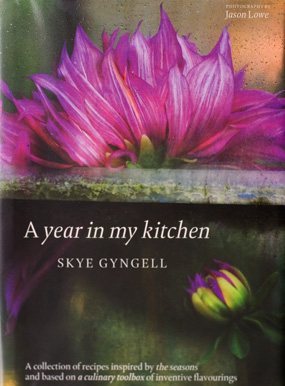 One of the books I carefully wrapped in a skirt and tucked into my bag was a cookbook titled A Year in my Kitchen by Skye Gyngell, chef at the Petersham Nurseries Cafe. Her book doesn't seem to be available in the States, but for those of you overseas (or willing to order from the UK) this is a book to buy. The photography by Jason Lowe is vibrant and feminine and the pacing of the pages is perfect. The recipes have room to breathe on the page and there is a pleasing flow from word-intensive pages to full page photography, and a nice mix of food shots, ingredient shots, and minutiae / details.
The recipes are seasonally organized. They are straight forward and unfussy. I suspect she would find herself at home in many a California kitchen. A sampling of recipes from the book includes; Baked Quince with Honey, Bay, and Verjus; Sweet Potato and Goat's Cheese Frittata; Baked Ricotta with Roasted Tomatoes, Black Olives and Basil Oil. I chose to make her cauliflower soup today for a quick lunch. Kid you not, once you cut up the cauliflower and onion, the soup practically makes itself.
Skye suggests topping the soup with a cranberry-flecked pickled pear relish made from cooking a couple crisp, diced pears and an apple in a bit of butter with a splash of cider vinegar, a small handful of sugar, a bit of cinnamon. It is finished off with salt and pepper. This is one option, the soup can go many other ways as well. Play around with different cheeses. An antique gruyere is one of my favorite cheeses to use when the weather is cold, and it would be delicious in this soup in place of the blue. You could spice it up with some curry powder, or ground, smoked red chiles. Roast the cauliflower (and onions) first, like we did here for even more depth of flavor.
And again, if you haven't already, pick up a hand blender. It makes soups like these (and the cleanup that follows) unbelievably quick - no more taking apart the blender, or worse, blending in batches.
A bit of a sidenote (for those of you on the lookout for good luggage). I was telling someone over the weekend how much I love my suitcase. It has lots of pockets to keep things organized. I can hang clothes in it. It is smart looking, and the exterior is made of a quixiotic sounding material - ballistic nylon. Most importantly, and unlike many other garment bags and suitcases, it has structure and maintains its shape even when sandwiched at the bottom of a stack of heavy bags. This is a big deal for me on trips where I bring home all those edible delights that qualify as liquids.
Cauliflower Soup with Gorgonzola
This is an ever-so-slightly adapted version of Skye's cauliflower soup recipe. I lightened it up a bit by easing off the Gorgonzola some - I had the soup for lunch and wanted something not so intensely flavored with blue cheese. I also converted it from the metric system.
1 medium cauliflower
1 tablespoon unsalted butter
2 smallish yellow onions, peeled and finely sliced
4 thyme sprigs
2 bay leaves
sea salt and freshly ground pepper
4 cups chicken stock (hs note: I used vegetable stock)
1 cup Gorgonzola cheese (hs note: I used 1/3 cup)
1/3 cup creme fraiche
parsley for garnish
Remove the outer leaves from the cauliflower and break it into small florets (don't bother to remove the stalk - it only adds to the flavor). Set aside. Melt the butter gently in a saucepan (large enough to hold all of your ingredients) over medium heat. Add the onions and sweat gently for 5 minutes or so until translucent.
Add the cauliflower, thyme and bay leaves. Season with little salt and pepper, to allow the flavors to adjust and find their feet. Pour in the stock, stir and bring to a simmer. Then cover and simmer for 20 minutes or so, until the cauliflower is very soft.
Crumble in the Gorgonzola and stir over a low heat until it has melted into the soup. Add the creme fraiche and stir to combine.
Pick out the bay leaves and thyme stalks, then blend the soup until really smooth.
Return the soup to the pan and reheat gently. Taste and add a little more salt and pepper if you think it needs it.
Ladle unto warm bowls, serve topped with chopped parsley.
Serves four.