Maranui Surf Club Salad Recipe
Inspired by a visit to the Maranui Surf Club in Wellington, New Zealand. This chickpea salad recipe combines a big bowl of roasted winter squash, garbanzo beans, cilantro, and red onions with a quick coconut curry dressing.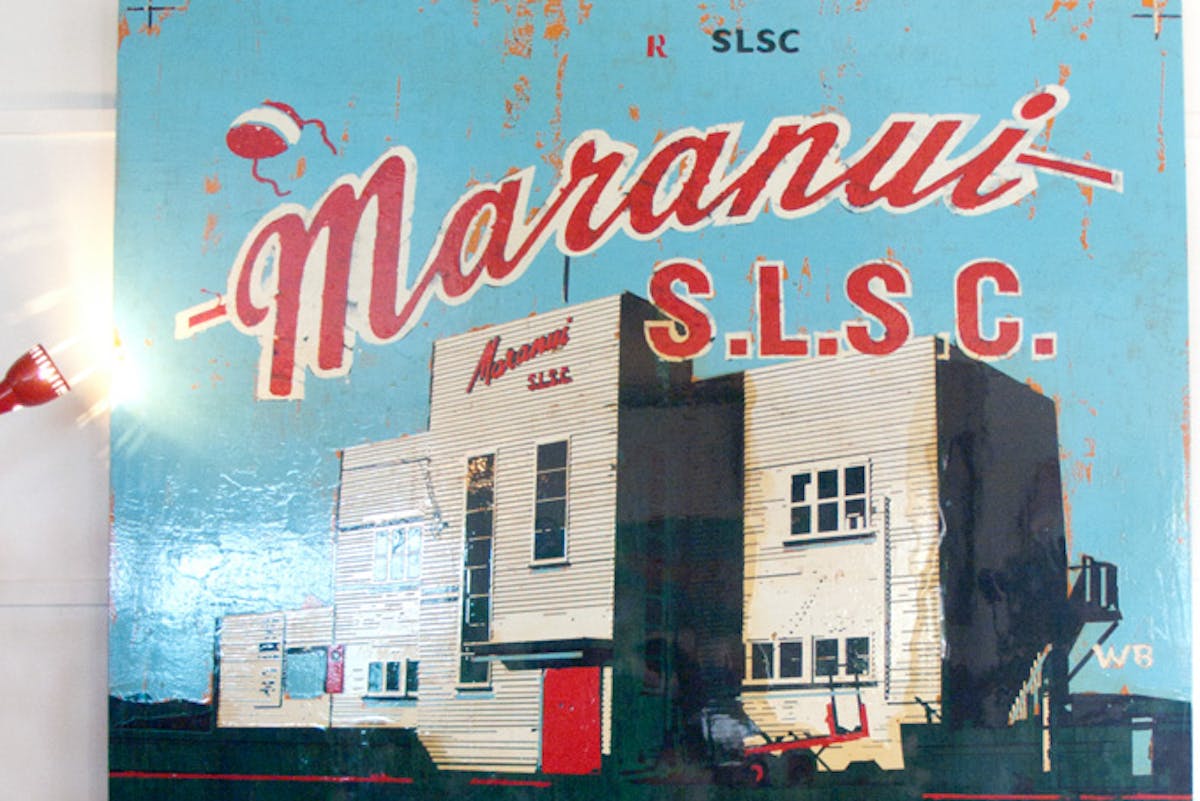 One of my more memorable meals in New Zealand took place at the Maranui Surf Life Saving Club in Wellington. Wellington sits at the base of the North Island on the expansive and picturesque Lyall Bay. On a clear day you can see the South Island and all the miles and miles of rich turquoise-colored water in between. I've never seen water quite like it - a seductive, alluring, tease of a blue making you crave a swim. Don't kid yourself, the water is cold enough (in December) to chill the marrow in your bones.
The Maranui Surf Life Saving Club sits perched on a pleasant stretch of beach in the belly of the bay. My little friend Jasper likes to collect beach glass near the boxy building where he informed me the pickings are good. Lots of blue and green glass, and the occasional (and most coveted) heart-shaped beach glass.
The waters off the southern tip of the North Island are no joke and the club has been providing surf life saving services for nearly 100 years. Big waves and big surf are commonplace here and the local North-to-South Island ferry is endearingly referred to as the vomit comet. Nothing demonstrates the big waters better than this clip of a freighter leaving Wellington as it heads into the Cook Straight.
A quirky café has taken up residence (relatively recently) in the surf club, providing locals with good food, eclectic 40's-era surf club décor, and epic panoramic views. I loved it the minute I set foot inside. They serve a Kiwi-fied version of café food with a decidedly natural food twist. While you could certainly order eggs, soup, burgers or a sandwich - their "big bowls" were the thing that caught my attention. I ordered a roast pumpkin, chickpea, and red onion bowl that I am going to riff off of for today's recipe. I could have gone back every day for a week to taste my way through all the big bowls. They had a green tea soba noodle bowl with sesame and fresh coriander, they also had a barley salad with green beans, peanuts, and cherry tomatoes. All looked delicious.
In this version of the chickpea salad bowl I used acorn squash in place of the pumpkin. As I mention down below, I believe they used dill and parsley where I'm going to use cilantro. I threw together a quick coconut curry dressing and did a quick pickle of chopped red onions in a bit of lime juice to add some tang and acidity and cut the sweetness of the squash.
The only time consuming aspect to this recipe is cutting the squash. Beyond that, it is a recipe that takes just a few minutes of active prep time. Sweet potatoes, butternut squash, and regular potatoes are easier to cut into cubes and are fine substitutions.
If you are ever in Wellington be sure to visit - it is a visually interesting, historically important, kid-friendly landmark that serves up a good meal.
More pictures of the café on the Maranui Surf Life Saving Club website.
Maranui Surf Life Saving Cafe
Lyall Bay, Wellington
Ph: (04) 387 2829
Maranui Surf Club Salad
The salad I remember from Maranui used pumpkin - feel free to use your favorite winter squash. I used acorn squash this time around. You could also try sweet potatoes, regular potatoes, or butternut squash. The herbs they used were dill and parsley. I'm using cilantro instead - but for the cilantro haters out there, feel free to use the former.
1 small red onion, peeled and chopped
Juice from two juicy limes
1/2 cup coconut milk
1 teaspoon red curry paste
3 cups winter squash, cut into 1/2 inch chunks
splash of extra-virgin olive oil
2 cans garbanzo beans (or equivalent)
1/2 cup cilantro, chopped
fine grain sea salt
Preheat oven to 375.
In a small bowl combine the chopped red onion, lime juice and a generous pinch of salt. Stir and set aside.
In another small bowl whisk (or handblend) the coconut milk and curry paste together (add more curry paste if you like more heat/flavor). Season with a pinch of salt and set aside.
Toss the squash with a splash of olive oil, sprinkle with salt and arrange on a baking sheet. Separately, in a casserole dish, toss the garbanzo beans with the coconut-curry milk. Place both the squash and beans in the oven for about 15-20 minutes. Toss the squash once after about ten minutes to get browning on multiple sides.
Remove the beans and squash from the oven. Add about half of the reserved red onions and most of the cilantro to the beans and toss. Taste and add a bit more salt if needed. Add the squash and toss very gently - I like my squash to stay intact w/ some structure so I'm careful. Serve in bowls or on a platter garnished with the remaining red onions and cilantro.
Serves 4.