A New Take on Potato Chowder Recipe
A chunky, satisfying, winter-time riff on potato chowder - winking at the Japanese pantry with a finishing swirl of miso, and a touch of sake in the base.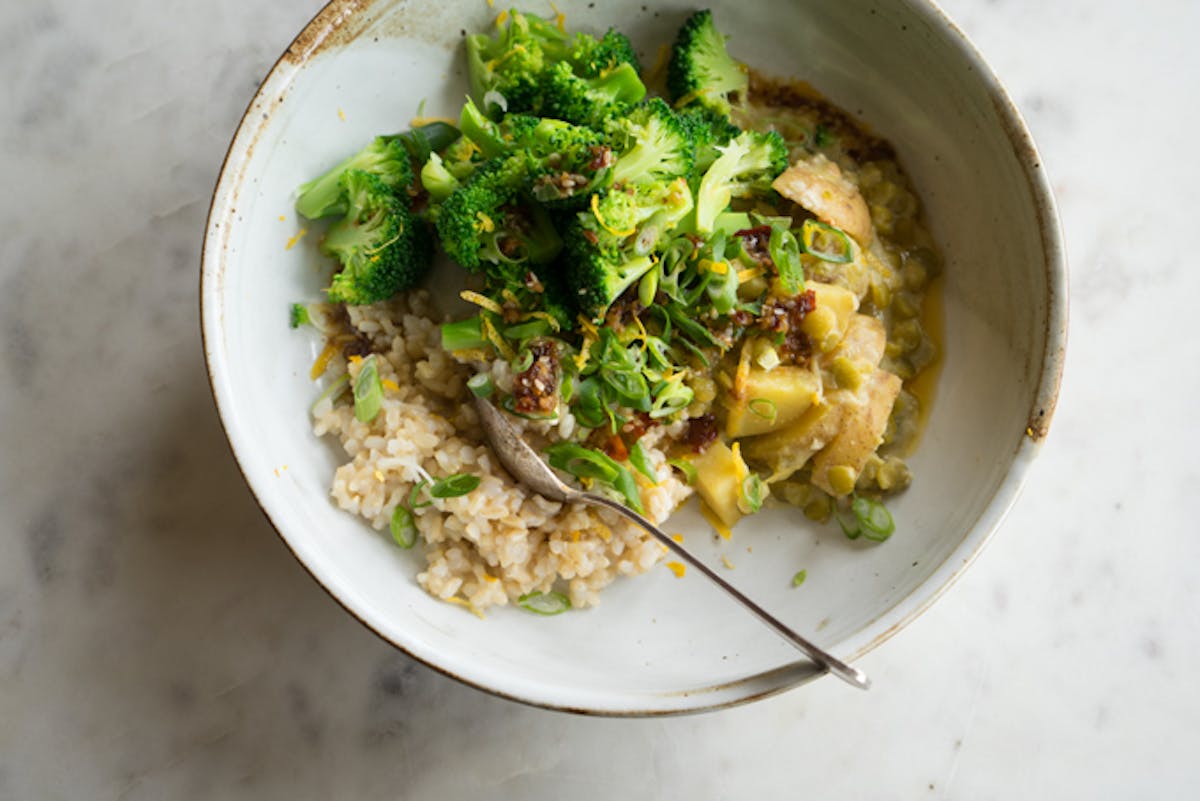 This isn't your typical potato chowder. That said, I'll argue that it still checks all the boxes - hearty, chunky, warming, satisfying. It's the sort of bowl you want to enjoy on the coldest of days, or when you're trying to shake off a chill after a day outdoors. The chowder itself is quite simple, and winks at the Japanese pantry with a finishing swirl of miso, and a touch of sake in the base. You can make it with whole dairy milk, or organic soy milk, and I can imagine a coconut milk version being great as well, but haven't worked out the ratio. To the potato chowder base I add some cooked green lentils (or mung beans) and blanched broccoli, as a protein boost and then to work in some vibrant green - making this a true one-bowl meal. You can enjoy the chowder on it's own, or finished with a spicy chile sauce (I've included a special recipe for that below as well)....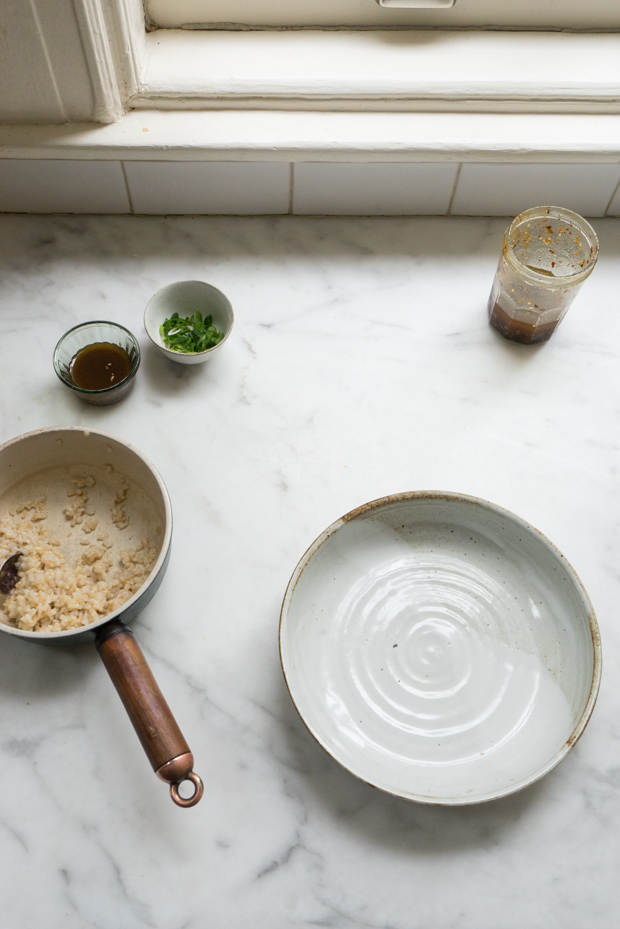 This inspiration for this came in a round-about fashion. Wayne and I went to a friend's house for New Years Eve. Malinda made a beautiful meal inspired by this book. One of my resolutions for 2016 was to cook more in clay, and having that meal kick off the year seemed wonderfully serendipitous. Malinda's meal was cooked in various Japanese clay vessels and donabe (hot pots). My thoughts on donabe cooking warrants a post of it's own, but there are so many things I love about it - the way cooking vessels are used as communal serving vessels, the sensory theatre that happens as you lift the lid from a pot, passing shared plates...
There are just so many nuanced differences about cooking and serving in clay. And as far as technique goes, cooking in covered clay (for example in this sort of rice pot, or with this sort of smoker), is...different. Because you aren't supposed to be checking on your progress constantly - you often cover and commit. It requires you to get to know your pots and stove (or heat source) in a more intimate way. Trust builds over time, because you can no longer rely on your eyes to tell you how things are progressing. It's like shooting with an old film camera. Malinda sent me home with her copy of Naoko Takei Moore & Kyle Connaughton's book - Donabe: Classic and Modern Japanese Clay Pot Cooking, and I used one of their chowder recipes (Salmon Chowder with Miso Soy-Milk Broth) as a jumping off point for this vegetarian version. For this recipe a donabe is not required, but you can use one if you have one. I'll also include their Chunky La-Yu recipe below, a spicy toasted sesame and chile oil - you can make it ahead of time, and it's good on everything, especially this chowder.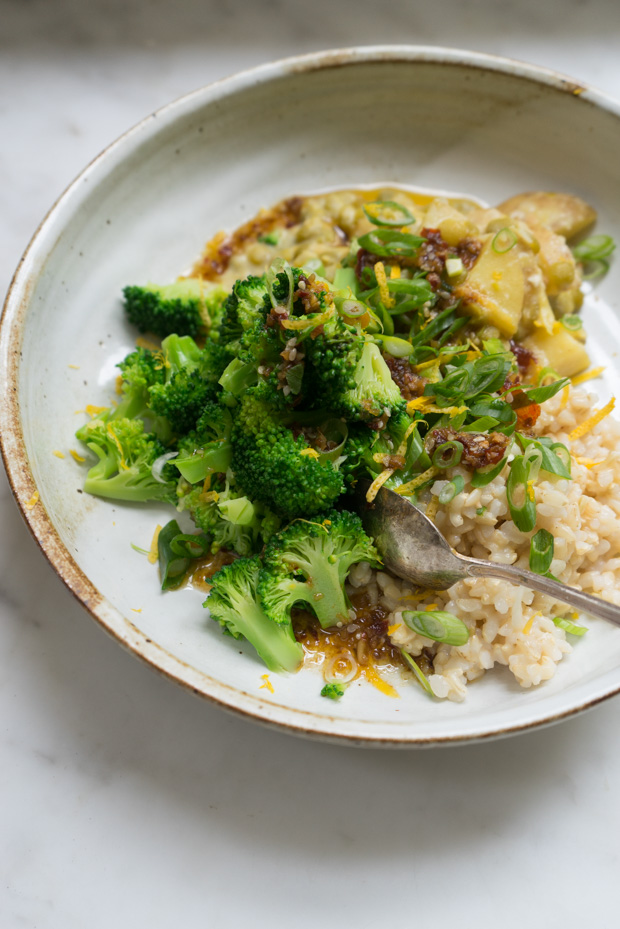 I posted a photo of the chowder to Instagram a couple of weeks back. Leftovers served over rice, with chile oil, and lots of broccoli. Enjoy! -h
Potato Chowder with Miso Broth
HS: A couple of tips. Whether you're using green lentils or mung beans, cook them through, but not to the point where they're falling apart. Also, the chile oil (Chunky La-Yu) really pulls everything together - highly recommend that component!
1 small head of broccoli florets
sea salt, to taste

2 tablespoons unsalted butter
1 small yellow onion, minced
2 tablespoons all-purpose flour
2 tablespoons sake
2 1/4 cups water
3 medium new potatoes, cut in sixths

2 tablespoons miso or sweet white miso
1 3/4 cups whole milk or soy milk
1 1/4 cups cooked green lentils

to serve: sliced green onions, lots of lemon (Meyer) peel, chile oil (or Chunky La-Yu*), brown rice
Bring a small saucepan of water to a boil. Salt well, and blanch the broccoli florets until bright green, about thirty seconds or so. Drain, run under cold water to stop the cooking, shake off excess water, and set aside.
In a medium-large pot melt the butter over medium heat. Stir in the onion, and cook, stirring occasionally until the onion are soft, about 8 minutes. You want to avoid browning. Stir in the flour, and allow to cook for another minute or so before stirring in the sake. Gradually add the water, a bit at a time, to avoid clumping. Add the potatoes, and bring the mixture to a simmer. Cook until the potatoes are cooked completely through.
Put the miso in a medium bowl, add a splash of milk, and whisk to thin out the miso. Add the rest of the milk and continue to stir to incorporate the miso. Add this to the pot, stir in the lentils, and heat just shy of a simmer. Taste, and add more salt - there is a wide range of saltiness when it comes to miso, so I err on the conservative side here, you'll likely need more salt to bring the flavors into focus. Stir in the broccoli.
Serve with a load of sliced green onions on top, and any other toppings. The photos show the chowder served with brown rice, and the Chunky La-Yu chile sauce from the Donabe book - recipe below.
Serves 4.
Chunky La-Yu
HS note: I've made this a few times now, and in a pinch you can certainly use almond butter or even peanut butter if you don't have almonds on hand.
2 cloves garlic
1 1/2 teaspoons ginger
1 medium shallot, quartered
1 green onion
1 generous tablespoon of almonds

1 1/2 teaspoons coarse ground chiles (such as Korean gochugaru, or I had arbol chiles on hand, and ground them with a mortar and pestle)

1 teaspoon raw brown sugar
1/2 teaspoon sansho pepper, optional
1 teaspoon sea salt
1 tablespoon white sesame seeds
1/2 teaspoon dried red chile flakes
1/4 cup toasted sesame oil
3/4 cup extra-virgin olive oil
1 teaspoon shoyu or soy sauce

Combine the garlic, ginger, shallot, white part of the green onion, and almonds in a food processor. Pulse until very finely minced, but not pureed.

Combine those ingredients with the rest of the ingredients, minus the shoyu, in a saucepan and set over medium-low heat. As soon as it comes to a gentle simmer, turn down the heat to low until tiny bubbles appear on the surface and you hear a subtle sound. Slowly cook to infuse, not fry, the ingredients for 8 to 10 minutes or until the mixture is aromatic, stirring a few times along the way. Turn off the heat, and stir in the shoyu or soy sauce and let the mixture cool completely (or if you're impatient, you can serve it warm).

Makes ~ 1 cup.

Adapted from Donabe: Classic and Modern Clay Japanese Clay Pot Cooking by Naoko Takei Moore and Kyle Connaughton. (Ten Speed Press)

Prep time: 10 minutes - Cook time: 20 minutes