Animal Cracker Cookies Recipe
Kids love these animal-shaped cookies. They bake up fragrant, golden and crisp and are made from whole wheat pastry flour, a dollop of coconut oil, shredded coconut, ground walnuts, a touch of salt, and as little sugar as I thought I could get away with.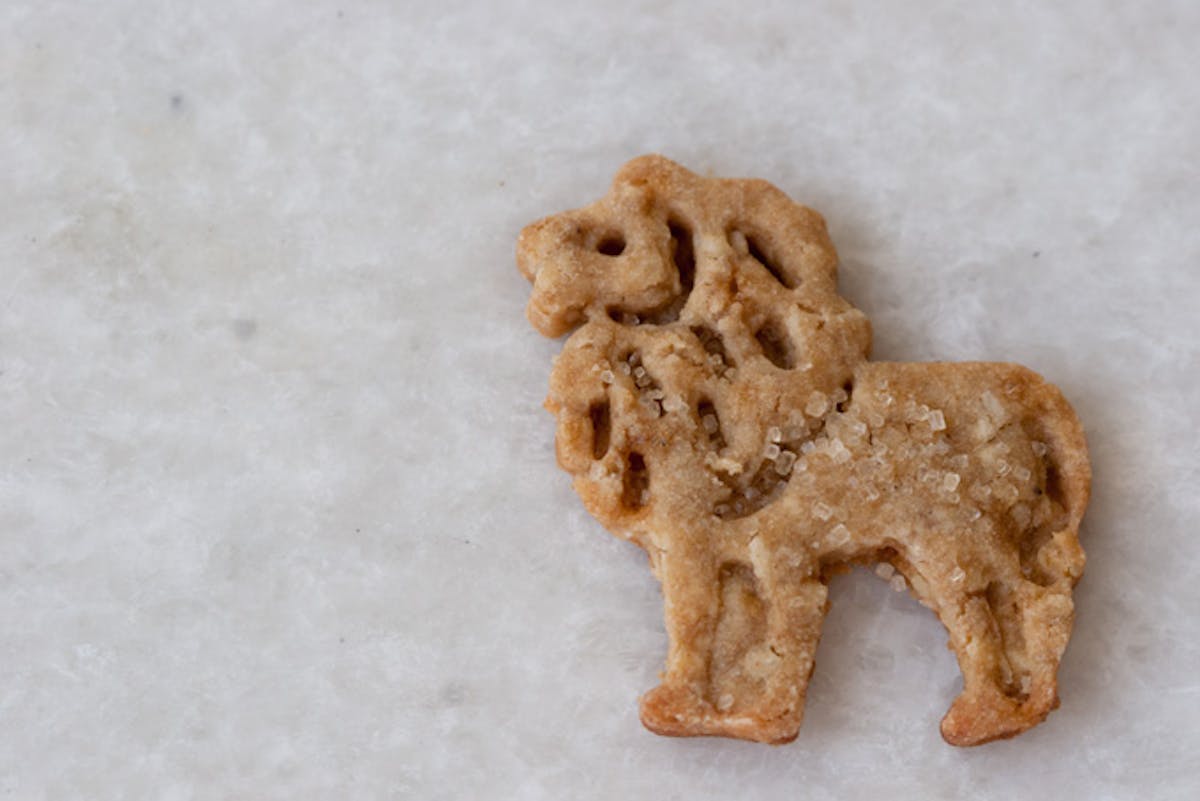 I picked up a box of cute, animal shaped cookie cutters at Williams-Sonoma the other day. The box contained one lion, one tiger, one giraffe, an elephant, and a seal with a ball on its nose. And although it took two tries, my second attempt at a dough worked out nicely - a couple of my favorite two-year-old friends told me so. Made from whole wheat pastry flour, a dollop of coconut oil, shredded coconut, ground walnuts, a touch of salt, and as little sugar as I thought I could get away with, the cookies baked up fragrant, golden and crisp.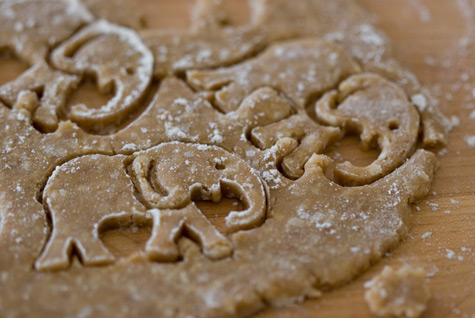 I should mention that some of the circus animals are better behaved than others. The lion and tiger, with their open shapes, were a breeze to stamp out. The elephant was pretty great too - aside from the occasional missing trunk mishap. On the other side of the spectrum, I had a number of beheaded giraffes.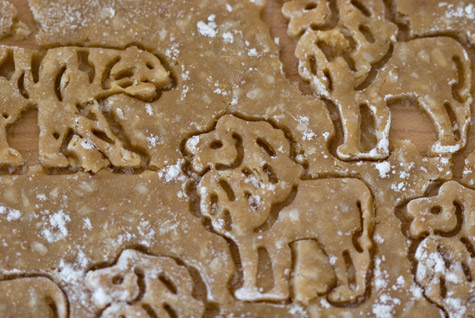 For those of you who are curious, my first attempt dabbled with olive oil as the fat, and honey as the sweetener - I wanted to explore a non-granulated sweetener in this type of cookie/cracker. They came out dry as Mojave Desert - dry, dry, suck the last drop of moisture from your mouth dry, and not very tasty on top of that. I took a moment to say good-bye to those little lions and tigers, and they spent the rest of the afternoon lounging around the compost bag.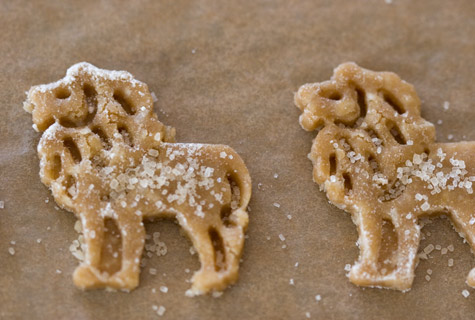 I know some of you are going to ask - I don't see why you couldn't substitute unsalted butter for the coconut oil if you like, it should work out fine, but I haven't tested that variation. I should also mention how important it is to chop the shredded coconut in these cookies into tiny, tiny, flecks - this way it won't look like your animals have "grass" stuck to their feet, and will make stamping out the cookies easier.
Animal Cracker Cookie Recipe
The kind of coconut oil you purchase is key. You want it to actually smell like coconut. You want pure, unrefined coconut oil - it will likely have the words virgin or extra-virgin and (hopefully) organic on the jar. If you see the word "refined" on the jar, find a different brand. I've just finished off a jar of Nutiva, and really enjoyed cooking with it - but there are other great brands out there as well. You can make your own walnut (or almond meal) by pulsing almonds in a food processor until it is the texture of sand - don't go too far or you'll end up with almond butter. For added depth feel free to use lightly toasted shredded coconut.
1 cup whole wheat pastry flour
1/4 cup walnut of almond meal (see head notes)
1/2 cup unsweetened finely shredded coconut, very finely minced
1/4 cup extra-virgin coconut oil, softened
1/3 cup fine-grain natural cane sugar
1/4 teaspoon salt
1 large egg, lightly beaten

a few tablespoons big-grain turbinado sugar
Whisk the flour, walnut meal and shredded coconut together in a medium bowl. Set aside. In a separate medium bowl, beat the coconut oil with the sugar and salt until it's smooth and looks a bit like a brown sugar frosting. Beat in the egg until everything is uniform in appearance. Add the flour mixture and stir just until incorporated. Turn the dough out onto the counter-top, knead it once or twice and gather it into a ball. Cut the dough in half, flatten each piece, wrap and refrigerate for at least an hour.
When you are ready to bake the cookies, preheat the oven to 350F degrees. Place the racks in the middle and line a couple baking sheets with parchment paper. On a floured work surface roll the dough out 1/8-inch thick. If the dough cracks, let it sit and warm up for a couple more minutes. Stamp out shapes with floured cookie cutters and place the cookies an inch apart on the baking sheets, sprinkle with a bit of the turbinado sugar. Bake until the cookie are just beginning to color at the edges 7-8 minutes. Remove from the oven and cool the cookies on racks if you have them.
Makes about 2 dozen cookies, depending on the size of your cookie cutters.