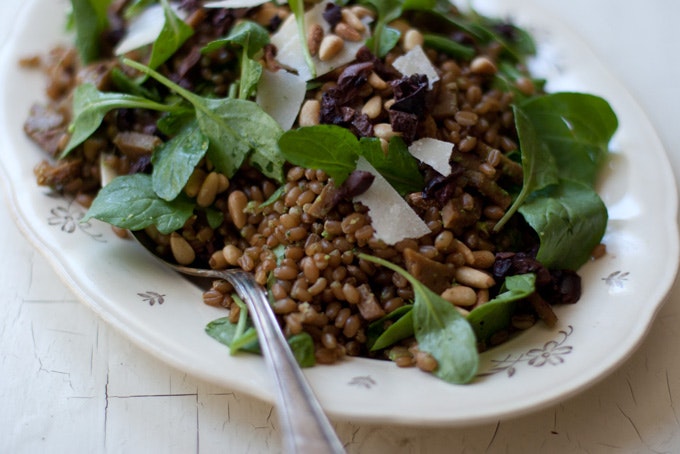 Arugula Pesto Wheat Berries Recipe
I meant to post this weeks ago, but my notes were somehow buried in a blizzard of files on my desktop. Better late than never, right? Here goes. I had a good-sized bag of arugula left-over from my nephew Jack's first birthday party and needed to use it up. I decided to give the bulk of it a whirl in the food processor and turn it into an arugula pesto of sorts. Not very creative, I'll admit, but the resulting puree was great - electric-green with a peppery kick. It's just the sort of thing to slather on a sandwich, dollop over hot pasta, or you can do what I did, and work it through a bowl of plump, chewy wheat berries. The bite of the arugula is tamed by the creaminess of the pine nuts, and the saltiness of the grated Parmesan and chopped Kalamata olive offsets the wheat berries nicely.
At $1 per pound the Massa Organics wheat berries were the deal of the year for me. I usually hit the Massa stand for their brown rice (which they are famous for) or their almond butter - but couldn't resist the wheat berries when I came across them. These wheat berries have a beautiful, barely-noticeable red blush when cooked, and they plump into perfect oblong orbs that look like they might pop between your molars.
Arugula Pesto Wheat Berries Recipe
While this is a great salad, I wanted to make more of a meal out of it so I threw in some seitan. Wayne brings home packets of Sweet Earth brand seitan, and I like it. I also noted that cubes of cooked potatoes would be great here.
3 cups cooked wheat berries*
3 medium garlic cloves
2/3 cup pine nuts (or sliced almonds), toasted (divided)
3 cups loosely packed arugula leaves
1/2 cup freshly grated Parmesan
2 big pinches salt
1 tablespoon fresh lemon juice
1/3 cup olive oil
1/3 cup black Kalamata olives, chopped
4 - 6 ounces seitan, (optional), chopped and pan-fried into crispy bits in a bit of oil
a bit of shaved Parmesan as garnish
Place the wheat berries in a large mixing bowl and set them aside so they can come up to room temperature if you've had them in the refrigerator.
In the meantime, make the arugula pesto by combining the garlic, 1/2 cup of the pine nuts, most of the arugula, Parmesan, salt, and lemon juice in a food processor. Pulse a few times, and then begin to drizzle the olive oil into the mixture while continuing to pulse until the pesto is smooth. Taste, and adjust if needed with more salt or lemon juice.
Pour about half of the pesto over the wheat berries, add the seitan if you are using it, the reserved arugula, and about 1/4-1/2 cup of hot water (or reserved water from cooking the wheat berries). Toss until everything is well-coated. Add more pesto a bit at a time until the wheat berries are dressed to your liking - I actually go a bit on the heavy side with this particular combination.
Arrange on a platter and top with the olives, remaining pine nuts, and a bit of shaved Parmesan.
*To cook wheat berries: Combine 2 cups wheat berries, 6 cups water, and 2 teaspoons salt in a large saucepan over medium-high heat. Bring to a boil, lower the heat, and simmer, covered, until plump and chewy (and a few of the berries split open), about an hour or so. The berries will stay al dente, and the only way to be sure they're done is to taste a few. Drain and set aside.
Serves 6 as a side, less as a main.
Prep time: 15 minutes - Cook time: 10 minutes