Banana Chip Cookies Recipe
A riff on one of my favorite chocolate chip cookie recipes. This version features banana chips, chocolate chips, toasted walnuts, toasted wheat germ, and whole wheat pastry flour.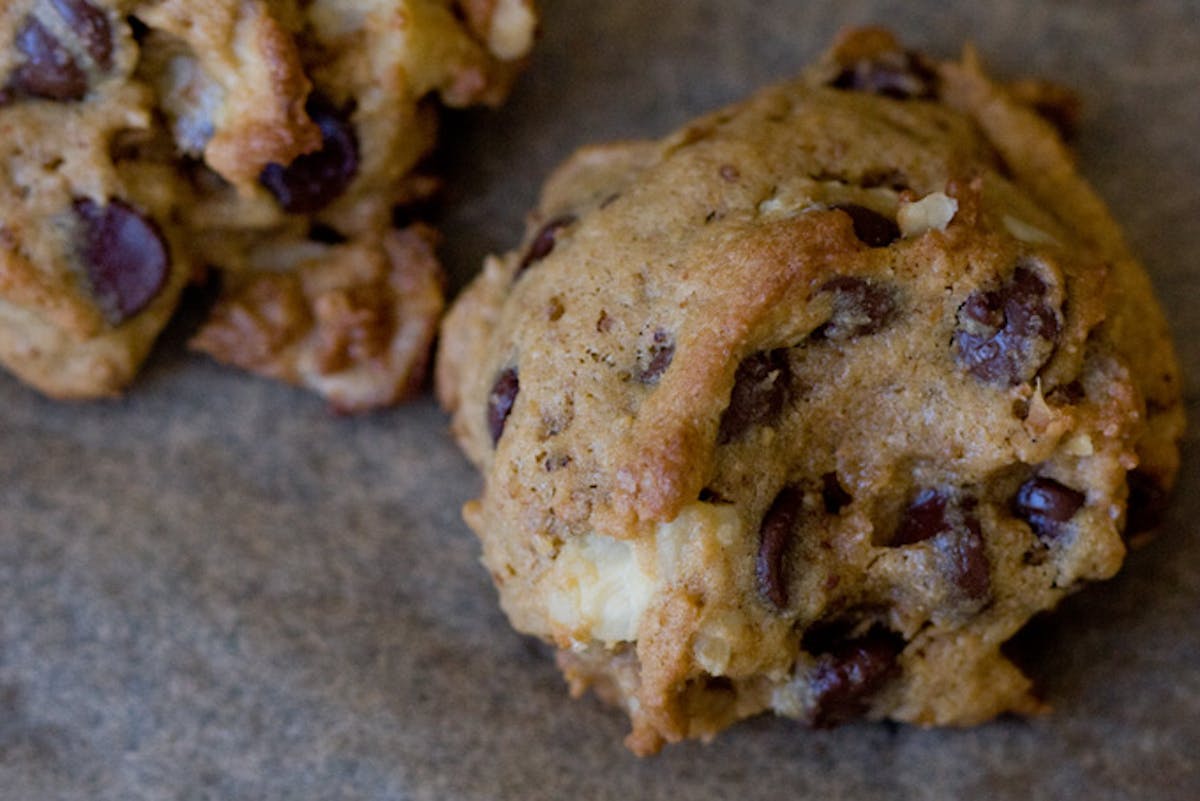 Riffing on one of my favorite cookie doughs, the one I use in SNC for the mesquite flour chocolate chip cookies, these decadent cookies get plenty of flavor and crunch from toasted walnuts and chopped banana chips. I have to admit, it was hard for me to resist adding even more ingredients (coconut, ground espresso, and on and on), but I fought the urge, and stopped short after the chocolate chips, oh and the wheat germ. Essentially I was on a bender in the bin section at the grocery store and these cookies were the result.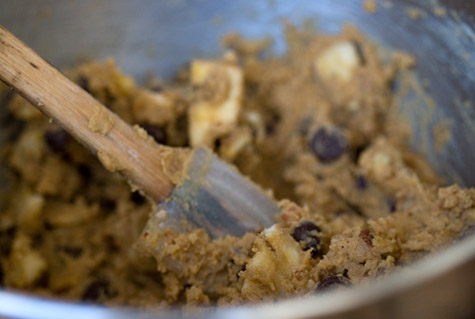 This is what your dough should look like just before you drop and bake the cookies. If you don't like banana chips leave them out, same goes for the nuts - or swap in something more to your liking...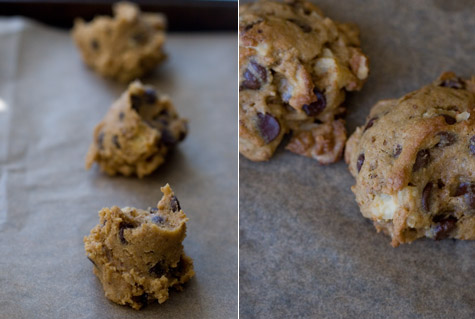 Before and after. I'm actually curious about how these cookies might turn out if I used coconut oil/coconut butter in place of the unsalted butter. If any of the vegan bakers out there try it, please report back. I suspect it would be delicious and add a nice undercurrent of coconut flavor. With all the hot weather we've been experiencing, I think the trick would be making sure the coconut is in its solid state (so chill just a bit before beating/adding sugar)...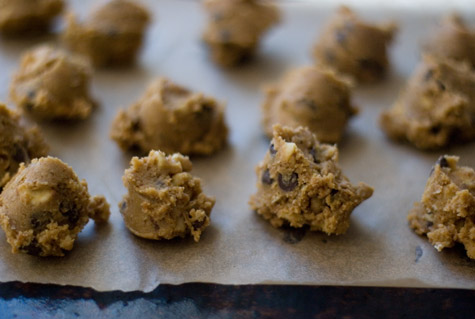 I actually froze off most of this batch of cookies, and will bake them on demand :) I crowd them onto a single baking sheet and place them in the freezer for about 30 minutes, long enough for them to firm up. Then I transfer them to freezer bags (double bag). It makes baking off a couple at a time a breeze, and the pre-freeze ensures you don't end up with frozen bags of mashed cookie dough. And to get this shape over and over I push the dough out of the tablespoon with my thumb.
Banana Chip Cookie Recipe
If you can't find whole wheat pastry flour, regular all-purpose white flour will work. If you can't find wheat germ, substitute an equal amount of flour. I look for organic banana chips - the ones I like are made with organic coconut oil and bananas.
1 3/4 cups whole wheat pastry flour (see head notes)
1/2 cup (toasted) wheat germ
1/2 teaspoon baking soda
1/2 teaspoon baking powder
scant 1/2 teaspoon fine grain sea salt
1/2 cup unsalted butter
1 cup natural cane sugar (or brown sugar)
2 large eggs
2 teaspoons vanilla extract
2/3 cup banana chips, loosely chopped
1 cup chocolate chips
2/3 cup toasted walnuts, chopped
Preheat oven to 375 degrees, racks in middle/upper middle. Line two baking sheets with parchment paper.
Whisk together the flour, wheat germ, baking soda, baking powder, and salt. Set aside.
In a large bowl, or stand mixer, beat the butter until lightly and fluffy, then beat in the sugar until it is the consistency of a thick frosting. Beat in the eggs one at a time, incorporating each fully before adding the next, and scraping down the sides of the bowl a few times along the way (important!). Stir in the vanilla. Add the reserved flour mix in two increments, stirring/mixing a bit between each addition (but not too much). By hand, stir in the banana chips, chocolate chips and walnuts - mix just until everything is evenly distributed.
Drop 1 heaping tablespoon of dough for each cookie onto the prepared baking sheets 2 inches apart and bake for about 7 - 8 minutes, until barely golden on top and bottom. Resist over baking, they will come out dry and not as tasty. Cook on racks.
Make about 24 cookies.