Blueberry Beet Pancakes (Vegan) Recipe
Accented with blueberries, and boosted hot pink with beet juice, these vegan oatmeal pancakes are a great way to start the morning.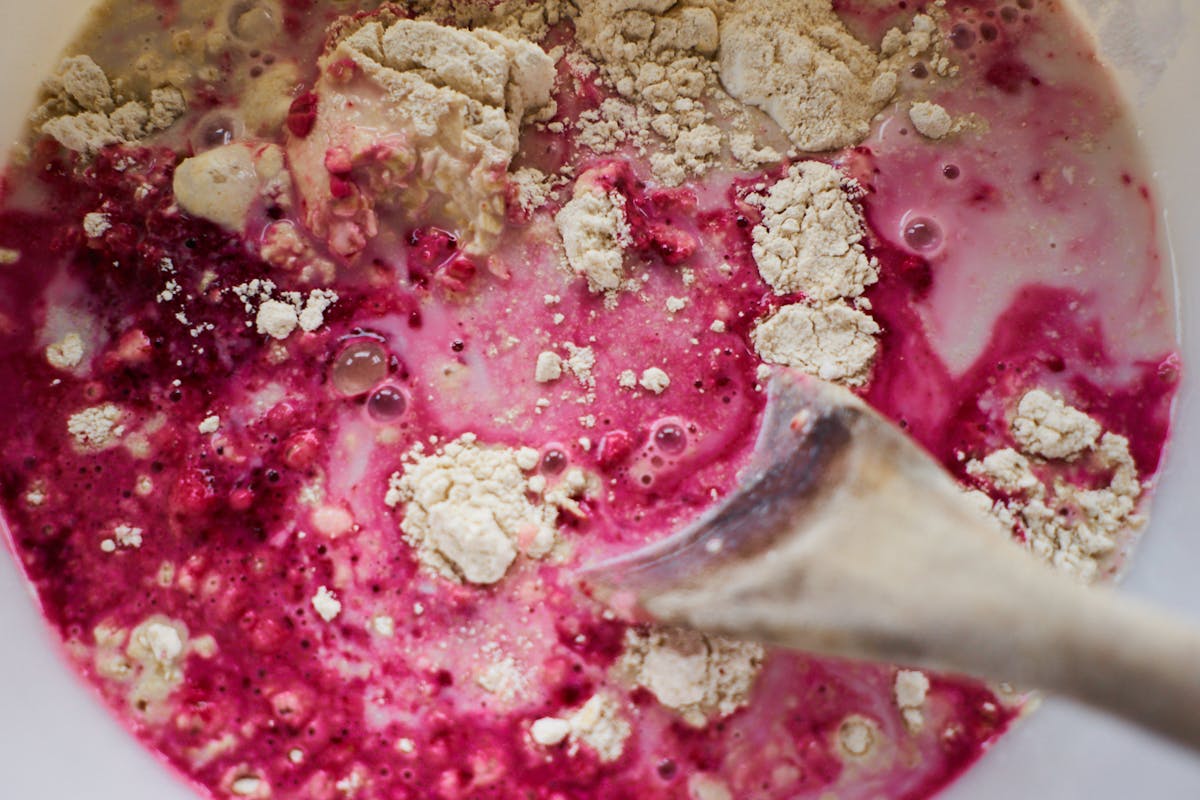 This recipe is a riff on my favorite vegan oatmeal pancakes, they're accented with blueberries, and boosted with beet juice. The beet juice is what makes the pancakes the beautiful pink color you see. These pancakes are hearty, substantial, delicious, and kid-friendly. especially when you dust them with cinnamon-sugar straight out of the pan, churro style.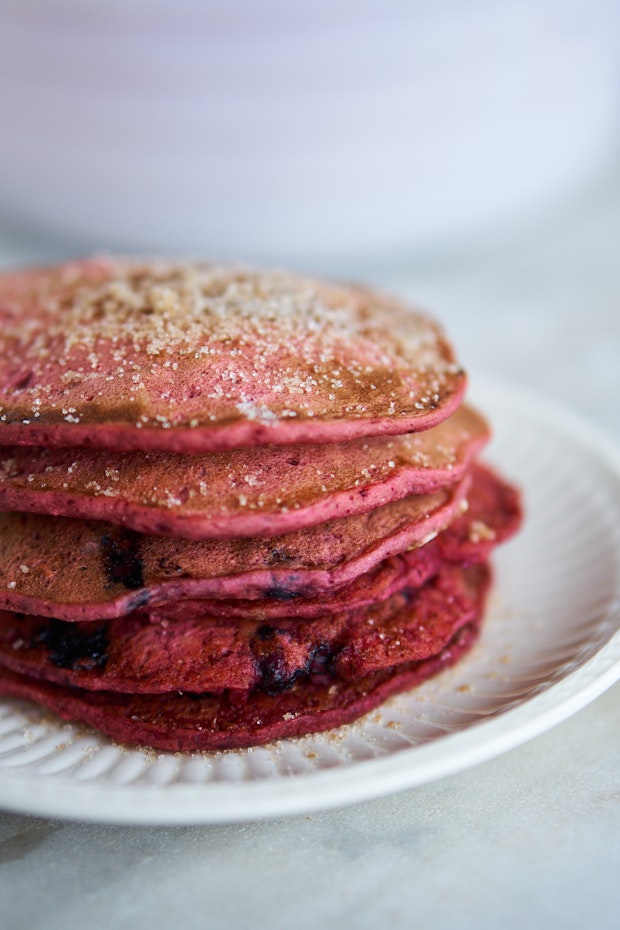 I use fresh beet juice, made with a juicer. If you're out of luck on the juicer front, play around with other concentrated juices you might have access to. Wayne has a carrot-turmeric juice he likes to buy on occasion (Trader Joe's, I think?), and that's a great alternative.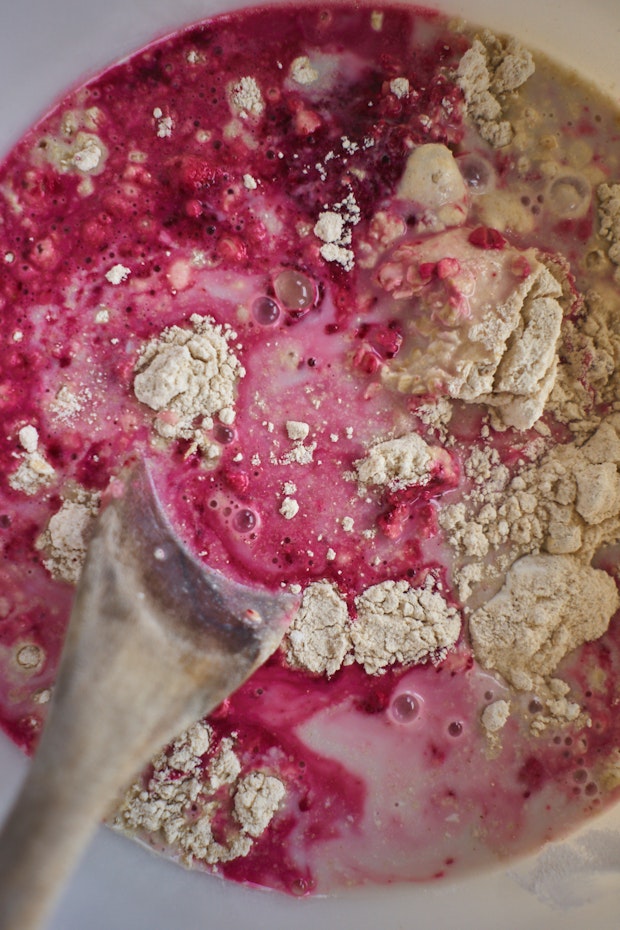 Once you have the batter made, you can refrigerate it for up to a few days. The resulting pancakes aren't quite as good as when you cook them immediately, but they are pretty fantastic for a quick mid-week breakfast.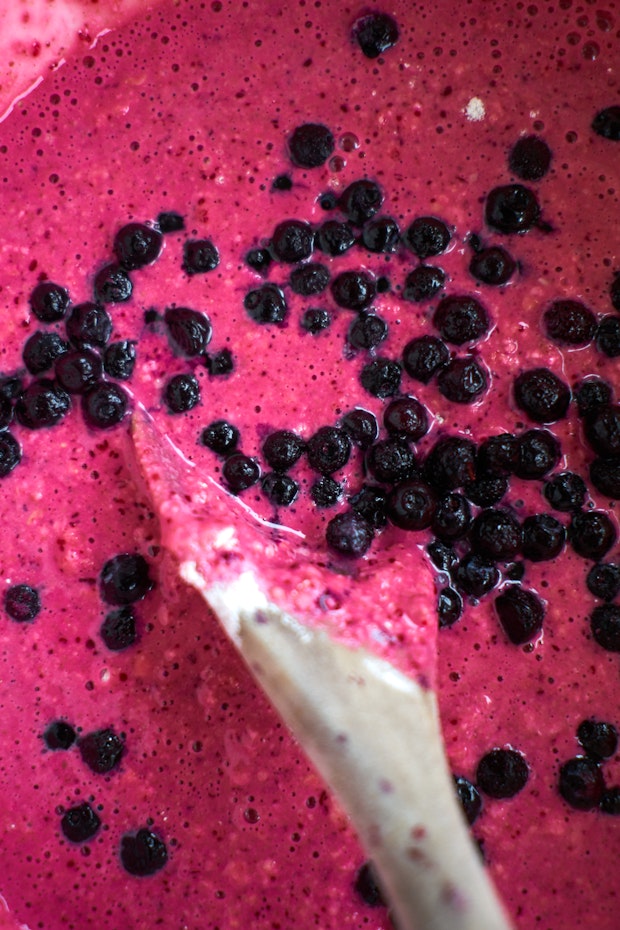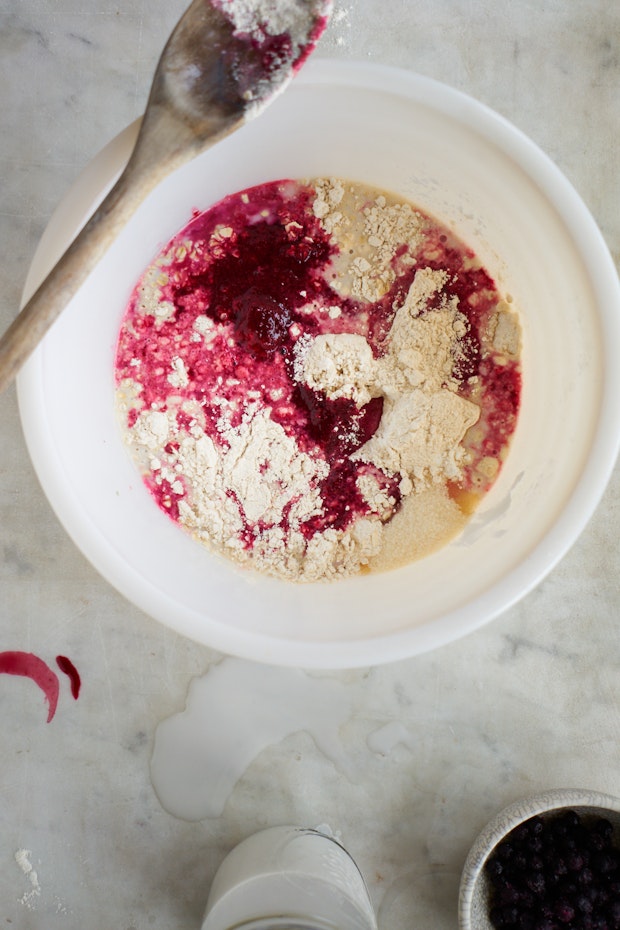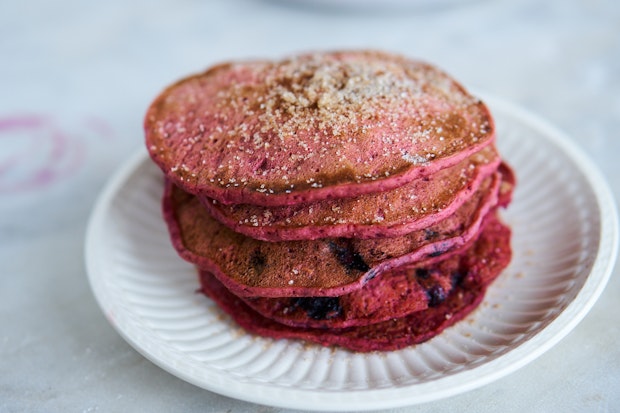 Blueberry Beet Pancakes
I like to use wild blue berries when I have them, although conventional blue berries are also great!
2 1/2 tablespoons ground flax seeds
1/4 cup beet juice
2 1/4 cups almond milk
1 1/2 teaspoons (apple cider) vinegar
1 1/2 cups / 6 ounces whole wheat pastry flour
1/3 cup / 1 1/2 ounces quick-cooking oatmeal
3 tablespoons cornstarch or rice flour
2 teaspoons baking powder
3 tablespoons natural cane sugar / fine coconut sugar
1/4 teaspoon salt
1 cup blueberries, frozen is ok
oil for cooking

optional add-ins (recommended!): 1/3 cup toasted, chopped walnuts

to serve (any/all of the following): cinnamon sugar and/or smashed berrries
Combine the ground flax seeds with the beet juice and 1/4 cup of hot water in a small bowl, set aside until it thickens, 5 - 10 minutes.
In a medium bowl combine the almond milk with vinegar, set aside. In a large bowl, combine the flour, oatmeal, cornstarch, baking powder, sugar, and salt. Add the almond milk mixture to the dry ingredients, and then the flax mixture. Stir all the ingredients until they are just combined. Don't worry if the batter is a bit lumpy, you don't want to over mix. Gently fold in the blueberries.
Heat a well-seasoned cast iron pan, or a non-stick skillet to medium heat. If a drop of water dropped onto the pan starts to dance, you're in the ballpark. Rub the pan with a hint of oil, and pour about 1/3 of a cup of batter into the skillet. Wait until the pancake bottom is deep golden in color, then flip with a spatula and cook the other side until golden and cooked through. Repeat with the remaining batter. Serve with a sprinkling of sugar, or smashed berries.

Makes about 12 large pancakes, or dozens of silver-dollars - enough to feed a small crowd.

Prep time: 5 minutes - Cook time: 10 minutes