Buttermilk Farro Salad Recipe
A buttermilk farro salad inspired by one I had at Clyde Common in Portland, Oregon - farro with shaved radishes, zucchini, and fennel tossed with a tangy herbed buttermilk vinaigrette.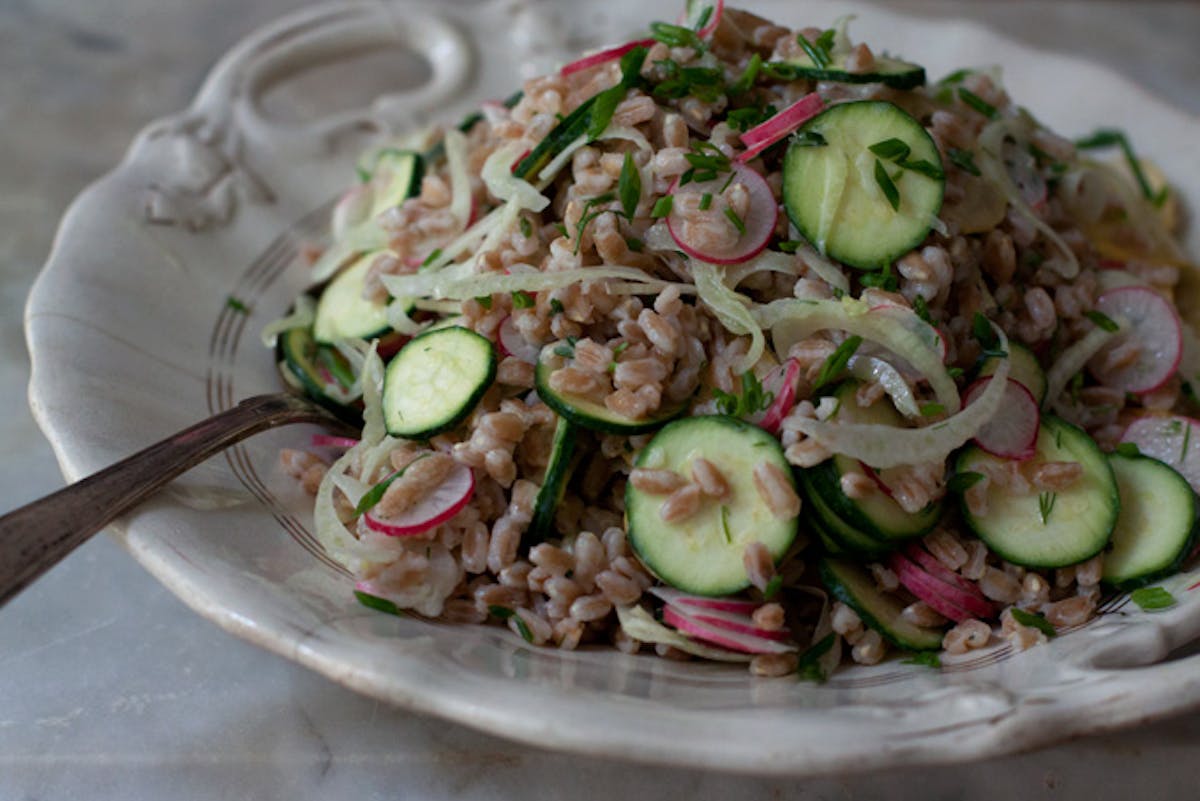 Today a bit of an apology is in order. Some of you might recall a wheat berry salad I mentioned back in May. I had it at Clyde Common in Portland, Oregon and went back two days in a row to have it for lunch. It has taken me this long to do a farro version in my own kitchen, and my regret is that three months have passed when we all could have been enjoying it. The salad? Simple enough. Plump grains and seasonal vegetables tossed with an herb-flecked buttermilk dressing. I hope I'm not over-selling it, but this salad is really good. And I have my heart set on you liking it as much as I do.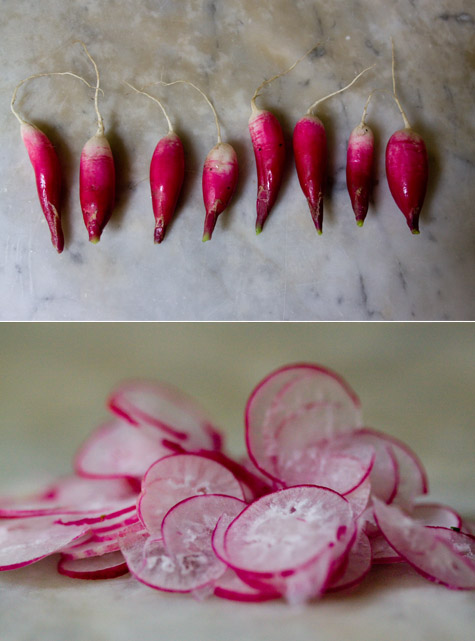 So, this is the sort of thing that might take the place of a potato or macaroni salad at a BBQ or picnic - creamy, tangy, starchy. It travels well. Even fully dressed it travels well. For those of you interested, the dressing is cream and mayo-free. And to make the whole thing even better, you can really load it up with even more vegetables (or alternately, salad greens) than I call for. The recipe makes a good amount of extra dressing, so you have some latitude there. In this version I use paper-thin slices of baby radishes, zucchini, and fennel. I thought about shaving corn kernels into the bowl, but the corn I bought was a bit funky, so I skipped out on that. If you have farro cooked and on hand, this becomes a no-cook recipe.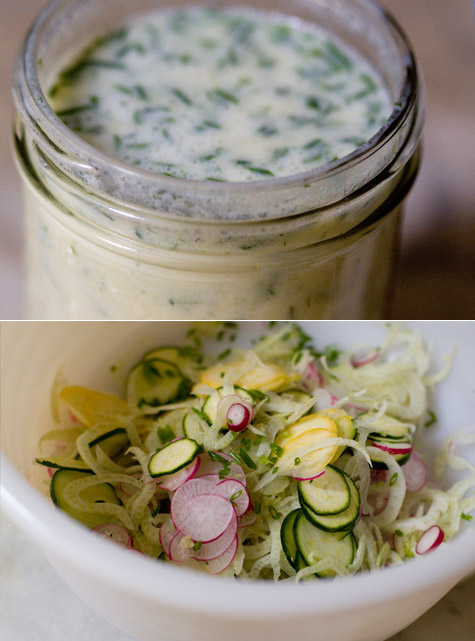 A couple notes...Instead of making a more traditional buttermilk dressing here, I made a buttermilk vinaigrette of sorts. It's tangy. Tangy enough that I normally might try to take the edge off it a bit. It's also on the thin side. Don't mess with it. Once it hits the starchy farro, the grains slurp it up, and everything balances out quite nicely. But use a good white-wine vinegar, one that tastes good - it will make a difference. Also, as far as variations go, I can't wait to try a version with slow-roasted cherry tomatoes, or even a fall version with spice-roasted squash. The Clyde Common version had fennel, chives, radishes, carrots, and wild arugula. 

And if you're looking for more ways to use zucchini, here's where you can find a lot of good zucchini recipes.
Buttermilk Farro Salad Recipe
I used semi-pearled farro here, but you can certainly substitute whole farro, wheat berries, barley, or other plump grains. I say to serve this at room temperature, but actually, I like this salad warm, room temperature, and chilled. It's good the day after, and for a couple days after that. Just revive with a splash of the leftover dressing.
2 medium cloves garlic, minced
1 teaspoon fine grain sea salt
1 cup / 240 ml buttermilk
1/4 cup / 60 ml good-quality white wine vinegar
1/4 cup / 60 ml extra virgin olive oil
1/4 cup chopped dill
1/2 cup chopped chives
1 tablespoon chopped thyme

7 small radishes, sliced paper thin
3 small zucchini, sliced paper thin
1 medium head of fennel, trimmed and sliced paper thin

4 cups cooked farro, cooled to room temp
chopped chives for garnish

Combine the garlic and salt on a cutting board. Mash into a paste using the flat side of your knife. Place in a medium bowl or jar, then add the buttermilk and vinegar. Whisk together and let sit for 5 minutes or so. Gradually whisk in the olive oil, then the herbs.
In a large bowl gently toss the radishes, zucchini, and fennel with the farro grains. Add 1 cup / 240 ml of the dressing and toss again. Let sit for ten minutes, taste, and adjust with more dressing, if needed, and salt to taste. Serve sprinkled with chives.
Serves 8.