Cherry Cobbler Recipe
A rustic, cherry cobbler recipe made from fresh cherries - though you can certainly try this recipe with other types of summer fruit and berries.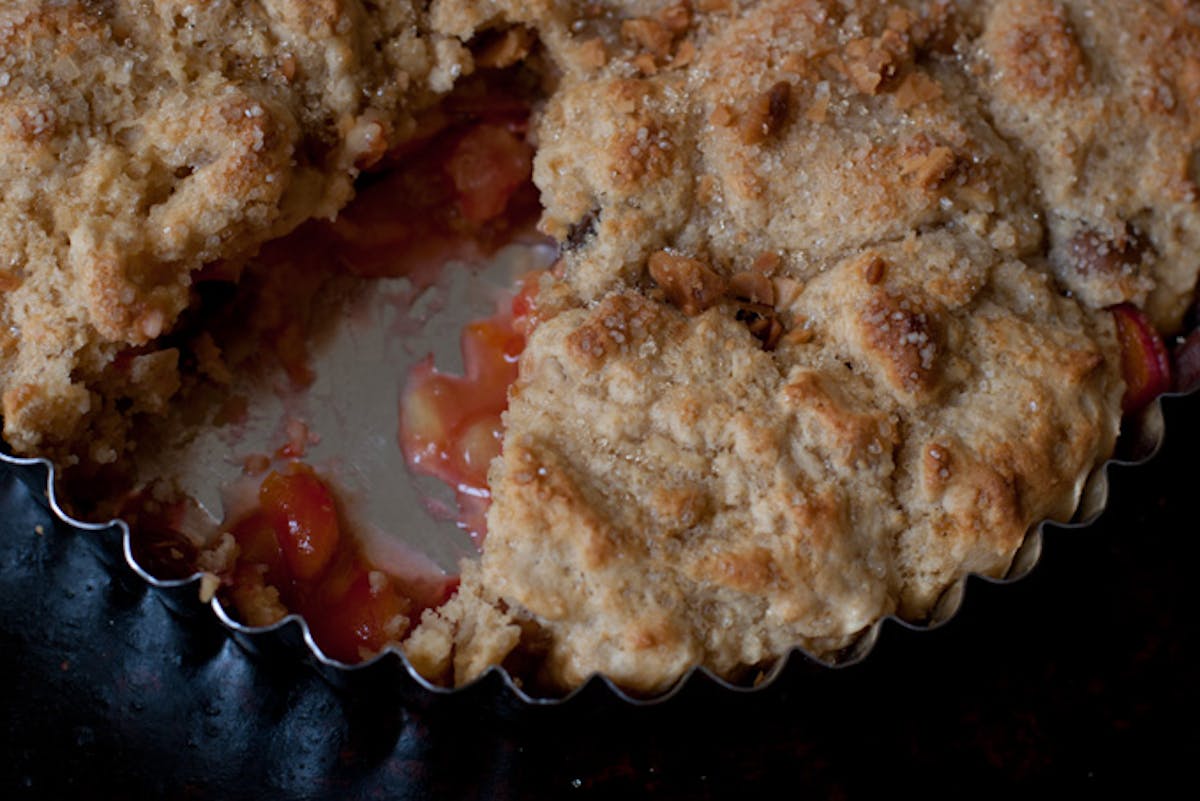 I've taken to walking around town staring at my feet - or more specifically, the ground a short distance in front of my feet. This is my way of searching for fruit. The first time I saw a bright red cherry alone in an alley gutter, I stood over it and thought to myself - hmmm, someone lost some fruit when they got out of their car. Then I looked up, and saw an entire tree full of cherries. Now I look for fruit on the ground, and then turn my sights skyward - it's a pretty good system. The fruit I used in today's cherry cobbler recipe was gathered just a short walk from my house, and as you all know I live nowhere near any farms or orchards.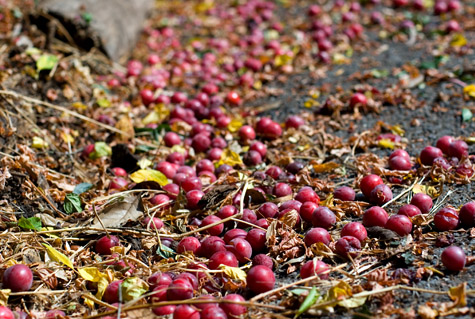 In just the past few weeks I've stumbled on blackberries, blueberries, plums, cherries, figs, lemons and limes. All growing wild, all within walking distance of my front door - ten minutes or less. I convinced Wayne to come with me the other morning to gather cherries - or what we thought were cherries. I brought along a broomstick and a bowl and you can see what we were able to harvest. There are dozens of trees nearby producing fruit, and I think they are a mix of tiny sweet plums and a medley of different cherries. Most of the blackberries are still green, but I suspect they'll come around in the next week or two.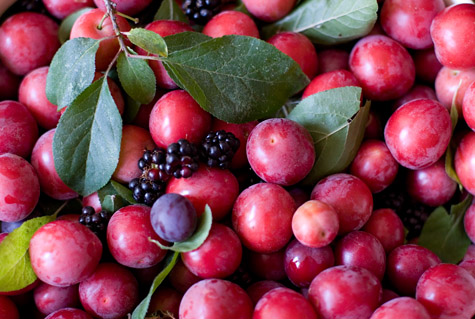 Using my free fruit as inspiration, I did a remix of the buttermilk cake we liked so much, essentially just turning things upside down, creating a cobbler.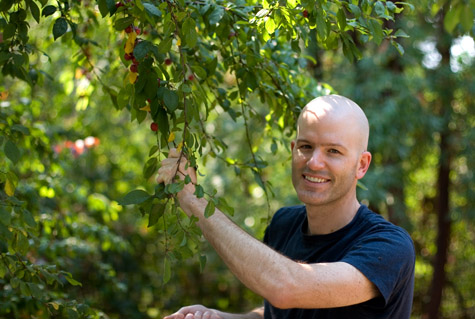 Fruit on the bottom, sweet buttermilk dumplings crowning the top. The thing I like least about this whole process is the pitting of the fruit, I have no patience for it - particularly with the tiny plums. They taste lovely, but I've decided berries, or most cherries are much easier to deal with. Feel free to use whatever juicy, ripe fruit you like here.

Cherry Cobbler Recipe
This cobbler is juicy, so you need to bake it in a proper baking dish or pan. I like the looks of my tart pans, but many have removable bottoms - to keep them from leaking I line them with foil or parchment paper. Also, as we all know fruit can be all over the board when it comes to sweetness - you may not need as much sugar, you may need more. Sweeten the cherries (or other fruit) to your tastes.
2 1/2 cups sweet cherries, pitted
1 tablespoon cornstarch
1/4 cup fine-grain natural cane sugar

1 1/4 whole wheat pastry flour
2 teaspoons baking powder
1/3 cup fine-grain natural cane sugar (or brown sugar)
1/4+ teaspoon salt
1/4-1/2 cup toasted nuts (optional)
1 egg
1/2 cup buttermilk
3 tablespoons butter, melted and cooled a bit
Preheat oven to 425F degrees, racks in the top third. Butter a 9 - 10-inch round tart pan (or equivalent).
In a small bowl gently toss the cherries with the cornstarch and sugar. Set aside.
To make the cobbler topping, combine the flour, baking powder, and sugar, salt, and nuts in a large bowl. In another separate, smaller bowl whisk together the egg and the buttermilk, whisk in the butter. Fold the buttermilk mixture into the flour mixture until it's barely combined.
Pour the fruit into the prepared pan. Now top the cherries with the buttermilk dough by dropping dollops into the pan a scant tablespoon each - not too big of they won't cook throughout. I thwap the tart pan against the counter a couple times to flatten out the dumplings a bit. Push the batter around and out to the edges with your fingers if you need to - I like a lot of coverage with a few windows and cracks for the cherries to peep through and the juices to bubble up.
Bake for 15 -20 minutes or until the top is golden and cooked through.

Serves about 8.