Heidi's Coffee Cake Recipe
A stunner of a coffee cake with extra thick streusel topping and blueberries bursting into the tender crumb in dramatic fashion. Rustic and rye flour based.
There are two main reasons people love this coffee cake. First, the streusel topping doesn't skimp. There's plenty piled on for the crumble fans. Second, it's wonderfully rustic and full of freshly baked flavor. There are a lot of coffee cake recipes out there that are beautifully cinnamon-streaked and sweet, but I like a bit more depth and range of ingredients in my buttermilk-based batter. Rye flour, old-fashioned oats, and brown sugar are my secret weapons here.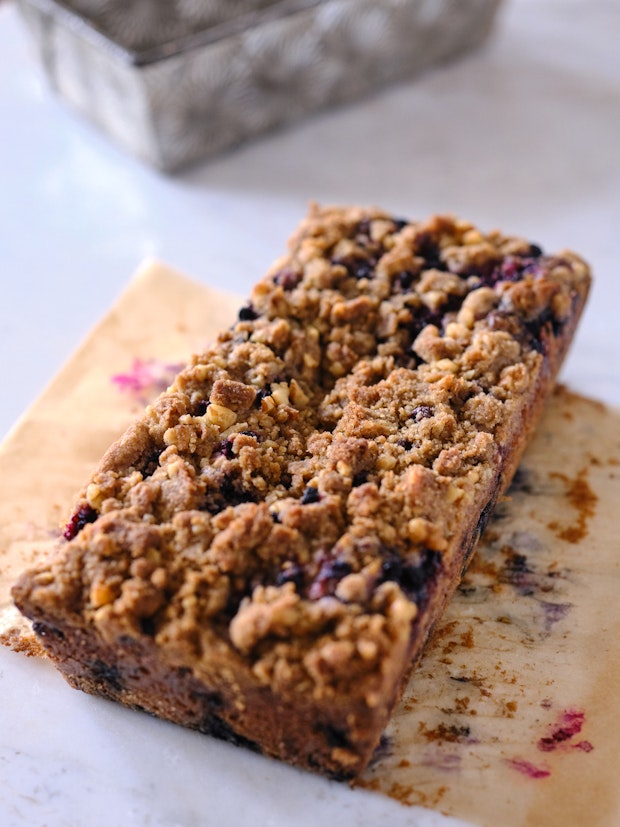 This is a great cake to go along with an afternoon espresso and chat with a friend. Or to take on a picnic or day in the car. It's a stunner of a cake without being fussy. The blueberries burst and bleed into the crumb of the cake in dramatic fashion. The crumble crust plays off the tenderness of the cake nicely, so be sure to get a bit of it in every bite.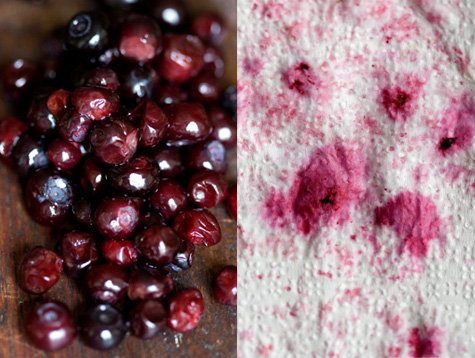 Favorite Coffee Cake Variations
Maple Huckleberry Coffee Cake: This has long been a favorite variation of mine. I like to add a bit of thyme and rosemary from my herb garden. Just a hint to play off the berries and perfume the cake - barely a whisper.  Swap in whole wheat pastry flour for the rye flour. And Add 1/4 teaspoon chopped fresh thyme and 1/4 teaspoon chopped fresh rosemary. Lastly and the zest of one lemon to the dry ingredients of the cake. And if you can get your hands on wild huckleberries trade those in for the blueberries
Cherry Almond Coffee Cake: It's cherry season right now, feel free to swap out the blueberries for chopped (pitted) cherries. Use chopped almonds in place of the walnuts, and almond extract in place of vanilla extract if you have it.

Michelle in the comments used chopped mission figs in hers, a brilliant idea. Generally speaking, on the fruit front, if it's juicy, fruity, and goes with maple I suspect it'll be good here, so play around.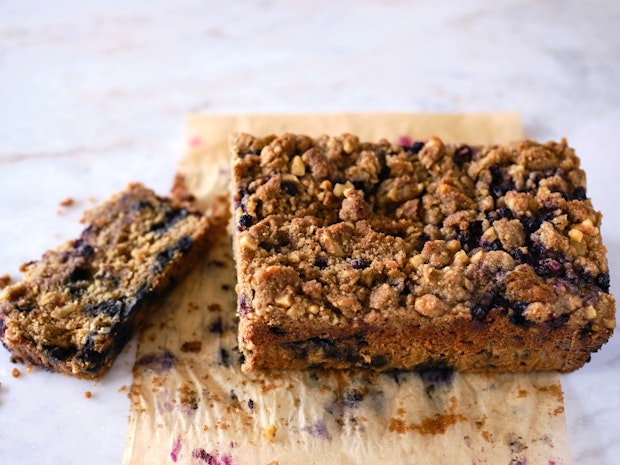 How to Store this Cake
I like to enjoy this cake warm, or at room temperature. That said if you have leftovers after a day or so I tend to slide it right back into the pan on its parchment paper, cover, and refrigerate from there for up to 4-5 days. Bring up to room temperature before eating or pop it a hot oven to reheat for ten minutes or so.
Heidi's Coffee Cake
I use a 1-pound loaf pan here, but you could likely get away with a 8 or 9-inch cake or pie pan. Just be sure to check in more frequently because the cooking time will be different. If you're don't have rye flour, you can substitute whole wheat pastry flour, spelt, or unbleached all-purpose flour (or a blend). That said, I love the depth of flavor of the rye flour here. And yes, you can absolutely use frozen berries. No problem.
Ingredients
1

cup

/ 110g rye flour

1/4

cup

old-fashioned rolled oats

1/2

teaspoon

baking powder

1/2

teaspoon

baking soda

1/2

teaspoon

fine grain sea salt

4

tablespoons

unsalted butter, room temperature

1/3

cup

maple syrup, room temperature

1

large egg, room temperature

2

teaspoons

vanilla extract

1/2

cup

buttermilk

1 1/3

cups

(wild) blueberries
Streusel Topping:
1/2

cup

rye flour

1/8

teaspoon

fine grain sea salt

4

tablespoons

cold unsalted butter, cut 1/4-inch cubes

1/3

cup

brown sugar

1/2

cup

chopped walnuts
Instructions
Preheat the oven to 350F degrees, rack in the middle. Butter a 1-pound loaf pan and line with parchment paper.

In a medium bowl, whisk together the flour, oats, baking powder, baking soda, salt. Set aside.

In a separate large bowl beat the butter with an electric mixer or by hand until light and fluffy. Drizzle in the maple syrup and beat until well incorporated. Scrape down the sides of the bowl a couple times along the way. Beat in the egg and vanilla extract, scraping the sides again.

Add half of the flour, stir just a bit. Now add a splash of the buttermilk, stir again, but not too much. Add the rest of the flour and stir a bit, and then the rest of the buttermilk. Stir until everything barely comes together and then very gently fold in one cup of the blueberries. Scrape the batter evenly into the prepared pan and set aside.
Make the streusel topping:
Place the flour, butter, brown sugar and walnuts in a food processor. Pulse 20-30 times or until the topping is a bit beyond sandy/crumbly. It should be moist-looking and on its way to being slightly doughy. Crumble 2/3 of it over the cake batter, sprinkle the remaining 1/3 cup huckleberries on top of that, and then add the last of the crumble. Barely pat in place with your fingertips.

Place the coffee cake in the oven and bake for 45-50 minutes or until the top is golden and a toothpick inserted into the center of the cake comes out clean. Let the cake cool for five minutes and then remove it from the pan to cool on a rack.
Related Recipes
More Recipes
Popular Ingredients