Chive Pancakes Recipe
Whisper thin crepe-like pancakes made from brown rice flour, coconut milk, eggs, and sesame seeds. And my preference in pots and pans.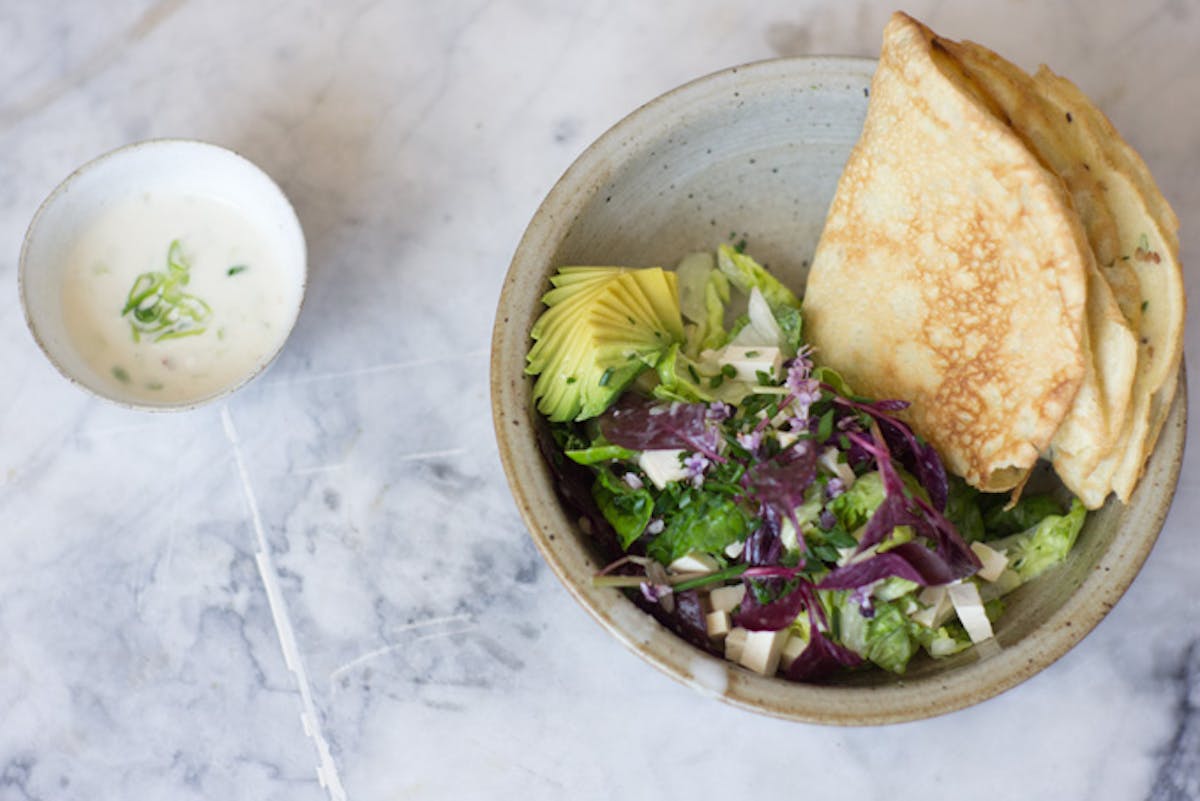 People tend to inquire about my preference in pots and pans. I get this question, kindly asked, in person, via email, at the neighborhood coffee shops...and I often feel my answer isn't what the curious individual wants to hear. Because, for the most part, I buy pots and pans individually. I buy them to suit what I cook, and how I cook - based on functionality and personal preference. And because of this, I've collected and culled a motley, mish-mashed collection over the years. One that doesn't look much like any pre-assembled set you'd encounter (or register for). I've picked up skillets at yard sales, pots at flea markets, and had the occasional gem from eBay arrive at my doorstop. Much of what I use now is enameled cast-iron. It's a dream to cook with, goes from stovetop to oven on a whim, and holds heat steady and strong. I've long since phased non-stick pans from my kitchen, and realize now, I never needed them. The pots I have now can handle most of what I throw their way - even paper-thin, crepe-like pancakes like these.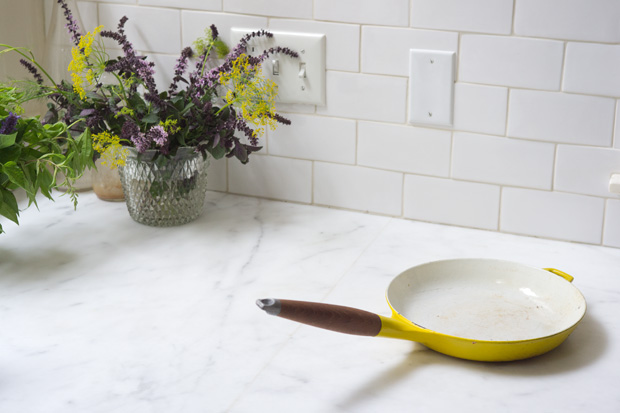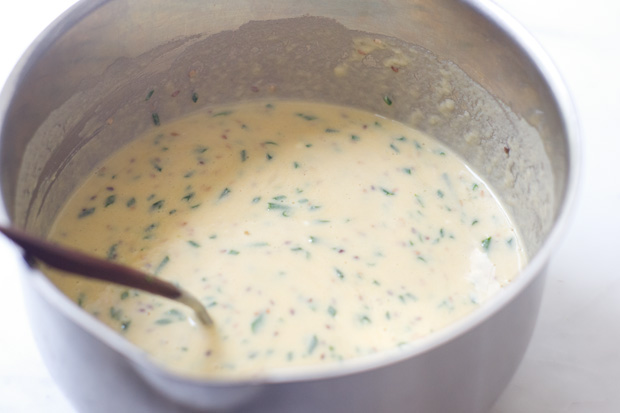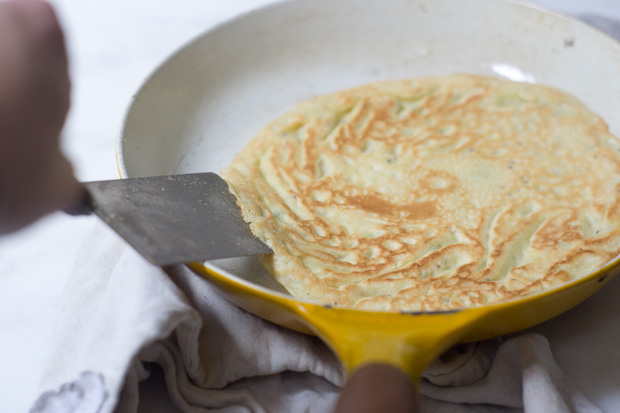 With the tiniest bit of coconut oil or clarified butter, these pancakes cook beautifully in my favorite yellow skillet (above). Another, non-enamelled, cast-iron skillet can also be deployed to turn out twice as many pancakes in the same time frame.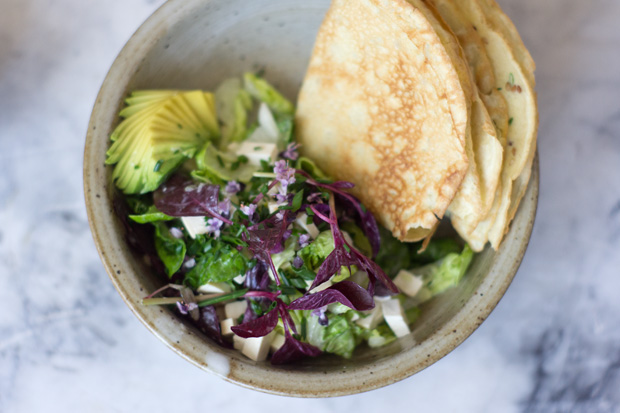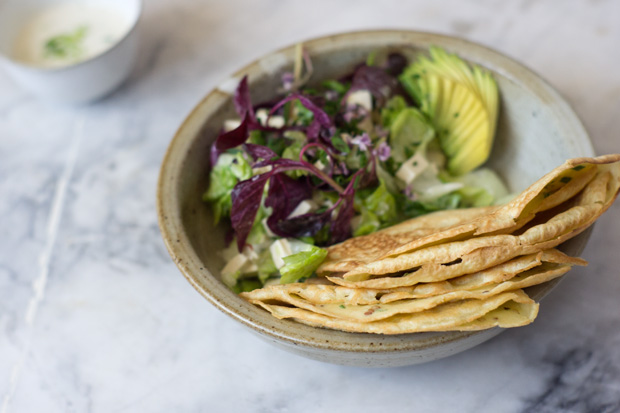 I made these to go with a simple tofu salad for lunch over the weekend, but you can use the pancakes in all sorts of different ways - as wrappers, for rolls....you can stuff them and bake them as you would baked crepes (or pasta). They're great with a bit of hot sauce, handful of fresh herbs, and a fried egg...
.
Chive Pancakes
HS: I use brown rice flour for these, but white rice flour will work if that is what you can come by. If you do want to make a stack for a crowd, cook the pancakes ahead of time, stack them, then reheat one at a time in a skillet just before serving. Also, related to the consistency of the batter, you want it to really run the pan. And don't use too much batter, barely enough for a thin coating. It takes some practice. Adjust the batter with more water (and stir well), if your batter is too thick. Then try again. If you've never made these before, it takes a bit of practice. But once you understand where you need the batter to be, you'll be able to turn the pancakes out in a flash.
1 1/2 cups / 200 g (brown) rice flour - 200g
1/2 teaspoon fine grain sea salt
2 tablespoons toasted sesame seeds
1/2 cup / 120 ml full-fat coconut milk
1 cup water, plus more to thin, if needed
6 large eggs
1/3 cup / 15 g minced chives
1 teaspoon extra-virgin coconut oil
In a large mixing bowl combine the flour, salt, and sesame seeds.
In separate bowl, whisk together the coconut milk, water, eggs, and chives. Pour this mixture over the flour mixture and stir until combined and lump-free. Let sit for 5 minutes, stir again, and now thin with more water, a small splash at a time, until the batter is thin enough to quickly spread across a pan - the consistency of a yogurt thinned with water or heavy cream. Getting the consistency of the batter right, is the key to success here.
To cook the pancakes, heat a large skillet or griddle over medium hear. Melt the coconut oil, and pour a scant 1/4 cup/ 60 ml of batter to provide a thin coating. As you pour, rotate the pan so the batter runs to cover the entire bottom. Cook until deeply golden, and the edges of the pancake are beginning to curl and lift. Flip, and brown the second side. Cover with a clean tea towel while you make your way through the rest of the batter, or even better, serve immediately. Leftover batter keeps well in the refrigerator for a few days. Stir, and thin with a bit of water (if needed), before using.
Makes 8 -12 crepes.
Prep time: 10 minutes - Cook time: 10 minutes