Coconut Bacon BLT Recipe
A coconut bacon BLT sandwich made with a wildcard ingredient. A perfect summer sandwich for all your vegan, vegetarian, and plant-based eaters.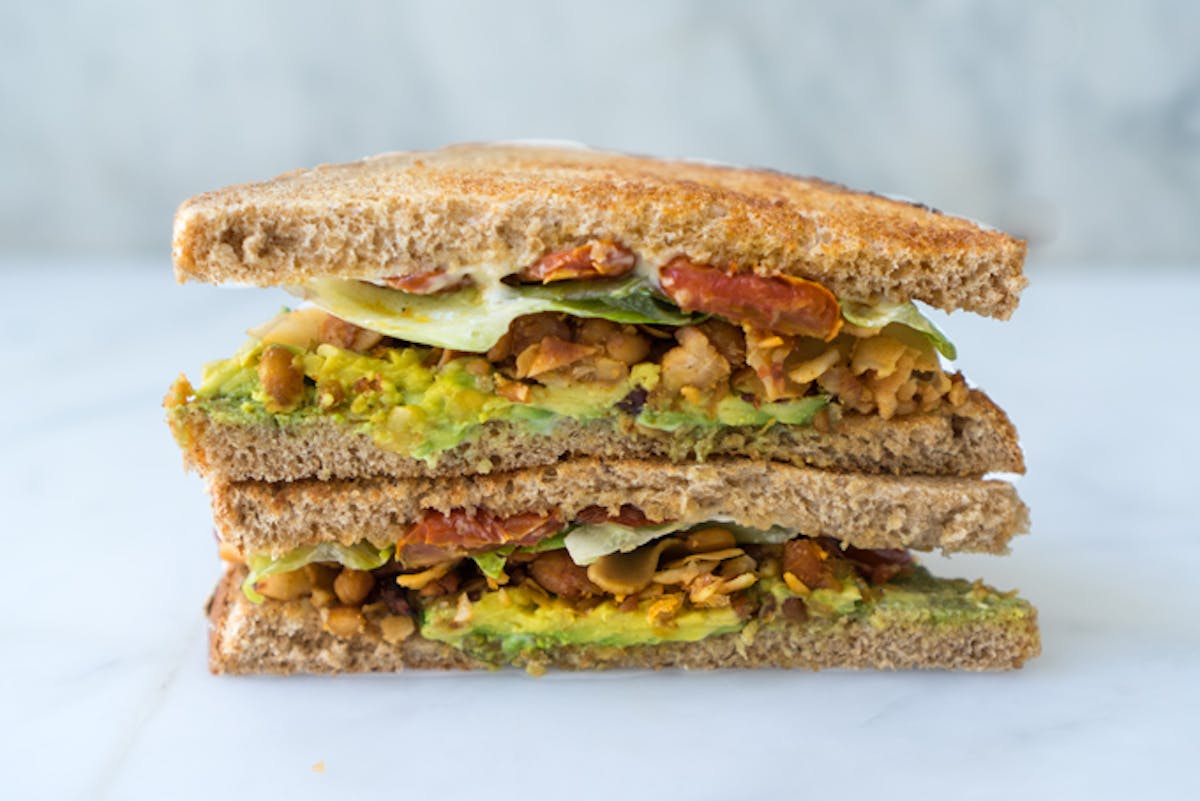 A few times a year, usually in summer, I come across a photo of what looks like the perfect BLT sandwich. Hearty, vibrant heirloom tomatoes, succulent lettuce, crisped bacon, and a ribbon of mayo peeking out from perfectly toasted bread. It looks incredible. The trouble is, I don't eat bacon. So, I typically craft a sandwich that attempts to tick many of the same boxes, something along the lines of this sandwich (9 years ago!). Recipes evolve, and I thought I'd share the updated version I've been making lately - very similar concept adding a blend of coconut "bacon", and crumbled tempeh seasoned and baked alongside the coconut. You can make a large batch of this, and keep it in the freezer, for quick use. All in all, it's a legit alternative sandwich for your vegetarian and vegan friends, or just anyone interested in plant-based meals.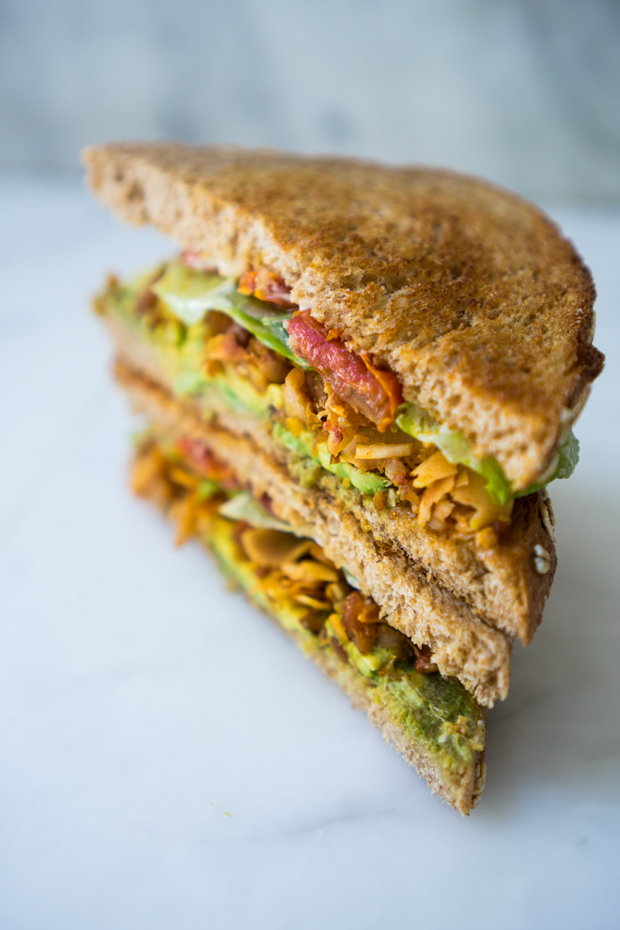 For a long time vegetarians and vegans tended to use tempeh in place of bacon, turning their BLTs (bacon-lettuce-tomato) into TLTs (tempeh-lettuce-tomato). But the shift in recent years tends to be toward coconut "bacon" - it crisps up better than tempeh slabs, is high in fat (so it really takes in any smoke flavors whether topically applied or actually smoked), and coconut is easy to source. Everyone loves coconut, while lots of people are still confused and generally apprehensive about tempeh. But I love tempeh, as a stand-alone ingredient for its flavor and texture, and also for its nutritional profile. So I make my coconut "bacon" and add a good amount of crumbled tempeh - a 50/50-ish mix. In my head the tempeh acts as bacon-y bits. The tempeh adds substance to the sandwich, and keeps you full longer.
For any of you weary about tempeh, it's worth giving a try. It's a ancient cultured, minimally processed, fermented soybean product with as much protein as beef. Joe Yonan wrote this article about it a couple of years back (with shoutouts to Amy Chaplin & James Oseland), a couple other favorite tempeh recipes: Vegan Tempeh Taco Salad, Orange Pan-glazed Tempeh, Maple-Grilled Tempeh.

Last little note - no one complains when you slather this with some good guacamole. 
Coconut Bacon BLT
The way most incorporate the deep umami flavor into the coconut is by adding some liquid smoke. Liquid smoke isn't my favorite ingredient, and I've found that you can get outstanding results here without it - less "bacon-y" but still delicious, simply leave it out. Other ways to get that smoked flavor? You can use a stovetop smoker, or other smoker - which always seems like too much of a hassle. That said, I love smoking all sorts of things in my smoker donabe (Ibushi Gin), and you can smoke the coconut and tempeh in one like that. If you take one of these approaches, simply leave out any liquid smoke in the recipe.*
This recipe can be gluten-free if you use gluten-free bread. It can be vegan if you use vegan-mayo.
Coconut Bacon:
2 tablespoons olive oil
1 tablespoon maple syrup or coconut nectar
1 tablespoon tamari, soy sauce, or coconut aminos
1 1/4 teaspoon smoked paprika
scant 1/2 teaspoon smoked salt
a few drops of liquid smoke, optional*, to taste
2 cups unsweetened large-flake coconut
8 ounces tempeh, crumbled

tomatoes or roasted tomatoes
your favorite mayo
1 small head of lettuce

1-2 ripe avocados

slices of hearty whole grain bread, well toasted & rubbed with a clove of garlic
Preheat oven to 350F degrees. Combine the olive oil, maple syrup, tamari, smoked paprika, smoked salt, and liquid smoke in a large bowl. Add the coconut and tempeh and toss gently for a full minute. If you don't want to use tempeh, substitute it with another cup of coconut flakes. Transfer in a single layer onto two baking sheets. Bake, stirring once or twice for 15-25 minutes, or until deeply golden and toasted. Keep an eye on it as the baking time increases.
To assemble each sandwich, slather the bread with some mayo. Top with tomatoes, lettuce, a generous handful of the coconut bacon, and thin slices of avocado. Enjoy open-faced or top with another slice of toasted bread.
This recipe makes enough coconut bacon for about four sandwiches.