Firecracker Cornbread Recipe
A moist, tender buttermilk cornbread packed with corn kernels and flecked with red pepper flakes. Simple and delicious.
If you think you might like a moist, tender buttermilk cornbread packed with corn kernels and flecked with red pepper flakes, this is the recipe to try. Last year I did yeast-raised cornbread for Thanksgiving, and I decided to head in the opposite direction this year. I was after a more traditional cornbread, but added a bit of a spicy twist. I infused a few tablespoons of butter with spicy red pepper flakes, heated them in the pan I would eventually bake the cornbread in, added the batter, baked it off, and ended up with a nice crusty, slightly sweet cornbread with the perfect amount of kick to it.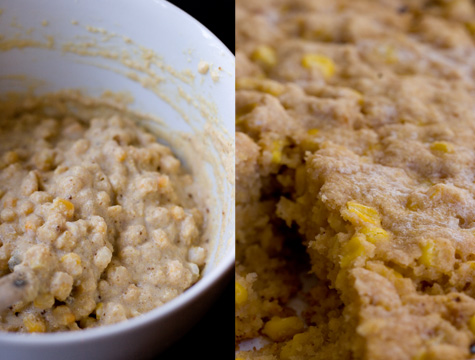 I actually started thinking about doing a firecracker cornbread around the time I was writing about fire oil in the context of this hummus recipe. Good in lots of things - hummus, muffins....breads. I made a note to self to try it in my next batch of cornbread. I also considered (alternately) doing a spicy simple syrup and using that within the context of the cornbread batter. I decided on the infused butter route because it would help give the cornbread a bit of a butter crust (because it isn't incorporated into the batter)...but think of all the fun thinkings you could do with a spicy simple syrup.

Firecracker Cornbread Recipe
If you don't stock whole wheat pastry flour, feel free to substitute unbleached all-purpose flour.
3 tablespoons butter
1 teaspoon red pepper flakes
1 cup whole wheat pastry flour
3/4 cup instant cornmeal (or instant polenta) or fine-grain cornmeal
1/4 cup natural cane sugar (or brown sugar)
1 tablespoon aluminum-free baking powder
1 1/2 teaspoons fine grain sea salt
1 cup buttermilk
1 large egg
2 1/2 cups corn, fresh (or at room temperature if previously frozen)

more butter for drizzling (optional)
Preheat your oven to 350F degrees, with a rack in the middle.
Just before you make the batter, in a small saucepan, melt the butter, stir in the red pepper flakes, and pour into a 9-inch pie tin (I have an enameled cast-iron one that is perfect) or equivalent baking dish. Place in the hot oven.
In a medium bowl whisk together the flour, cornmeal, sugar, baking powder and salt. In a separate bowl whisk together the buttermilk, egg, and corn. Pour the wet ingredients over the dry and stir until just combined. Now very carefully remove the hot pan with butter from the oven. Fill it with the cornbread batter, pushing the batter out to the sides if needed. Bake for 30 - 40 minutes or until the edges are golden and the center is just set. Remove and drizzle with a bit of melted butter (optional).
Makes 10 slices.