Early Fall Favorites Recipe
A list of a few of my favorite things - Fall 2007.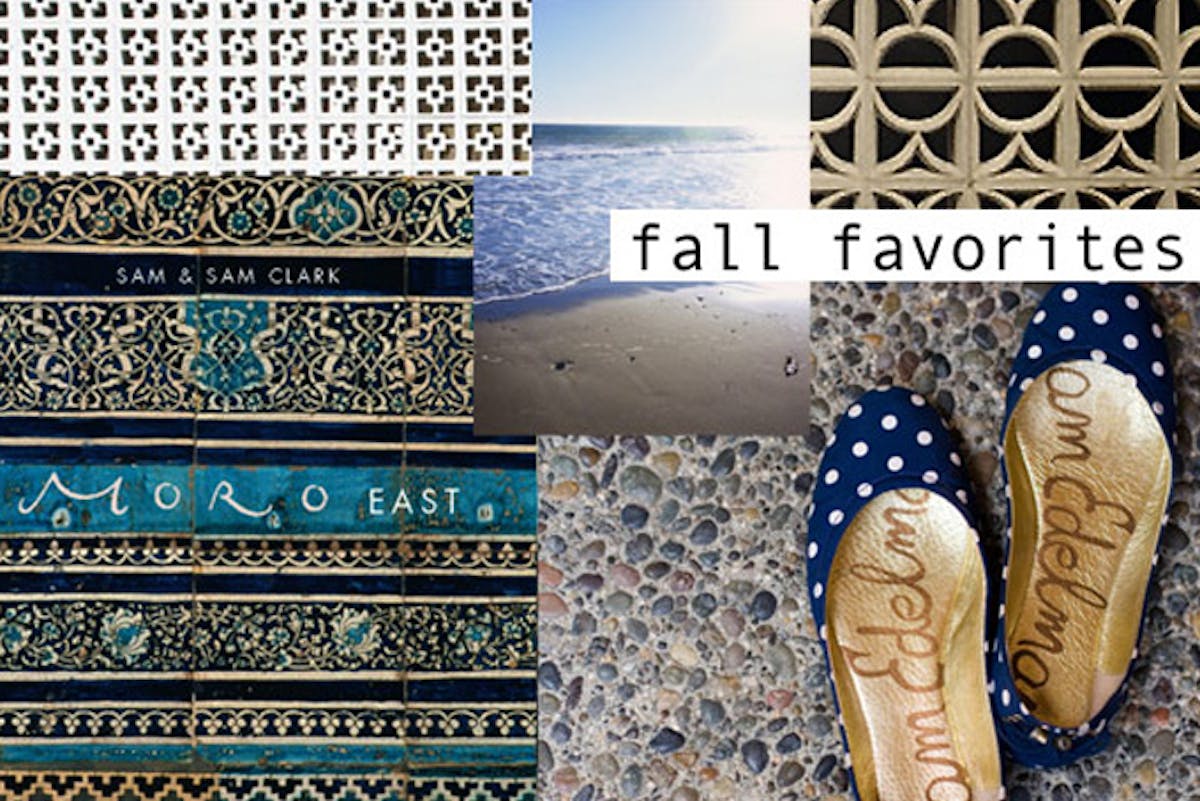 It's time for another favorites round-up. I've been coming across all sorts of inspiring things lately. This list of favorites goes from soaps to sashimi, libraries to latticework with lots of tasty bits in between.
- Someone knowing my weakness for sweets made sure I got a sneak peek at Elizabeth Falkner's much-anticipated Demolition Desserts - Citizen Cake fans won't be disappointed. It's unlikely I'll ever attempt to recreate one of her elaborate signature cakes in my own kitchen (primarily because I can walk from my house to her bakery in ten minutes), but I can't wait to incorporate some of the individual components into my own cooking/baking. The components that go into each creation are worthy recipes to explore on their own - for example, how about black pepper-tarragon syrup, chipotle gingerbread, concord grape tapioca, manchego churros, saffron pistachio cookies, or pineapple sashimi?
- Cooked Books: Let me start by saying Rebecca Federman has much more cred than I do on the cookbook front - in fact, she handles the culinary collection at the New York Public Library. I wanted to introduce you all to Rebecca and her wonderful (and relatively new) blog. I suspect she has much to share with us and we're all fortunate that she is excited and willing to take us backstage to explore some of the treasures, secrets, and overlooked gems of the NYPL collection. Thanks Rebecca!
- Affordable art. Bravo to Jen Bekman and the 20x200 crew for making prints available for just $20 dollars - it's such a cool idea. Each image posted is available in three sizes. The smallest is priced at just $20 and the price climbs from there as more limited editions are issued in medium and large sizes. New images are posted on Tuesday and Wednesday afternoons and every print is delivered with a certificate of authenticity by the artist. Keep track of what they are up to via the 20x200 blog.
- Sweet Riot: The most addictive product I've come across in a long, long, time. My bet is on Sweet Riot to make Tic-Tacs obsolete. In San Francisco they tend to hang out right near the checkout counters at Whole Foods - consider yourself warned.
- These perfect navy polka-dotted ballet slippers.
- These Donald Sultan playing cards (via Innumerable Goods)
- I can't get enough architectural latticework. Every time I see the entrance to the Parker Hotel in Palm Springs on TV my eyes sparkle. I was thrilled when I saw that my friends Noah Webb (photographer) and Quyen Nguyen (designer and downstairs neighbor!) just shot Quyen's new knitwear collection in front of lovely lattice all across Los Angeles.
Apollo Sierra Olive Oil: Best olive oil I've ever tasted - and that's saying something because I've tasted a whole lot. This oil is green, spicy, pungent and invigorating. Be sure to pick up the Sierra one. I tried the Mistral as well, but Sierra is the one to go for. Worth every cent of the $24+ price tag. Appreciate it straight, on its own, before you decide what else you might do with it.
- Saipua Travel Soaps: Based in Brooklyn, but I picked up a couple bars on Abbott Kinney in Los Angeles. My bar of White Grapefruit with Bergamot came wrapped in a delightful Cavallini map.
- Moro East: The cookbook release I've been waiting for this season. I received the full-color, advance information packet a few weeks back and from the handful of recipes, along with the photography, and paper, and spirit of the text - it is likely to be stunning on every front. Looks like it is set for release sometime around October or November. Look at that cover(!) up above, beautiful.
- Cupcake magic: For those of you who haven't seen Kylie Lambert's cupcake creations, you're in for a real treat. I stumbled across Kylie's cakes in an Aussie food magazine months and months ago, cut them out and taped them in one of my journals - but at the time I wasn't sure who created them. I came across them again the other day while browsing a favorite design blog. Thanks to Joy for helping me finally put a name to a cake. Kylie's Flickr stream is here, in case you're interested in keeping up with her future creations.