Favorite Cookbooks: Isaac Mizrahi Recipe
Fashion designer Isaac Mizrahi shares his favorite cookbooks with us.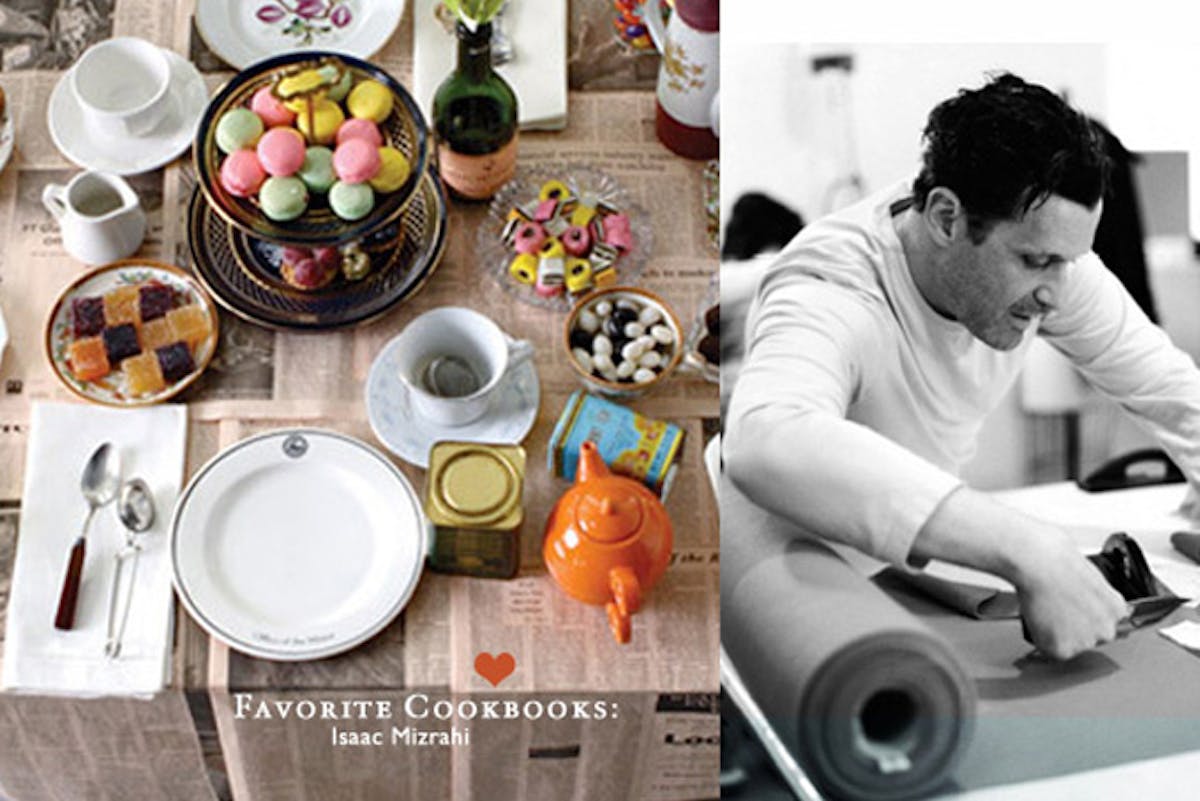 I've been bursting at the seams anticipating this latest cookbook list. Many of you are familiar with New York-based designer Isaac Mizrahi, his list of accomplishments is wide-ranging and impressive. Any attempt by me to communicate them to you in one concise sentence is futile (I spent the last twenty minutes trying) - his illustrated timeline does a much better job. The thing I love most about Isaac is the way he weaves many different creative layers into his work, life, and creations - color, texture, design, film, publishing, fabric and photography. And while you might be familiar with Isaac from his television appearances, documentary, collections, or his new web show, what you might not know is that he knows his way around the kitchen.
ISAAC'S COOKING STYLE (in his own words):
I don't know where my passion for food comes from. I was a really fat kid and food was central to my happiness and neurosis. When I was eleven or twelve I remember falling in love with the word 'saute' and I began to saute things in my mom's kitchen. On Saturday mornings I would cut mushrooms and vegetables and saute them in her non-stick pans with vegetable oil. Sometimes I think I got into cooking through my love for the words. When I moved out of my mom's house I got a set of Le Creuset cookware in blue from Macy's Cellar along with the two volumes of Julia Child's Mastering the Art of French Cooking. I would just cook things - I still use the Creuset. I had a close friend who was married to the most divine French guy who made cooking seem really easy. He used to make fruit tarts in a snap and I always envied that skill.
I wouldn't know what to call my cooking style. Sometimes it's hit-or-miss but mostly it's plain, plain, plain. I think the best things are the plainest. The best thing I make is mint chocolate chip ice cream with fresh mint that comes from my garden in the summer. I'm also really good at fruit tarts now. I use Jacques Pepin's recipes for doughs, which are FLAWLESS. All his recipes are FLAWLESS. I might call my style "When a Jew Relaxes He Can Cook Okay."
I also have a terrible confession to make. My knives are not sharp enough and I don't know what to do. I've taken them to places to have them sharpened, I've tried to sharpen them myself with different sharpening machines and it's not possible to ever get them to be as sharp as when you first buy them. Anyway, I've given up, my knives are dull, and I'm ready to replace them all (which is a shame because real chefs are not supposed to replace their knives. I ADORE my ovens which are the electric Wolf ones that have the beautiful Russian blue enamel inside and the heavy, heavy doors and the perfect convection feature. Sometimes I think I'm not worthy. I hate my dishwasher, a Kitchen-aid. There, I named a name. When I was a kid my mom had a fabulous one that lasted as though it were new for thirty years. The one I got is a lemon. In fact, most of the appliances I got in my kitchen three years ago were lemons and I had to have maybe seven out of nine of them replaced. It was a crazy, crazy thing which I owe to the basic decline of quality. I have the greatest ice cream maker on Earth. It's a giant Italian job, I think the name of it is Lello. It's huge and it weighs two tons and will only make a small quantity of perfect ice cream, maybe one and a half quarts, if that, at a time.
FAVORITE COOKBOOKS (the ones Isaac turns to most for inspiration):
- Jacques Pepin: La Technique / La Methode. Out of print which I like to rub in people's faces. I own his Complete Techniques which is the same thing only better, in one new, easier volume. I just think he's the greatest teacher and greatest recipe writer.
- Mark Bitman: How To Cook Everything. Which has replaced Fannie Farmer for me. His recipe for Hollandaise is the easiest and most fantastic recipe. Coming from someone who was baffled by Hollandaise for years because, wonderful as Julia Child is, her Hollandaise recipe is so confusing and crazy. To tell you the truth, a lot of her recipes are - though I attribute my ability to cook to her books and to the confusion surrounding certain recipes. One has to cook her things a few times to work out kinks - you develop technique because of the mistakes and the crazy ways recipe come together in some of her earlier books. The ones she made with Pepin though are flawless and that one called Julia and Jacques Cooking at Home is a national treasure.
- I use Lidia Bastianich's books till the pages are no longer legible. She is a goddess of a certain kind of Italian food that I adore. I also love Marcella Hazan's book, the first most basic one. I developed my own INCREDIBLE fritata repertoire from her basic recipe.
- I use Lindsey Shere's Chez Panisse Desserts book like crazy, THAT BOOK IS A MASTERPIECE ! ! ! I love Dave Pasternack's book about fish and I think anyone who can cook fish beautifully is a poet. I WORSHIP Nick Malgieri's book called How To Bake. Anything I've ever baked from that book works to perfection. And I must say the best chocolate cake on Earth comes from little old Fannie Farmer. I went through EVERY DAMN chocolate cake recipe and it's still the best. Fannie Farmer does rock.
***
To keep up with Isaac, check in with him on his new show or through his blog . THANKS again Isaac, for sharing your favorites (and not-so-favorites) with us!
Related links:
- Isaac Mizrahi NY
- WATCH ISAAC
- Isaac's blog
- Browse Isaac's article archive