Favorite Cookbooks: Malinda Reich Recipe
Textile designer Malinda Reich shares her favorite cookbooks.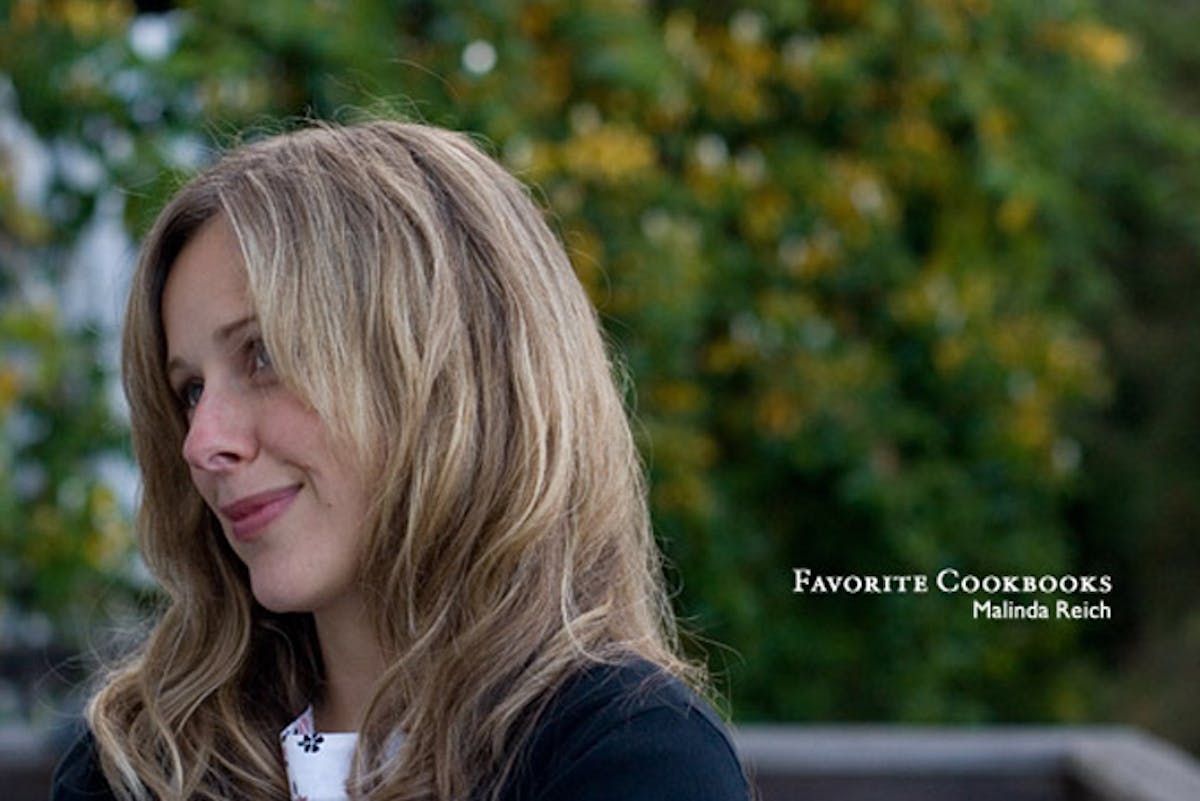 Meet Malinda Reich. Malinda is a friend, neighbor, and talented textile designer. She's one of those people with seemingly effortless individual style. I suspect it stems from a mix of her Swedish heritage and the kind of good taste some people are simply born with. Malinda has a precious little boy named Hugo, and I love to hear her speak to him in her native language. Now that he is getting a bit older, he does his best to reply. There were a few reasons I thought Malinda would be a great candidate for this feature. First off, she's a busy, talented, working mom who entertains guests often. While she doesn't work professionally in the culinary world, she often finds herself surround by people who are. I met Malinda through her significant other - Aaron Wehner, who is the editorial director at Ten Speed Press. So, when I tell you she often has people over - it's also with the added pressure of having to cook for chefs, cookbook authors, and the like. It doesn't seem to faze her in the least. I asked Malinda to share her favorite cookbooks with us today, and somehow she managed to find the time to make it happen.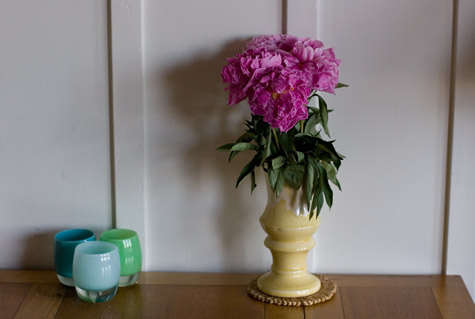 MALINDA'S COOKING STYLE (in her own words):
I would describe my style of cooking as a mix of Mediterranean and northern Californian, and occasionally the traditional foods of my native Sweden. Like most people I know here in San Francisco, I make an effort to buy organic and seasonal, and I support local farms by subscribing to a weekly CSA box.
Having a little kid and working full-time I have to be pretty creative to come up with recipes that will please two picky boys, and at the same time stretch across a few meals. Staples include numerous versions of paella, lamb stew, and roasted chicken (I always save the scraps for stock). I also love fennel in pretty much everything, or just on it's own caramelized with butter.
We entertain most weekends in my house, and since many of our friends are vegetarians, I'm constantly on the lookout for new interesting, satisfying meatless dishes. In addition to reading a lot of cookbooks, I get inspired by going out to restaurants, and I often try to replicate dishes I loved. My latest obsessions are the fried Brussels sprouts with lemon and capers from SPQR, and the baked beans with feta, tomato, oregano, and breadcrumbs from Nopa.
FAVORITE COOKBOOKS (the ones Malinda turns to most):
- Madhur Jaffrey's Quick And Easy Indian Cooking - This was the first book that really inspired me to get cooking, not just browsing pictures. Everything I made from it was delicious, and I learned many things about spices that I still incorporate in my cooking today.
- Hugh Fearnley-Whittingstall's River Cottage Meat Book - Everything you want to know about meat, and some things you don't want to know, but should. This book encourages you to really think about the way the animals we eat are raised and slaughtered. It points out that the standards many of us now apply to buying produce--local, organic, sustainable--are equally if not more important when it comes to meat. The recipes are rustic and comforting, and there is a wealth of interesting information on cooking methods such as roasting, grilling etc. But the main reason I love this book is that the author is such a good storyteller.
- The Zuni Cafe Cookbook by Judy Rodgers - For me, this book embodies the Bay Area style of cooking. There are many good ideas for salads and vegetable dishes in this book. The pickled onions and the bread salad the restaurant is famous for are worth making over and over again. Another dish that has become a staple at home is the artichokes with onion and olives (improved I would say by adding fennel).
- Teresa Barrenechea's Cuisines of Spain - I spent a good part of my childhood in Spain, and when it comes to Spanish food, I'm a traditionalist. I've found this book to be the most comprehensive guide to food from all regions of the country. It is well organized and also beautifully photographed. The rice dishes are some of my favorites, and it has a nice selection of all the classic tapas.
- Bistro Cooking by Patricia Wells - Mussels, stews, chocolate cake. This book was my introduction to French bistro cooking, and I still find it a great source for uncomplicated classic food I will never get tired of. The design is simple and there are no photographs, but the recipes are very straightforward and consistently come out well.
- Suzanne Goin's Sunday Suppers at Lucques - This is the latest book in my collection- and I have not yet moved on from the drooling over the pictures stage to actually cook something, but when I do I know I won't be disappointed. It's smartly organized by season, so when you go shopping you wont have trouble finding ingredients at the market. The Mediterranean style dishes are divided into menus, and although not the easiest looking, they definitely seem worth the trouble.
Thanks Malinda. I'm looking forward to our next pizza night!
Related links:
- Past cookbook list: Fashion designer Isaac Mizrahi
- Past cookbook list: Grace Bonney of design*sponge
- Past cookbook list: Cookbook author Eric Gower
- Past cookbook list: Rookie Moms Heather Flett and Whitney Moss
- Past cookbook list: Toddler Cafe cookbook author Jennifer Carden