Feisty Green Beans Recipe
A riff on a recipe from Anna Getty's Easy Green Organic - green beans, creme fraiche, garlic, golden raisins, almonds, a range of spices. They caught my attention when Anna said...the ingredient list is long, but these are the best green beans you'll ever make.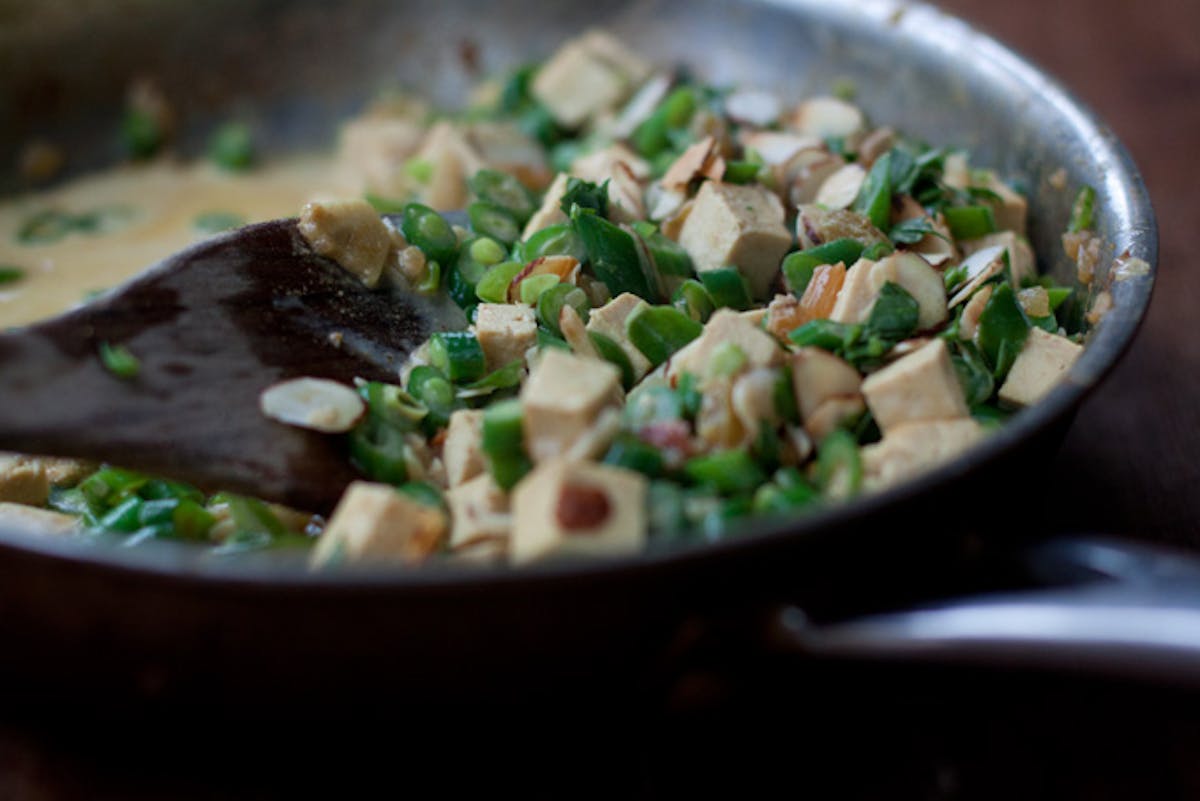 I came across a recipe that caught my attention in Anna Getty's soon-to-be-released Easy Green Organic. It was a recipe from a family friend, which in my mind is always a good sign, and the last sentence in her headnote stated, "the ingredient list is long, but these are the best green beans you'll ever make." Green beans, crème fraîche, garlic, golden raisins, almonds, a ranges of spices...in all, seventeen ingredients, of which I had sixteen.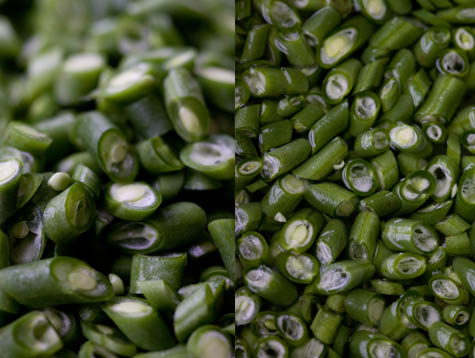 So I wanted to give this general idea a go, and it's not exactly green bean season, but I made them anyway. And they were so insanely good, even though, admittedly, the green beans I used were sad, sad, sad. My advice? Make this recipe, like this, the next time you see good green beans in your market. In the meantime, make the exact same recipe substituting something that is in season in your corner of the world. I'm going to make it with cauliflower. Like tomorrow. Or the brussels sprouts I bought the other day? Those would be good too. And asparagus season isn't far off. I'm confident there are any number of substitutions you could make here that wouldn't disappoint.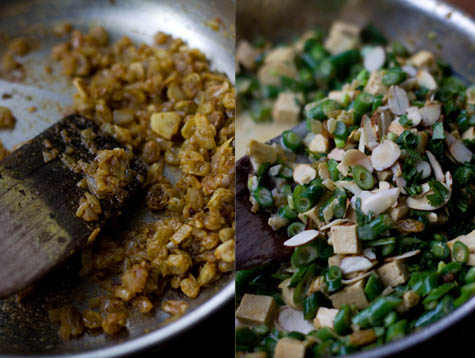 I made a few tweaks to the recipe in Anna's book, reflected below. I like slicing green beans into little o-shapes, so I did that here. I also wanted to make this more of a one-pan meal, so I cut back significantly on the raisins and introduced tiny tofu cubes. I suspect little pan-fried paneer cubes or tempeh would also work. The version in her book is named John Pepper's exotic green beans, I renamed them here in case someone is looking for the original version - so there wouldn't be any confusion. Thanks for the inspiration Anna, your book turned out beautifully, I've enjoyed spending time with it.
Feisty Green Beans
Use a white wine that you'd want to drink after opening. And for those of you looking to speed things up, you don't need to slice the green beans, but it was a good call, the sauce gets into all the nooks and crevices.
1 pound green beans, thinly sliced (see photo)
1/2 cup / 2.5 oz / 70g golden raisins
1 tablespoon extra virgin olive oil
2 garlic cloves, thinly sliced
1/2 medium yellow onion, finely diced
3 bay leaves
1/3 cup / 80 ml white wine
1/2 teaspoon hot paprika
1 teaspoon ground cumin
1 teaspoon ground coriander
1/2 teaspoon curry powder
1/2 teaspoon salt
scant 1/2 teaspoon crushed red pepper flakes
6 ounces extra-firm tofu, cut into 1/2-inch cubes
2 tablespoons unsalted butter
1/3 cup / 120 ml crème fraîche or sour cream
1/4 cup / 3/4 oz / 20g sliced almonds, toasted
1/3 cup / one handful of finely chopped fresh cilantro
salt and pepper to taste
Cook the green beans in a pot of well-salted boiling water for about a minute, just long enough that they lose their raw edge. Drain and dunk in ice-cold water to stop the cooking. Drain again and set aside.
In a small bowl cover the raisins with scalding hot water for five minutes, drain and set aside.
Heat your largest skillet over medium heat. When the pan is hot, add the oil, garlic, onion, and bay leaves. Cook for 5 minutes, or until the onions and garlic start to brown just a bit. Add the wine and cook until it has mostly evaporated. Carefully remove the bay leaves. Stir in the paprika, cumin, coriander, curry powder, salt, crushed red pepper flakes. Stir in the tofu and raisins and cook until heated through, a minute or so. Add the butter and green beans and stir until the butter has melted. Remove from heat and stir in the crème fraiche, then most of the almonds and most of the cilantro. Taste and add more salt and some pepper if you like. Serve topped with any remaining almonds and cilantro.
Serves 4 to 6.
Inspired by a recipe in Anna Getty's Anna Getty's Easy Green Organic, to be published by Chronicle Books, 2010.

Prep time: 30 minutes - Cook time: 15 minutes